April 12, 2018
The Soup My Children Eat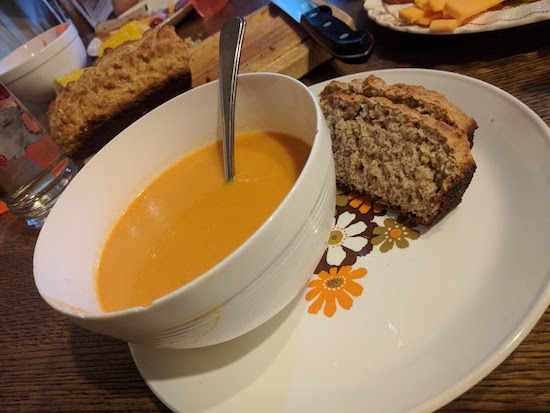 Having children is a challenge to any notion of living in the moment, not just because children rarely sit still, but also because a moment in the life of a child is as changing as a garden in May. And so the closest I've come to really being present is looking back on five minutes previous and saying, "Well, thank goodness that's over, and isn't it amazing to be here right now." Which is basically what I've been saying for my children's entire lives, the first six weeks of their existences notwithstanding.
Of course, it helps that I am an insufferable diviner of silver linings. I also know that it's not always going to keep getting better and better, this experience of raising children. Life is complicated. Although I am so insistent when it comes to those silver linings that I might possibly end up deluding myself into thinking this is the case—I'm an unreliable narrator. But still, here we are, with my children on the cusp of being five and nine, and we've never had it so good. Sometimes we go out for dinner, and I don't even need to be bring crayons. All those terrains that were unnavigable by stroller are now ours for the taking—I look forward to a summer of walks in ravines. And when we wet our pants, it's a special occasion instead of a regular occurrence. We're capable of having interesting conversations that 35% of the time don't descend into an in-depth analysis of farts. We can all go to the same movie and enjoy it, and even Iris has been following along with our reading of A Wrinkle in Time. But what makes me happier than anything else is that finally everybody likes soup.
It has taken years to get here. I don't know why. You'd think that soup would be child-friendly, as it doesn't even require teeth to eat it, but my children were soup-intolerant from the get-go. And in some ways, I understood—small children like food to be straightforward and not touching, and soup was everything mixed up in a bowl. I would puree it, but they always claimed it tasted terrible. Chicken noodle they would tolerate, but only because they'd just pick out the noodles. And all of this was very hard on me, because soup is one of the things I love best in the world. Warm and comforting, full of nutritious goodness, handy for leftovers, and how it warms the house and steams everything up so you can draw hearts on the windows. I really love soup, and I never gave up serving it to my children in the hopes that one I'd finally succeed at making them love it too.
The tide finally turned about a year ago. I remember the night it happened—I served the soup thinking, "Will tonight be the night?" As I'd done numerous nights before, but this one did the trick. Everybody ate the soup. The blandest soup, it was true, but I was not going to quibble about details. Soup was soup and we were eating it together, and I kept serving it, gradually adding flavour. Originally it was sweet potato and I started using butternut squash instead, but not telling them. They kept eating it. I added a bit of curry—nobody complained. And now I serve it weekly, and everybody's the teeniest bit sick of it, but they indulge me and also they don't get a say because I'm the one cooking. We like to have our soup with a loaf of oatmeal quick bread and hummus and cheese on the side, as well as a drained can of chickpeas roasted in the oven with salt and olive oil as the bread is cooking.
The Soup My Children Eat (Adapted from here)
Ingredients: 
2 tablespoons coconut oil
1 onion, chopped
4 garlic cloves, minced
1 teaspoon curry powder
1/2 teaspoon chilli powder
3/4 teaspoon salt
1 butternut squash, peeled and diced (or 4 sweet potatoes)
6 cups of chicken or vegetable stock
1 can of coconut milk
Instructions: 
Melt olive oil in a stock pot. Add onion and garlic and let them soften, then stir in spices. Add diced squash, and then stock. Bring to boil and simmer for 20 minutes (or longer?) and then add coconut milk. Puree with an immersion blender.