March 16, 2018
March Break Special: The Big Bed, by Bunmi Laditan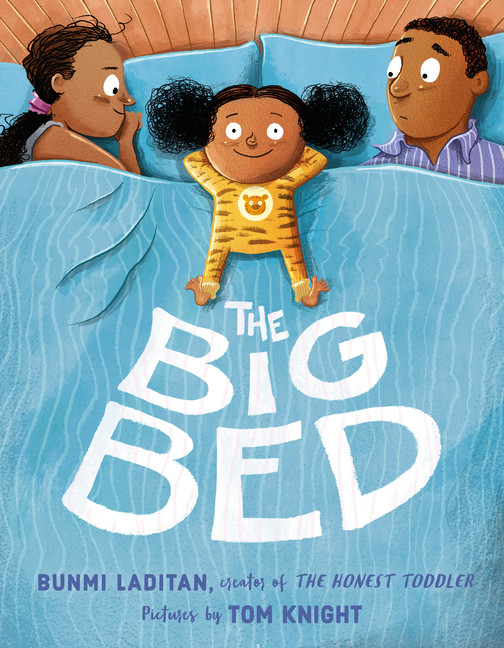 A weird thing is March Break just a week after a week-long vacation, which makes it seem like those few days of school were a blip and we've been on vacation forever. And I am the luckiest because I work from home and therefore March Break gets to be a real thing here (except I am also the unluckiest, because it means I have to cram my workday into a couple of hours every morning while my children watch television; come next week I'll have catching up to do). We didn't have elaborate plans for the week, but they've come together nicely, and we've been up to fun things and enjoying evenings without the rush of getting to various activities and also no making lunches. And so to celebrate this free-and-easy week of goodness, I'm making this week's Picture Book Friday selection a book that my children absolutely adore, a real crowd-pleaser, a book my littlest calls "the pee-pee book," which is The Big Bed, by Bunmi Laditan, illustrated by Tom Knight.
You probably already know Laditan as the writer behind the very funny Honest Toddler blog and book, and she brings the same approach and humour to her first picture book. It's written in the voice of a young child who is very persuasive and attempting to explain to her father just why she deserves his spot in the big bed with Mommy. "When day turns to night, it's normal for people to seek comfort. No one can deny that Mommy is full of cozies and smells like fresh bread. Who wouldn't want to cuddle with her?" Making good points too: "Quick question: Am I mistaken, or don't you already have a mommy? Perhaps Grandma is available to sing you to sleep three or four nights a week." And yes, maybe the narrator does tend to leave the bed a little, um, damp in the morning—but she's got good three reasons why this is actually a positive thing (even if they are a little yuck). She's even got a plan, in the form of a camping cot. She's even going to let her daddy pick out some special new sheets for his "awesome sleeping rectangle."
It's a story that resonates for all of us, mostly because there was an extra body or two in our bed for years and I do indeed remember the struggles. Though to those of you still in the midst of sleep struggles or bed woes, maybe hold off on this book for just a little while longer. You wouldn't want your little bed sharer getting any more ideas….