March 9, 2018
Sugar and Snails, by Sarah Tsiang and Sonja Wimmer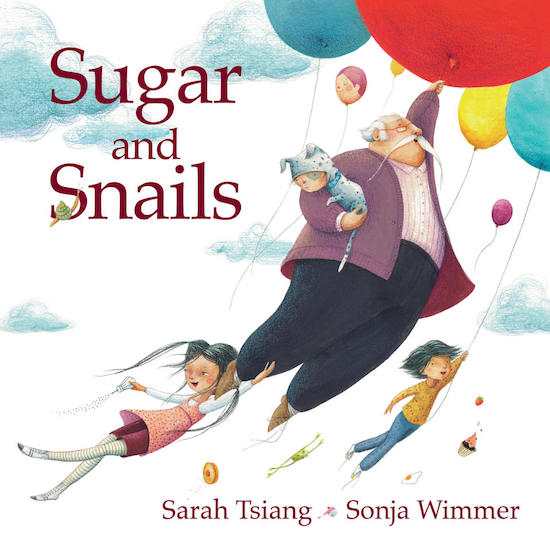 A thing that has surprised me lately is how much so many people seem to have invested in archaic systems I wouldn't have thought give us much to cheer for, systems like colonialism, white supremacy, and the patriarchy. It's a thing I've only been able to be surprised by, really, because I've gone about for 38 years in the world with white skin, an able body, financial stability, among other advantages I'm lucky enough to take for granted, which means there is a whole lot of living that I've never seen. Although I'm still a bit nostalgic for a few years ago though when I thought there were just a handful of stupid people who talked about things like "reverse racism," and we just laughed at them—but now there are hordes who get outraged because a fruit stand puts up a sign that says "Resist White Supremacy." A UK department store decides not to label children's clothing by gender, and people go bananas. Which means that this is a particular cultural moment to publish a book critiquing what little boys and girls are made of ("frogs and snails and puppy dogs tails," and "sugar and spice, and all things nice"), I think. I'm anticipating a backlash to Sarah Tsiang's new picture book—Sugar and Snails, illustrated by Sonja Wimmer—that involves furious anti-PC women shoving puppy dog tails down their poor sons' throats.
I'm anticipating the backlash because a) obviously, I'm kidding b) people are stupid and c) what Tsiang sets out to do in her story, she accomplishes so well, Wimmer's images underpinning the whole project with a foundation of pure magic. (Sarah Tsiang is also author of the amazing picture book, A Flock of Shoes, among others, and magic is kind of her forte.) The book's first image is a tapestry upon which the traditional rhyme has been cross-stitched, and then we see an older man with a boy and a girl, presumably his grandchildren, and the grandchildren are having none of that gender binary nonsense—the side-eye from the girl when she's accused of being made of sugar and spice is pretty epic. And her brother wants to know, "What about sweet boys like me?"
But their grandfather is struggling to remember how it goes—"Pirate and dogs and noisy bullfrogs"? Are girls made of "Snails and rocks and butterfly socks?" And suddenly they're all making it up together, a world where boys are made of "lightning, and newts and rubber rain boots" and girls are made of "boats and whales and dinosaur tales." Wimmer's illustrations literalizing the nonsense rhymes so that we see the kitchen filled with water as the boy wades in his rain boots and his sister swims as a whale (and everywhere there are teacups and teapots, which means this whole book is so up my alley I feel like I live within its pages…) There is also a reference to chicken butts, which means the children are totally on board, although they were pretty enthused in the first place. And never before has the patriarchy been bashed with such whimsy and a spirit of fun.
The book concludes with the tapestry image from the first page, but the children have pulled out many of the threads. Which means the work is still half-done, of course. Sugar and Snails inspires us to keep on imagining new possibilities for what boys and girls can be.