March 8, 2018
The Red Clocks, by Leni Zumas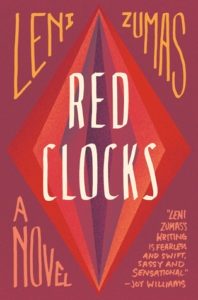 The week before we went away when I was sick in bed, I was reading Leni Zumas's The Red Clocks, which I purchased after reading the review in The New York Times. I wasn't reading it with an eye toward review, and I honestly wasn't sure how I felt about it as I made my way through the novel—it's a strange narrative, constructed of five different women's voices that would have been "woven together" in another book, but this isn't what's happening here, and it wasn't until close to the end of the novel that I really understood how the pieces were fitting. I really liked it, this novel about a dystopian America situated a week from now in which abortion is once again illegal.
"She was just quietly teaching history when it happened. Woke up one morning to a president-elect she hadn't voted for. This man thought women who miscarried should pay for funerals for the fetal tissue and thought a lab technician who accidentally dropped an embryo during in vitro transfer was guilty of manslaughter. She had heard there was glee on the lawns of her father's Orlando retirement village. Marching in the streets of Portland. In Newville: brackish calm."
It's fitting, really, that I was unable to see how the voices in the novel were fitting together, because I don't think they were supposed to fit together. Zumas does interesting things with the idea of women being in competition and opposition with/to each other, and how difficult it is to support other women who make different kinds of choices. Mostly because, I think, we're often told that there is not enough to go around and that becomes a self-fulfilling prophecy. But the point of the The Red Clocks is that ultimately, our fates are all connected whether we like it or not, and that as a woman there is very little that can happen to women that in the end has nothing do with you. Zumas makes this all the more meaningful by connecting fertility and infertility to the abortion question, which I've realized it really should be, all being about questions of choice. In the book, a high school teacher has to figure out whether or not to help her student obtain an illegal abortion, all the while she is undergoing to fertility treatments (but not IVF, which has been outlawed) and being made ineligible to adopt at the government brings in rules stipulating that all adopted children have two parents (because what are all these laws about but keeping women from controlling their bodies and shaping their lives after all…).
There's a whole lot more to it than that, fascinatingly, and it's all very stranger and weirder than you might expect, but also not at the same time. I liked this book a lot.