February 22, 2018
The Lost Girls of Camp Forevermore, by Kim Fu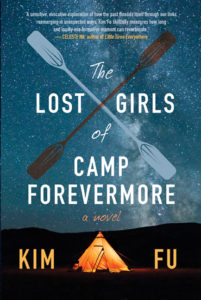 I've read twelve books this month (so far!), barrelling through each one with gusto. They have been so good and I haven't encountered a bookish dud in weeks and weeks—which meant that Naben Ruthnum's recent tweet really resonated with me: 'You haven't "lost the ability to read," you are just being lazy. Fuck the neuroscience, leave your phone in the other room and have some discipline." YES. Or else you're reading all the wrong books? Maybe I should be selecting your books for you, books that will recovery your ability to read—and top of the list is Kim Fu's second novel, The Lost Girls of Camp Forevermore. It's a novel shaped like no other novel I've read before, original, heartbreaking, subtle and resonant. Packing a whole lot of story into a couple of hundred pages, I have no doubt that this will be one of the best books I read this year.
Imagine a novel about summer camp, about a kayaking trip gone terribly wrong, a novel that holds within it the span of a life like The Stone Diaries did, except there are five lives. Nita, Andee, Dina, Isabel and Siobhan. Ten-years-old, the dynamics between them are complicated, alliances and enemies emerging in the relationships between any relationship proper. And then the first chapter ends, and the reader finds herself sweeping through the next three decades of Nita's life, what happened (or, as the book is constructed, is still going to happen) at camp just one detail among many that informs the person who Nita becomes. Or is it so incidental? Which is the question about which Fu's narrative hangs.
Every other chapter outlines chronology of the camping trip, interspersed with the story of who each girl becomes—puberty, high school, friendships, sex, independence, marriage, motherhood—years and decades going by at a clip but Fu pinpoints her details so well that these chapters are each like a novel in themselves. (Some of the girls' lives are more elusive than others; we see wha happens to Andee, the "scholarship camper" through the prism of her sister's experiences.) And then once we get to end of the novel and know what happened to the girls on their trip, those children, those hapless (maybe?) re-enactors of Lord of the Flies, each woman's story is cast in a different kind of light. And just a note that what actually transpires on the trip is kind of banal in its disturbingness—or is it? Is it more disturbing that this story is banal? All of which is to say that those with an aversion to stories about children in peril need not avoid reading this book. Nick Cutter's The Troop this is not, and they don't encounter any witches in gingerbread houses. That they don't need to is a testament to Fu's craft though, as she is making a lot here out of very little. Or making a little out of a lot, and this is the question the novel hangs on in the most fascinating way.