January 17, 2018
There Will Be Blood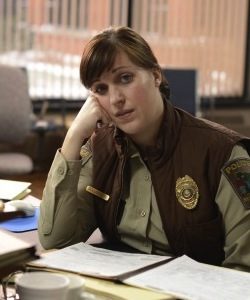 So the post I was going to write last week, before I got all riled up and furious, was a story about flossing, and also about Fargo, the perils of watching too much TV, and how excellent it is that I finally (after a decade) discovered a television show I like as much as Mad Men. And I will situate the beginning of this story about fifteen years ago when I had this fervent belief that flossing was unnatural and even harmful. "I've just got an aversion to anything that makes me bleed," was the way I used to put it, but then I got health benefits, in addition to a lot of cavities, and started a serious relationship with my dental hygienist (seeing her at least once every six months) and now I find I'm putting my money in the pockets of Big Floss on a regular basis.
Basically, this is a story about life in my thirties and the wild incredible risks I take in my every day life. And about how I started watching Fargo in November was immediately infatuated, its characters living large in my mind after each episode ended. I was thinking about Molly Solverson all the time, and how both seasons one and two are partly about being a woman in a man's world and negotiating with reality on those terms. And also how, like Mad Men, Fargo is a show that throws out the conventions of storytelling, skipping large blocks of time, having important details like weddings happen off-scene. And what I loved best about Fargo was how it doesn't manipulate its viewers, how we usually know what the outcomes are going to be—who survives and who doesn't, will they fall in love or won't they—so that the details that keep us riveted are not those you'd usually expect, that it's a different kind of tension. Not the what, but how. And how the writers have to come up with different ways to surprise us, hold us, than the usual twists of narrative.
I was also intrigued by the show's questions and considerations of morality and character, and good and evil, which recalled Mad Men in their complexity, nuance and lack of a clear answer (which is why its all so interesting). The presence of a moral centre made the exploration of evil and villainy so much more palatable and the violence less troubling than it might have been. Mad Men was much less fixed that way—everyone was always selling out someone. (And now I'm thinking about the scene with the tractor in "Guy Walks Into an Advertising Agency," and in its gory absurdity it was absolutely Fargo-esque.)
Usually I just watch TV one or two nights a week, because I tend to spend most of my evenings reading, but because the holidays are not for moderation, we got to watch Fargo every day. Which had a downside, because I started talking with the accent and saying, "You betcha" and became more than a little bit obsessed—our children had to ask us to stop talking about Fargo because our behaviour was not just alienating, it was boring. We finished up Season 1 in the week before Christmas, and went straight into Season 2, which was so different but I came to love just as much, although it was Season 1 that hit me hardest. The season finale was so full of tension I could hardly stand it, and kept having to leave the room and get away from the waiting for something to happen (which was never going to be the thing you saw coming after all…).
I'd left the room to get dental floss, because not only have I sold out to the dentist, but also because one of the great pleasures of my every day these days is the experience of going to bed. But I couldn't stay away too long, not wanting to miss whatever happened next in the show, as much as I couldn't stand to wait for it. So I came back, floss in hand, and perched delicately on the arm of the sofa, watching the screen over my husband's shoulder. Dental floss wrapped around my two index fingers, so that my hands were essentially bound, and the floss and my fingers doing their work in my mouth so that I was basically gagged as well—a vulnerable position if ever I saw one, but at least I wasn't dressed in just my underwear and running away across a barren Minnesota plain in the dead of winter. A season of Fargo had made clear that certainly things could be much worse.
But then I fell off the couch. In a few seconds that stretched out into an eternity in my mind, and I could see it all happening as it did. "This is completely ridiculous," I thought, as I teetered on the edge, unable to call out to my husband to steady me, unable to reach out for support. Bound and gagged, I plummeted to the floor, landing with a crash that must have disturbed the downstairs neighbours. Free-falling is less romantic than it sounds, and nobody ever writes songs about the landing. It's been nearly a month, and my wrist and elbow have been aching ever since.
But I continue to be cavity-free.