January 8, 2018
What I read on my holidays…
I think it happened the year I spent Christmas reading Hermione Lee's biography of Penelope Fitzgerald, when the holidays began to seem to me like a fine vessel for reading biographies. With the time and space necessary to become absorbed by books so book and consuming, 500 or so pages most of them, which isn't a number of pages that one can read in dribs and drabs. I've also developed a habit of going offline for a week or so at Christmas, which helps to get books like this done. Last year my Christmas biography project involved books about Claude Monet, Jane Jacobs, and Shirley Jackson, which was wonderful. So I was been looking forward to the holidays this year, stockpiling life stories, and it was a lot of pages, a lot of living, but I read four biographies in the end, biographies of four women who seem disparate at first glance, and there was such pleasure in drawing their stories together and understanding the ways in which their lives and experiences intersect.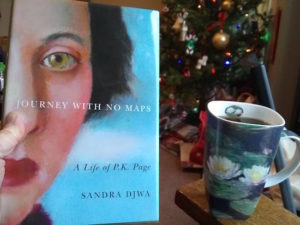 The book I read first was Sandra Djwa's beautiful award-winning biography of P.K. Page, whose work I'm not very familiar with (although I met her once, in grad school. I can scarcely believe this actually happened. What did I say to her? Hopefully nothing…). Journey With No Maps is the book's title, which would also be a fitting description for all women whose lives I read about during my holiday, and it was a gorgeously written evocative read. It follows Page through her life and experiences as a writer, a painter, and a diplomatic wife in Australia, Brazil and Mexico. What impressed me most with Page was the way in which she was just incredibly good at everything she set her mind to—she never really had an apprenticeship. Which is not to say that she didn't grow and develop as an artist, but she was always P.K. Page. She seems to have always been excellent.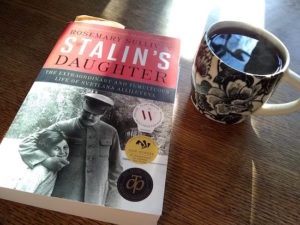 I wasn't sure what the through lines would be from Page's life to that of Svetlana Alliluyeva in Stalin's Daughter, except that Rosemary Sullivan, who wrote the book, appears as a character in Journey With No Maps, which is very cool to consider. Svetlana's story shows an extreme version of a pattern set out in Page's biography, that of a woman being defined by her relationships to men. I suppose Svetlana's is also a story of being in a family with a diplomat—she is paraded out during her father's dinner with Churchill in 1942—even if the diplomat in question is Stalin. And there is unrequited love in both books—before her marriage, Page was deeply involved in a relationship with a married man that she never entirely got over; Svetlana, sadly, falls passionately in love with one man after another. We learn about Khrushchev's Thaw, which brought with it political instability—Soviet tanks would crush a Hungarian uprising in 1956, at the same time that P.K. Page's diplomat husband Arthur Irwin was working with Lester B. Pearson to ease tensions during the Suez Crisis. In 1967, Svetlana would defect to America. Also, Frank Lloyd Wright's third wife is a bad bad woman, in that she brought Svetlana into an architectural cult and stole all her money. Seriously. The book was such a page-turner, Sullivan is such a wonderful biographer, and Svetlana Alliluyeva was a fascinating woman with literary talent and a fierce intelligence that was so often undermined. I found it interesting to learn how much she resisted all notions of socialism and communism after her experiences of totalitarianism, refusing to enrol her American daughter in public school because she found it anathema that the state should have a role to play in education, or anything. Sometimes its easy to dismiss what happened in the USSR as history, and to be confused by why so many people find state involvement in people's lives potentially dangerous—Sullivan's book did well to remind me that there's some context to that.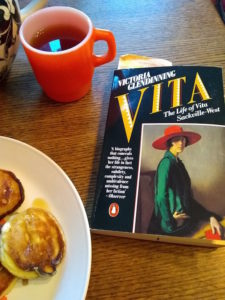 Next up was Victoria Glendinning's biography of Vita Sackville-West who, as with P.K. Page, I have heard about and read about more often than I have actually read her work. Oh my gosh, this book! I just kept reading allowed my favourite sentences. 1956 factors here as well: "Shortly before they left on a fortnight in France in October—the Suez crisis was raging in England—Vita was stung on the neck by a wasp while giving tea to Megan Lloyd George in the garden." The whole book is rich with such strange and perfect details, partly because Glendinning is a first class biographer (though Sullivan and Djwa are just as good) but also because she left so much material, her letters and diaries. On page 128 Katherine Mansfield dies, which is 1922—and Mansfield had been a huge influence on P.K. Page in her formative years, and Page carried on a critical dialogue with Mansfield as she read the author's work. Page was also devastated by Mansfield's death, though it had taken place more than a decade before Page would learn of it, but she'd been reading Mansfield's stories in 1930s imagining the author as a kind of contemporary, that she was somewhere out there in the world. Anyway, as per Vita, when Mansfield died, she left a space in the life of Virginia Woolf, a space that would be filled by Vita herself, and Woolf was another great influence on PK Page.
Like Page, Vita was a diplomatic wife, albeit a pretty unorthodox one. "Vita's prejudices against the diplomatic life were confirmed, though she paid calls, attended and gave luncheons and dinners, as she had in Constantinople; she even gave away the hockey prizes. 'I don't like diplomacy, though I do like Persia,' she told her father." Later in her life, she was comfortable playing virtually no role in her husband's diplomatic and political life at all—often to his displeasure. But Vita, like Page and Svetlana, made her own map, for what a daughter, a wife, a woman should be. She rankled at the limits permitted by society to her gender, and was ever resentful that because she was a girl she was not able to inherit her father's estate and family home by which was tremendously attached and inspired. Though she did manage to buy a castle and live in a tower, so it worked out better for her than it might have for a lot of women. I was fascinated by the process of Vita moving from bohemian renegade to upper class conservative later in her life, as well as her nationalism in spite of her lack of appetite for her husband's work. It's such a surprising, but natural trajectory. Like Svetlana, Vita had many many love affairs, but she was the one who left lovers enthralled (and broke their hearts, though they would be forever devoted). Oh, and later in her life, Vita and her husband took to cruises, and when she'd visit Brazil she would find it quite differently than P.K. Page did (who found her experiences there transformative): "I think it is a beastly country and I never want to see it again."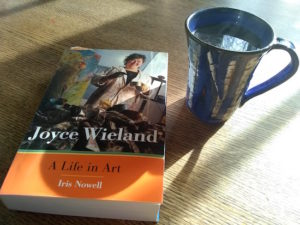 And then finally, another life without maps, that of artist Joyce Wieland, in Iris Nowell's 2001 biography, Joyce Wieland: A Life in Art. Where there was no mention of the Suez Crisis at all, but Wieland, like Page, would also develop an affinity with Katherine Mansfield. No word on Mansfield and Svetlana—except no!! The evil Olgivanna Lloyd Wright who'd brought Svetlana into a cult and stole her money was the nurse who cared for Mansfield on her death bed, what????? Olgivanna and Mansfield were both pupils of George Gurdjieff, whose work would be meaningful to Wieland throughout her life. (And P.K. Page would become influenced by Gurdjieff through her connection with Leonora Carrington in Mexico. I don't think Vita Sackville-West had much to do with Gurdjieff at all. I don't know that she was so concerned with self-development. She had the confidence not to be…)
Anyway, I saw the Wieland exhibit at the McMichael Gallery in October and really wanted to learn more about her. Of the four women whose books I read, Wieland is the only one who attended a high school I can see from  my bedroom (which is a mark of distinction for any life…) Her early life recalls Vita's mother's, in its illegitimacy and scandal (her father had left behind a wife and family in his native England) but much more destitute. She would be an orphan by age nine, and spend the rest of her childhood in the care of her older sister and family friends, but it was the Great Depression and not a great time for anybody to be taking in extra children. I loved reading about her experiences growing up in Toronto from the 1930s to the 1950s, the artistic scene in particular. I loved learning about Wieland's interest in fashion design, and how that informed her art—and how her talent was nurtured during her years at Central Technical School under the tutelage of painter Doris McCarthy.
Once again, Wieland would be defined in relation to a man in her life, the artist Michael Snow—she'd spend a lot of time dismissed as 'the wife of…". Interesting to learn that she conceptualized his geese sculptures at the Eatons Centre in Toronto. Interesting too to learn that her art on the Toronto Transit System—which I tweeted about not long ago when we went to see her caribou, lamenting that we don't have the vision anymore to make public art like that—was hugely controversial when it was installed; seems there never was a golden age of art appreciation. Or that the craftwork in much of her textile art was done by other people who employed, including her talented older system Joan—and she always took care that they got credit. Oh, and the sexism, as per P.K. Page. Unlike the three other women I read about, Wieland did not resist the label of feminist and that was refreshing (especially since all the women in my book stack so exemplified it). Like Page did, Wieland also worked very hard on behalf of Canadian artists and creators and tried to make a space where Canadian works could be celebrated as distinct from their American counterparts. Each of the women I read about on my holidays engaged with nationalism in singular and interesting ways—I'm thinking too of the way that Wieland would come to reevaluate her reverence for Pierre Trudeau, that it was never really reason over passion over all.
But then what kind of life would it be if it ever was? None of these books, nor these lives, would ever have reached the heights they did.