December 18, 2017
Best Bookshops of 2017
There are ups and downs to the book publishing experience, but one definitively excellent thing about putting a book in the world is that it becomes your business to hang out in bookshops all the time. So that even though I hang out in bookshops all the time anyway, I got to do it even more often this year, and to visit legendary bookshops further afield. It was such a delight to visit the following bookshops this year on my travels, but before I get to my list I want to send a shout-out to Blue Heron Books in Uxbridge ON, which is one of my favourite bookstores ever, and to Words Worth Books in Waterloo ON, both of which had me for events this spring but not in-store, which means I didn't get to go shopping. Which also means I'm probably due for a trip now. I'm also grateful to staff at Bay Bloor Indigo in Toronto and Chapters in Peterborough ON, who were really supportive of my book.
****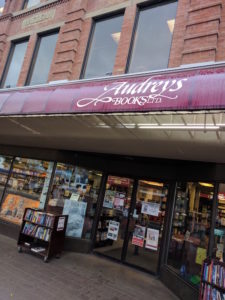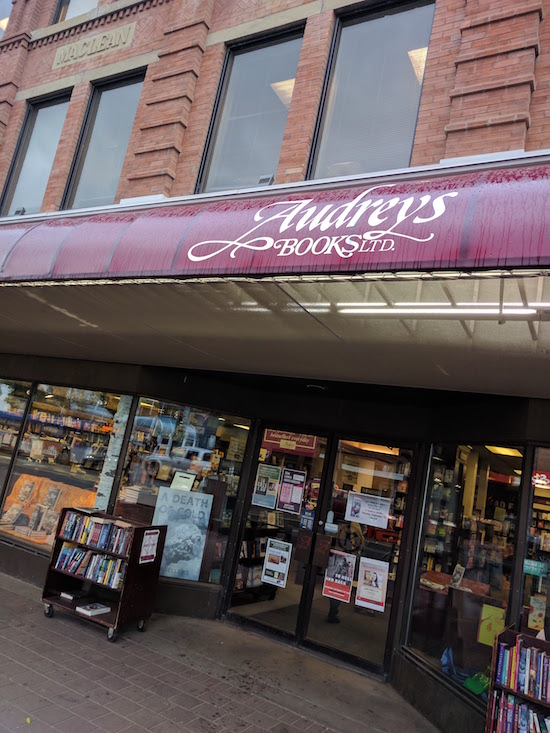 Audreys Books, Edmonton AB
I had the best time in Edmonton in September, but a chance to visit Audreys was definitely a highlight. And not just because Mitzi Bytes was a staff pick and had been a bestseller there in May–but it certainly warmed my heart to the place! The story was huge with an amazing selection, and I particularly loved perusing the local authors section—I ended up choosing books by Claire Kelly and Jen Powley. I also bought books for my children and my husband back home, and each of the books was so well-received that it was almost a little bit magic. I could have browsed those shelves for hours…
*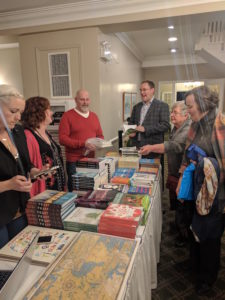 Beggars Banquet Books, Gananoque ON
It rained the whole weekend I was in Gananoque, but during a brief lull in the downpour, I hurried up the road to Beggars Banquet, which I already had an affinity for having become quite fond of owners Alison and Tom, who were charged with bookselling during the 1000 Island Writers Festival. Sometimes a second-hand bookshop [although Beggars Banquet sells books new and used!] smells of dust and must (and I mean that in the best way), but this one smelled of sawdust, brand new bookshelves, whose contents I explored for ages. I ended up getting Liane Moriarty's Truly Madly Guilty, which I LOVED.
*
Ben McNally Books, Toronto ON
We launched Mitzi Bytes at Ben McNally Books in March, which was absolutely terrific. And then I got to return a week or so later for my friend Rebecca's launch for So Much Love. Our most recent visit to this hallowed space was at the beginning of the month after going to see the Christmas windows at The Bay—I did some Christmas shopping, and also picked up My Life With Bob, by Pamela Paul, which I'd had my eye on for ages.
*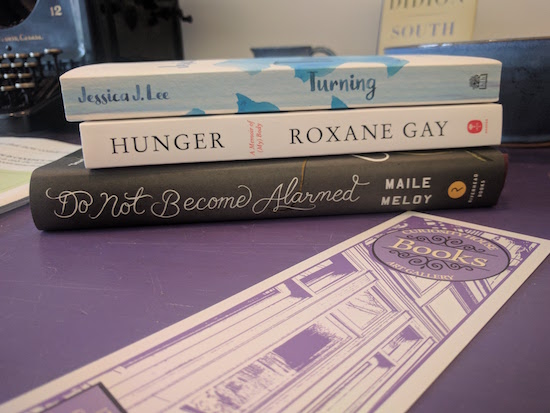 Curiosity House Books, Creemore ON
I got to go to Creemore three times this year! Once on the most hilarious road trip with Karma Brown, Jennifer Robson, and Kate Hilton for Authors for Indies, when we ate gummy bears and I laughed until I cried at the idea that Drew Berrymore had been previously been married to Red Green, among much other absurdity. I was so absolutely in love with Curiosity House Books that I knew we had to return there with my family in tow, which is what we did for my birthday in June, and we really did have the most perfect day. And then in September we were back again for the nearby Dunedin Literary Festival. And now I really want to check out their new sister store in Collingwood!
*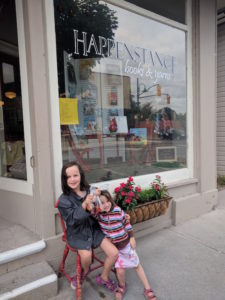 Happenstance Books and Yarns, Lakefield ON
How had I never been so Happenstance? Not a huge store, but so well stocked, plus they sell knitting supplies too, and there is a candy store adjacent, which pleased my children exponentially. The first time I was there this summer (for the Lakefield Literary Festival) I picked up Laura Lippman's Wilde Lake, which I adored, and then I returned later in August and got The Misfortune of Marion Palm, by Emily Culliton. They have a great selection, their titles for children in particular.
*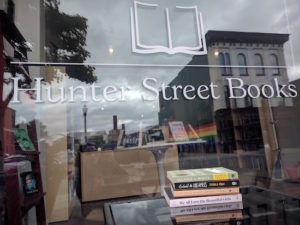 Hunter Street Books, Peterborough ON
Remember when I got into a car accident on the way to Hunter Street Books and ended up owing a mechanic $800, and in the end considered it money well spent because the bookstore didn't disappoint in the slightest? The store continues to be excellent. We launched Mitzi Bytes there in March and sold all the books, thanks to my parents' spectacular networking skills, mostly, but still, it was a triumph. When we were back in town in August I ended up buying another stack—I have a problem with self control with their incredible selection of books, and can never buy just one.
*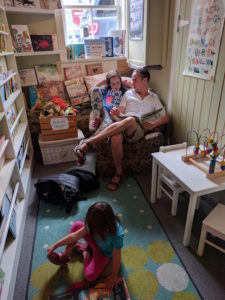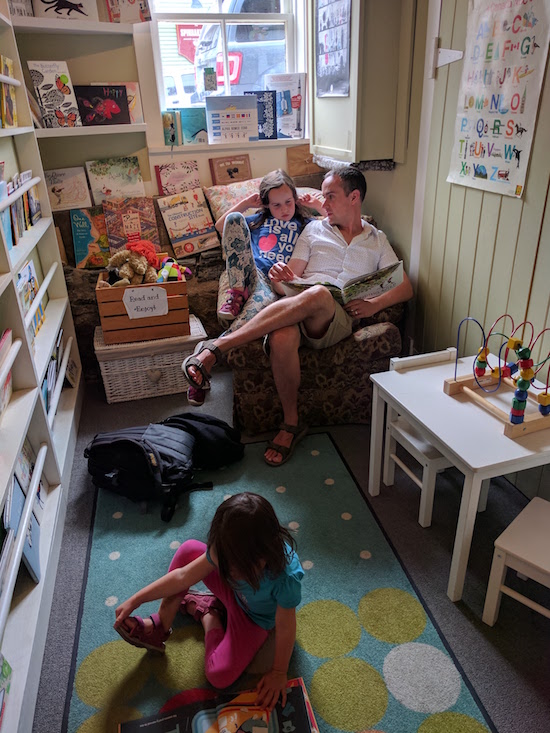 Lexicon Books, Lunenburg NS
Has a bookshop ever lived up to one's expectations like Lexicon Books in Lunenburg, NS, though? Originally I was just excited to be visiting, and then they invited me to read alongside Johanna Skibsrud and Rebecca Silver Slayter. I was so excited to meet co-owner Alice, and when I walked into the store, co-owner Jo was sitting at the counter reading my book!! The store was so cozy and charming, and my family (who have seen a bookshop or two) declared their kids' section the best ever. I ended up buying Alice's staff pick, 300 Arguments, by Sarah Manguso, and took her comment card too by accident, and now it lives on my bedside table, the best souvenir ever.
*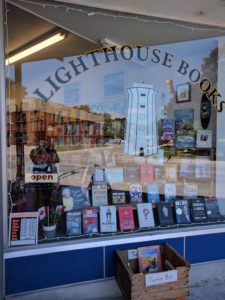 Lighthouse Books, Brighton ON
This was our second trip to Lighthouse Books, corresponding with our annual camping weekend, and we were so excited to see Mitzi Bytes on the Canadian authors shelf, along with so many other great picks. I ended up buying A History of Wolves, by Emily Fredlund, and my children got a stuffed hedgehog and a teddy bear, we found out their all-time bestselling book was Where Is the Green Sheep, by Mem Fox (a classic!) and then we met a falconer. We can't wait to be back next year!
*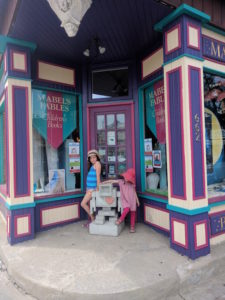 Mabel's Fables, Toronto ON
One day last summer, I took my children across town on a road trip to Mabel's Fable's and it was the grandest adventure—we explored cool 1960s' public art along Davisville Avenue, played in the Sharon Lois and Bram Playground, ate super fancy French cakes in a bakery full of weird rich people who were obsessed with dogs, and then we hit up Mabel's Fables, and had the very best time. I ended up buying Scarborough, by Catherine Hernandez, from their adult selection. And yes, there was a cat called Mabel, the store's namesake. It was totally worth the trip, and then some.
*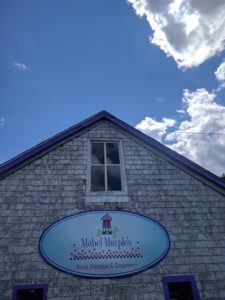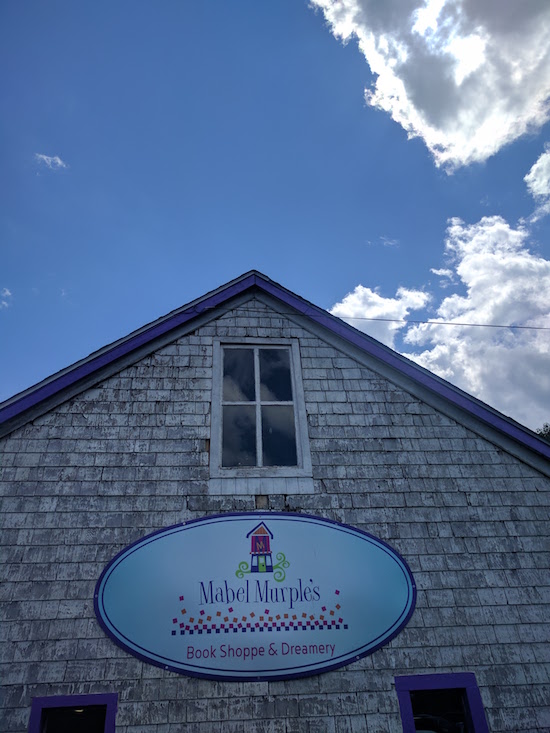 Mabel Murple's. River John NS
Oh my gosh, and speaking of being worth the trip! The opening of Sheree Fitch's bookstore (in her barn at the end of an old dirt road) was the reason we went to Nova Scotia in the first place. We showed up the Monday after Canada Day for the store's opening, along with hundreds of other Fitch fanatics—and we even made the local paper! It was everything—brimful of literary goodness, good people, music, sunshine, and magic. Plus a donkey, and a horse, and a sheep. We had the very best time—and then afterwards we drove up the road and got to play in the ocean.
*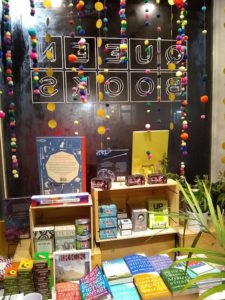 Queen Books, Toronto ON
We had nothing to do on Good Friday, and then I discovered that Toronto's newest bookshop was open that day. And so we jumped on the streetcar and across town we went, and it was really so delightful, with golden ceilings, amazing wallpaper, so much space and light, and really great books. Something I particularly appreciated was that they managed to have that boutique exclusive feel in terms of inventory and atmosphere, but also coupled this with friendly customer service—which is rare. My one complaint was that my book wasn't on their shelf, but I didn't even actually complain, because everything else about the store was wonderful. And then when I returned in October for Jessica Westhead's book launch for And Also Sharks, having made peace with the fact that they were too cool to stock my book and even forgiven them for it—my book was there! It was there. I could have my bookshop cake and eat it too; really, I could scarcely believe it. (PS On my first visit I got Eileen, by Ottessa Mosfegh, which seems seasonally appropriate, albeit not in an especially festive sense, but I am excited to begin reading it tonight!)