November 30, 2017
The Marrow Thieves, by Cherie Dimaline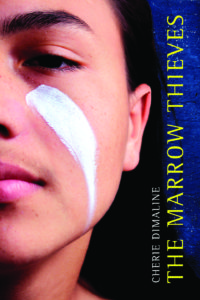 Do you know what's NOT very original? Me writing about The Marrow Thieves, by Cherie Dimaline, that's what. The book that won the OLA White Pine Award, the Governor General's Award for Young Readers, the big-deal Kirkus Prize, among its many accolades, and has since run out of space on its cover for awards. I first encountered Dimaline at The Festival of Literary Diversity in 2016 on a fantastic panel about faith in literature, and she was so impressive I bought her short story collection A Gentle Habit right after and I really liked it. But even so, I was less inclined to pick up her novel that followed it, because I was all, "YA dystopia, huh? No way." Partly because of my own genre-biases, it's true, but also because the world is dark enough: why should we throw a pack of post-apocalyptic teens into the mix?
But we should, actually, as advised by Shelagh Rogers who tweeted, "I am delighted @cherie_dimaline. The Marrow Thieves is billed as YA. I urge A's to read it!!" And then this fall everywhere I went, people kept asking me, "Have you read it yet?" Until finally, I had no choice but to buy it, and I am so glad I did, because (and you never saw this coming): The Marrow Thieves was amazing!
Although it took me a few pages to settle into it, to get a sense of the shape of the narrative. It's from the point of view of Frenchie, a 17-year-old who travels through the wilderness of Northern Ontario with a ragtag family of kids and a couple of elders ever on the move to escape the clutches of "the recruiters," officials who take Indigenous people away to special "schools" where their bone marrows are harvested. The reason? Climate change has sent the environment into turmoil and as a result of the devastation people have lost the ability to dream—except for Indigenous people, whose resilience and connection to the land has enabled them to survive one apocalypse already and whose dream lives are an essential part of their cultures. And so the bone marrow of Indigenous people become coveted, the key to recovering the ability to dream without which people the world over are going mad.
The book begins with Frenchie's brother being taken by the recruiters, after the boys have already been separated by their parents and the world is a dangerous, toxic place. Using his wiles, as well as his connection to the land and remarkable abilities in hiding and climbing, Frenchie gets away from the recruiters and is eventually found by Miig, who tells Frenchie and the other children who travel with him the story of what has happened to their land and their people, some of this story still speculative to novel's the reader and much of it historical fact. We follow Miig and Frenchie and the rest of their found-family, learning the often harrowing stories of how many of them came to join the group.
But soon the recruiters are getting closer, and the stakes are getting higher. Three quarters of the way through, this novel becomes so difficult to put down and part of the appeal is that all its darkness is underlined with such abundant joy. The love story between Frenchie and Rose is part of this, as well as the family love between Frenchie and Miig and the other members of their group, and the strength and wisdom they carry on their journey that seem incorruptible. Amidst the YA darkness is the rich spirituality of the novel and its sense that some things—love, not least among them—are inconvertible. That life and love and land are worth surviving for.
And the third last page! The third last page! It had me audibly gasping like a, well, like a grown up devouring a YA dystopian novel in all its incredible goodness. I still can't get over that third last page, and what it leads to. I loved this book, and urge you to pick it up if you haven't read it yet.