November 24, 2017
Feather, by Remy Courgeon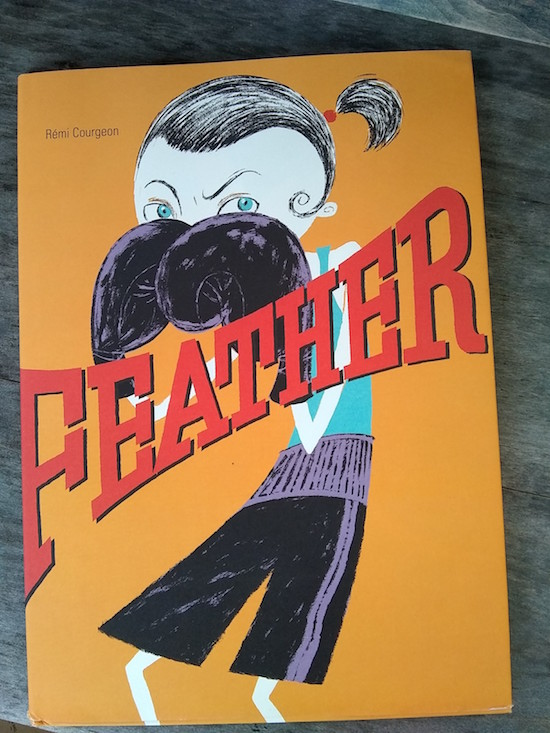 So I'm not exactly blazing a trail here, singing the praises of Feather, by Remi Bourgeon, which is included on the New York Times Best Illustrated Children's Books of 2017 list, but it's a book we've been falling in love with more and more every time we read it.
It's an incredible exercise in minimalism, an entire novel so perfectly condensed into a few hundred works. Paulina is growing up in France, child of a Russian father who works all night driving taxis. Her mother, the reader assumes, has died, leaving Paulina the only girl in a household with three older brothers. She's not just the youngest, but she is also the smallest—they've nicknamed her "Feather"—and when they end up fighting over household chores, she always loses, and ends up having to cook and do the laundry and she's left with no time for her favourite occupation: playing the piano.
One day, after getting punched in the face and sporting a mean black eye, Feather announces that she's quitting piano to take up boxing. No one can get her to change her mind, and she's just as determined in her training as a fighter. Courgeon's illustrations are fantastic, full of detail and action, and are so excellently married with the text in that the first letter of the first word on every pages is also a picture: see the L as the flexed arm below, the T in the t-shirt above, a J that is a cat's tail dangling from the top of the piano, and an S that is a skipping rope. (And credit to translator Claudia Zoe Bedrick for making this work in English!)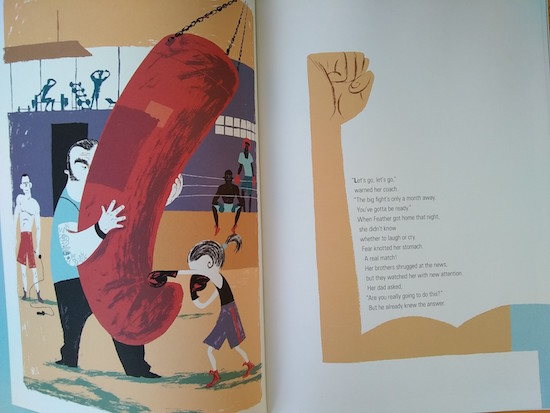 As Feather devotes herself to training, her brothers are forced to take on a greater load of the household chores, but mostly just because Feather starts winning the fights over who has to do them. "Feather's killer left gave her confidence. She even called Ivan 'Blimp' once. She had to run for it, but running was part of her training, after all."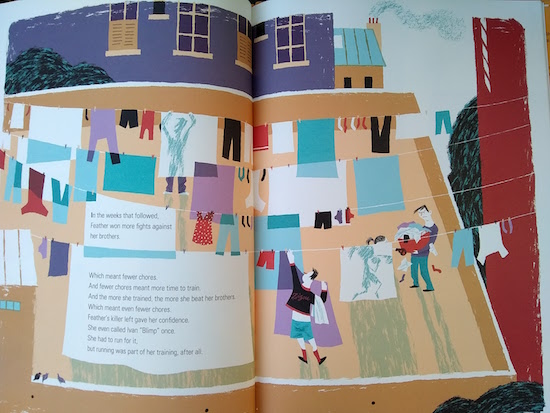 Before every match, Feather gets ready by reciting "the names of women who had bravely made a place for themselves in the world: Rosa Parks, Marie Curie, Nellie Bly, Anna Lee Fisher, Sally Ride… She always ended with Nina Simone, because she had played the piano too."
The book's climax is the moment before the big fight, when Feather discovers notes from her brothers and her father hidden in her boxing glove, cheering her own. Her father has left a photo of her mother with a note on the back: "We're with you, Paulina! Love, Dad."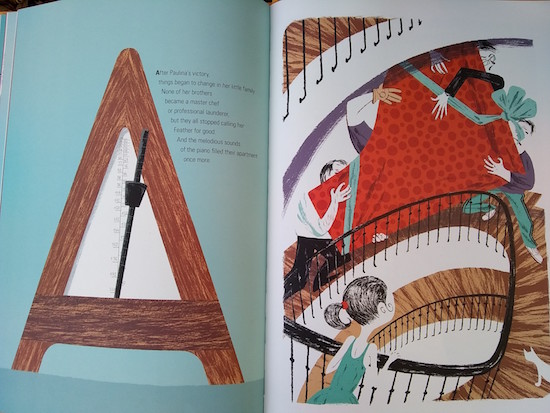 She wins, of course. You knew she would. And things do change around their house—she's learned the respect of her rough and tumble older brothers But the surprising twist in the story is that she gives up boxing after that, and goes back to piano. "Fists should be opened and fingers should fly," she explains, the last illustration showing a grownup Paulina playing piano with a baby on her lap and a boxing trophy on display.
The book's final image is a boxing glove in the endpapers being used as a vase for flowers, and I love that idea. This is a fantastic book with a strong feminist message, but like all the best feminist things that message is not singular. This is a fun engaging book first and foremost, but it will also leave its reader with questions and things to think about, and a million other reasons to reopen the book and start reading gain.