November 5, 2017
Cozy Inside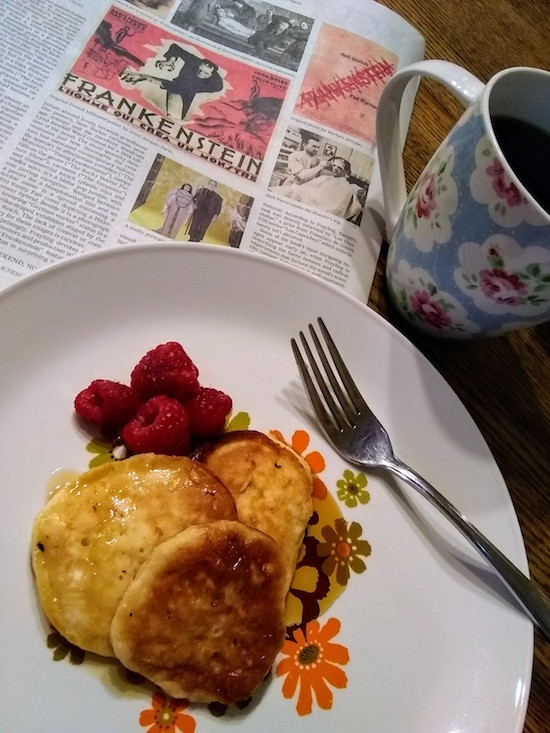 It's so dark, but I'm not tired of it yet. It's still novel, and my house is warm with all the lights on. I've literally got an illuminated banner hanging up in this room right now whose letters read LIGHT LIGHT so I guess you can see that we're really trying here. And it's working. I really do love evenings like this, the world so dark outside our windows but everything bright and cozy inside, each of us here exactly where we belong.
It hasn't been the easiest season, for reasons that are mostly (and blessedly) unremarkable, the usual business of life. It's not been terrible either, but it's also been busy, and while we've had many adventures and good fun with excellent friends, this Saturday was the first Saturday in at least a month or maybe more where we had absolutely nowhere to go. And it was perfect, the way an empty Saturday can be, the way it isn't when everyone is tired and the house is too small and nothing good is in the cupboard. No, everything was completely the opposite of that, and yesterday was cold and bright and sunny. We didn't leave the house until after two o'clock, when we headed to the library, and we'd had bread and jam for breakfast, and played games, and then Harriet made a video game about putting all your apples in one basket (and it turned out fine!). At the library, amazing books we out on display, and we got the new Carson Ellis and whole stack of Bob Graham books, the brand new Girls Who Code book by Reshma Saujani, and a book of kitchen experiments about growing mould that for some delightful but obscure reason was exactly what Harriet was desiring.
We walked home via Kensington Market, and bought bagels. And then arrived home to the smell of bread in our bread-maker, nearly done. And I made that one kind of soup that my children will consent to eat, which is pretty much devoid of flavour, but it's still soup and they eat it which means we've come a long long way. All I've ever wanted really are children who eat soup, so I won't quibble, and their company at dinner was delightful. It's been that way most of the weekend actually, which is so so nice. When we turn to each other and say, "Don't you just adore these funny people we made?"
(This is in contrast to early in the week when one of those funny people kept coughing in bed and we were contemplating making her sleep in the shed.)
Today was the day with twenty-five hours in it, which is always my favourite day of the year, and this year it once again delivered, never mind that I probably spent my extra hour in bed struggling to go back to sleep after creepy dreams were keeping me up in the night—I've been reading too many intense novels lately. We had cottage cheese pancakes this morning and hung out reading newspapers and the children entertained themselves, and we made banana bread. After lunch, we went to the pool and spent a delightful hour frolicking in the shallows, which saved us from a  day of doing absolutely nothing at all and going stir-crazy. We came home and I read books while the kids watched TV, and then Stuart made dinner, and Harriet and Iris and I made guacamole, except Iris kept calling it Whack-a-moley. And Iris even ate it! ("And Iris even ate it!" is the unbelievable incredible ending to so many stories I tell.)
Today was the kind of grey and rainy Sunday you just hope will come along, during those rare and precious times when you've got nothing else to do. This entire weekend feels as restorative as a week-long vacation, and we don't even have to unpack.