October 31, 2017
Jesus on the Dashboard, by Lisa Murphy-Lamb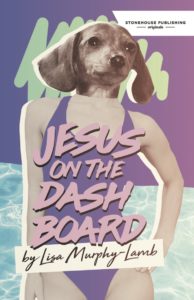 When I was in Edmonton in September and Stonehouse Publishing won the Emerging Publisher of the Year Award at the Alberta Book Publishing Awards, I had some familiarity with the press—mostly because the day before the bookseller at Audreys had taken care to bring me all their books as examples of a small press making beautiful books and doing it well. The only reason I didn't end up buying one of their books was because they were historical fiction, which isn't always a genre I go for, but when I learned that one of their latest releases is set in the 1980s, which is one of my favourite periods in all of historia, I was immediately keen. Even more so when I saw the cover, and read the synopsis; Lisa Murphy-Lamb's Jesus on the Dashboard, I decided, was right up my street.
The novel is about Gemma, seventeen-years-old, whose mother's departure years before has been somewhat traumatizing, part of the reason why Gemma is remote from her peers and her father, refuses to be touched, has food issues, and why her deepest bond is with her therapist. Which makes it all the more surprising when Gemma's estranged mother's cousin Rachel (who one shared a house with Gemma's parents) turns up with her eldest daughter with a curious invitation for Gemma—and Gemma even accepts it. It seems that Rachel has changed her wild ways and become a born-again Christian, as has Rachel's mother Angie, and they both attend the same church in Springbank, Alberta. And now Angie has gone and adopted a Korean orphan in an effort to find her way back to motherhood, and Rachel wants Gemma to be part of that journey—would Gemma like to come and spend the summer with her family?
Of course she goes, because the premise of seeing her mother again is irresistible, but it's not that straightforward, because Angie knows nothing about Rachel's plan, but Rachel has been praying, and Rachel has faith. And in the meantime, Gemma finds herself part of a busy raucous household nothing like the one she shares with her father, and she has to navigate the complicated social terrain of her cousin Penelope who tells her, "I may be churchy, but I'm no virgin." Consistency is overrated, which is probably a good lesson for anybody to learn early, and I loved Murphy-Lamb's depiction of Penelope and her friends who embrace their faith and the world and all that contradiction…which is what saves Gemma in the end when the show-down with her mother finally happens, and she realizes she's stronger than she ever knew.
Murphy-Lamb writes great prose with humour, and crafts her characters with a loving sympathy that will totally win your heart. "I'm glad I went," Gemma tells her therapist at the end of it all. "If I hadn't gone, I would have spent the summer surrounded by double garages, aerated lawns, stuccoed houses, and my own self-loathing." A line that tells you something about the singularity of her narrative voice, the way that Murphy-Lamb strikes the right balances between precocious and naive, impossibly young and wise-beyond-her-years, and something too about the joy of having access to her stream of consciousness. At some points I found the narrative hard to follow and the book could have benefited from a tighter edit, but neither of these points overrode my appreciation for the novel, whose ending is just fantastic.