June 27, 2017
Four Great Activity Books For Summer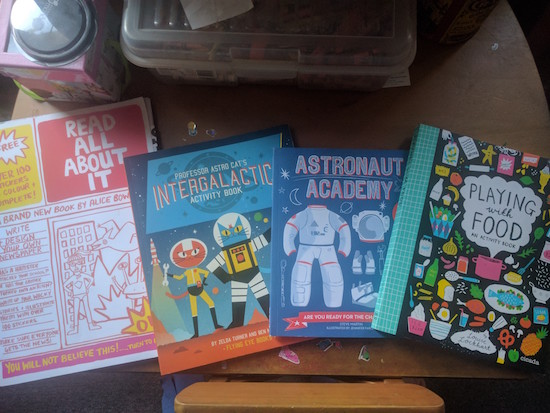 Today is my last day with both children in school, and while I have a million things to do in the scant amount of time I have left, I wanted to carve out a moment to recommend a few activity books we've loved this spring, and will be taking with us on vacation this summer to ease the waits in restaurants or to enliven rainy days.
Read All About It is a future journalist's dream, a fun kit that lets kids put together their own newspaper headlines and stories using stickers, the more bizarre the stories the better.
Professor Intergalactic Cat's Activity Book is based on the gorgeously illustrated science books by Ben Newman and is packed with games and experiments for kids who are curious about the world around them (and even the worlds beyond!).
And speaking of worlds beyond, we love Astronaut Academy, a fun book for the poor children who can't make it to Space Camp this summer, containing fun and challenging activities to prepare future astronauts for an experience in space.
And finally Playing With Food, by Louise Lockhart, which is my favourite colouring book ever (the FUN of colouring a vintage kitchen, or choosing colours for a page full of mystery beverages) and a treasure for children of any age who are partial to yummy things and great design.