June 27, 2017
Boundary, by Andrée A. Michaud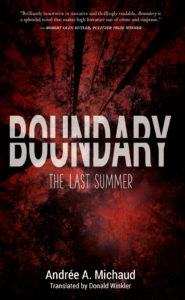 How about a book that checks all the boxes: an award winner (Governor General's Award for French Fiction, and the Arthur Ellis Award), a gorgeous translation, a narrative with psychological depth, and a gripping thriller of the sort that summer reads are made of? I spent my weekend with Boundary, by Andrée A. Michaud, so perfectly steeped in summer and suspense, and I loved it—and I have been ardently recommending it to everybody for days now.
It's set in a cottage community in Maine, a land that divides two nations, two languages. It becomes a place of in-between where anything is possible during the summer of 1967, the summer of love, the novel's soundtrack playing Procol Harum and Lucy in the Sky With Diamonds. It's a novel that's also set on the border between girlhood and womanhood, two girls—Zaza and Sissy—on the cusp of everything. None of which will transpire, as both girls will be found dead that summer, caught by brutal animal traps hearkening back to the legendary woodsman Pete Landry, long ago found hanged his cabin and still said to haunt the woods. Are the girls deaths nothing more than tragic, stupid accidents, or is something (and someone) much more sinister at work?
If it weren't already taken, Lives of Girls and Women would be an excellent alternative title for Boundary, which in its consideration of girlhood, friendship and violence, reminded me in the best way of Joni Murphy's Double Teenage. While the novel is told from multiple perspectives, including from that of Detective Stan Michaud, its primary point of view belongs to young Andree Duchamp, who is young enough to escape much notice but also to notice everything—the exotic lives of the teenage girls, and also the experience of the wives and mothers in the community, who are its bedrock, and the ones who are left behind during the week when the husbands return to the city and whose stories are told with remarkable psychological acuity.