June 21, 2017
Places I've Gone With A Book in My Bag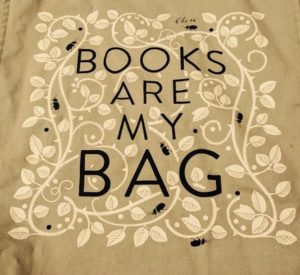 Our neighbours' backyard party last Saturday evening. This was the event that occasioned this list, as it made me consider whether I might actually have a book-in-the-bag problem. I was definitely not intending to read at this thoroughly enjoyable social event (and I didn't) but when I considered the slight prospect of one of my children having to go the hospital (perhaps after falling out of a tree?) and a five hour wait in the ER waiting room, not bringing a book just seemed dangerous.
Hospital waiting rooms: Oh, the splendid hours I've been reading in such places. The best ever was when Harriet poked me in the eye during a heat wave in August 2010* and I left our sweltering apartment to spend hours and hours in air conditioned splendour, rereading Slouching Toward Bethlehem for the zillionth time and waiting for the doctor to tell me that I would not be going blind. *Note that I have all the details on this matter because I wrote a blog post extolling the virtues of waiting rooms as places to read back when I had a one-year-old and life was harder.
The park. Always, in the park. My worst nightmare, in fact, is not of anything involving hospital waiting rooms, but instead the prospect of a sunny day where my children don't want to go home but I've got nothing to read save for the organ donor card in my wallet (and I've already read that). I will never forget the summer day when Harriet was two and I spent a whole afternoon sprawled in the backseat of the climbing frame that resembles a jeep at Huron Washington Playground reading the entirety of Alice Thomas Ellis's novel The 27th Kingdom while Harriet pretended to "drive."
Out for lunch. Sometimes because the book is to be my lunch companion (oh, and what a joy is that!) and even if my companion is to be actual human being, a book in your bag means you can read while she goes to the bathroom.
On the subway. First, because the subway is a very good place to read, but also because what if your subway car gets stuck in a tunnel for three hours? How would you bear it without a book to read?
The Bookstore. This is where it gets really stupid. I always have a book in my bag, but half the time the only place I ever go to is a bookstore anyway. But still, if I went to a bookstore without a book in my bag, I'd have nothing to read in transit. And think about if the subway got stuck in the tunnel, right?? But then, what if you were fifteen pages away from the end of a book? This is when things get complicated. Because you need to bring a secondary book to start reading when you finish the first one, and perhaps a tertiary book just in case that second title turns out to be a bit of a dud. I could possibly come up with a very good reason why you should never go to a bookstore without thirty-seven novels in your rucksack. Anything less would be reckless.
Harriet's birthday party. We took eight small girls to the movies. Sadly, I didn't get a chance to read at all.
Playschool co-op shifts. I don't know why I ever thought I'd have the chance to read on a playschool co-op shift, particularly since I never ever have. But still, you don't want to take a chance like that.
The Shovels and Rope concert at the Phoenix in October: I was reading Ann Patchett's Commonwealth before the show while Stuart was in the loo. The security guard who checked my bag thought it was weird that I had a book.
My own book launch. I was reading Big Little Lies. I didn't get a chance to read it though.
The hospital, where I gave birth to my second child. This is not so weird, but it is weird when you consider that I brought nothing else except for a pair of shoes to wear in the shower. I was hoping to give birth at home, and perhaps thought packing clothes would jinx this. Instead, it just meant I spent a lot of time naked. But at least I had a book.