June 9, 2017
The Thing That Lou Couldn't Do, by Ashley Spires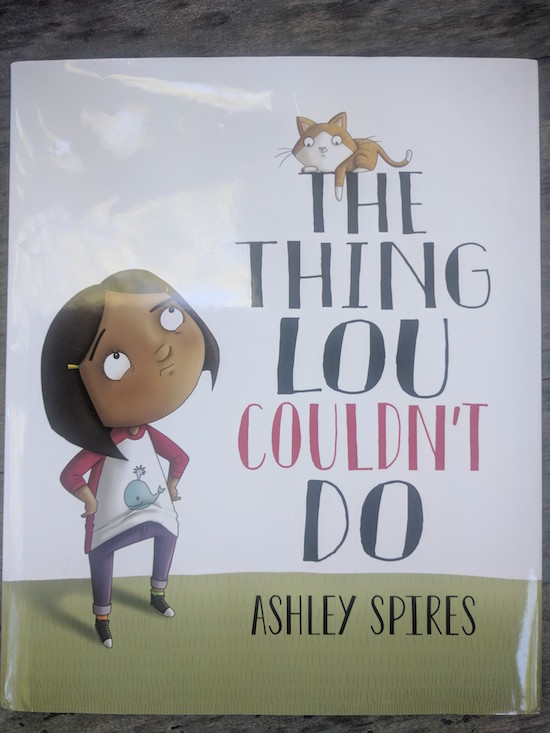 If life were a movie, all persistence would lead to triumph. Adversity only would exist in order to be overcome. We would all be Rocky, champions, eye of the tiger. If you just try hard enough, success will inevitably result. And it's not just movies—it's books too, memoir and fiction, books for all ages. Stella gets her groove back. It leads you to believe that this actually happens, all the time. And for some people, maybe this is true.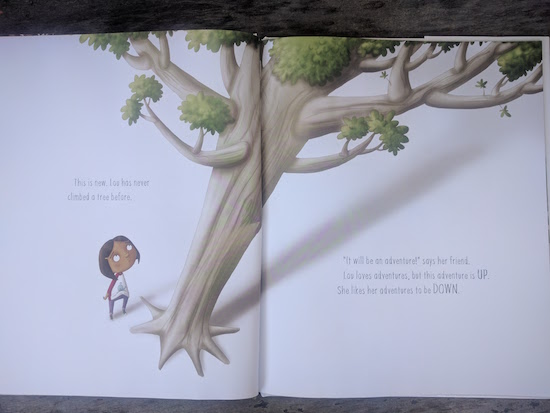 Sometimes I feel like there should be a different kind of genetic testing before two people are allowed to procreate. Oh, wait a minute. You can map your entire childhood from the scars on your face from your struggles with gravity, and you played softball for four years and never ever once managed to catch the ball? Do you really think this is such a good idea? Maybe you both should adopt a ferret instead?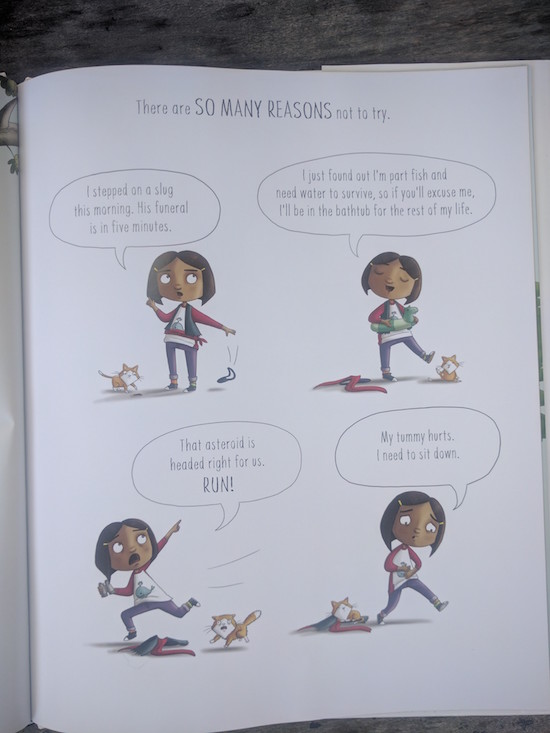 There will be a time when my child's inability to do a cartwheel won't really matter. (There might also one day be a time when she can do a cartwheel, but I am not holding my breath.) She couldn't jump until she was four years old, and hopping remains a challenge. Jump Rope For Heart is coming up next week and she can't do it. Mostly for lack of trying, it's true, and if I could go back in time I would have enrolled her in gymnastics when she was two and given her a foundation in physical literacy, but I figured it was the kind of thing she'd pick up on her own. Like riding a bike. Which she still can't do.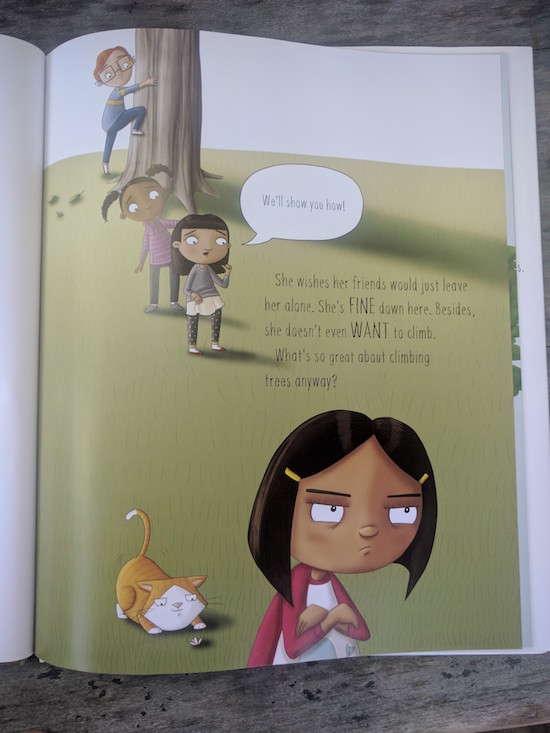 It's not all failure, of course. I write here all the time about the magnificence of my children, their incredible imaginations and intelligence and how they are funny, kind of empathetic. They love exploring, can walk for miles, can make a game out of anything, read boatloads of books, are up for adventures, do well in school, get along with their friends, and are already very good members of their community. I admire them both immensely. But the whole story includes the struggles, and we've got plenty of those. Motor skills are not our forte. If I wanted to, I was told, I could pursue therapies with a aplomb and really nip this problem in the bud…or I could write my child off as a person a bit lacking in physical prowess. Something we both actually have in common. She's kind of fine with that.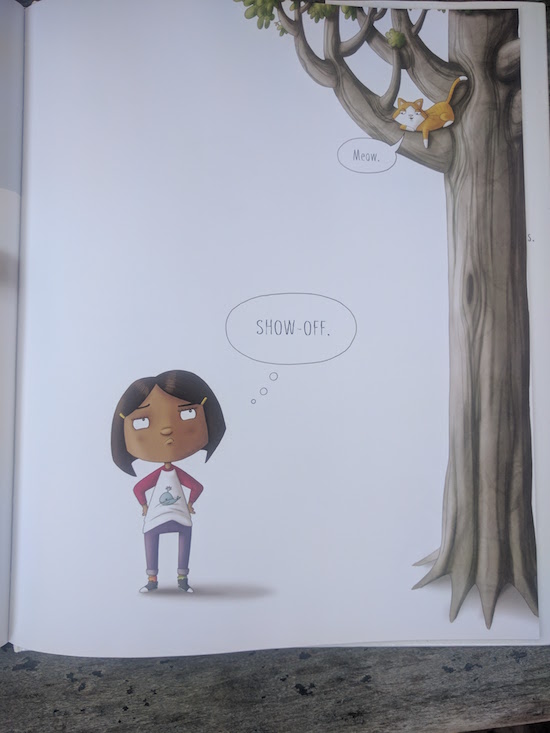 While bike riding remains elusive, she has mastered her two wheeled scooter, which isn't easy to do. She still can't skip (three consecutive jumps are a challenge) but we've finagled a slow-motion step thing with the skipping rope which might turn into actual skipping with practice. With a lot of determination, she learned to ice skate, and while she's cautious and slower than her fearless friends, she can skate enough to have an acceptable Canadian childhood. And our latest and greatest triumph is swimming, even though she's likely to repeat Swim Kids 2 again, but this is probably the last time, and she can actually swim now, which is a long long way for someone who has the buoyancy of a anchor. She's had a good teacher this term who has pushed her, which she said she resented in the beginning, but she gets it now. On the chalkboard in our hallway, we've written, WE CAN DO HARD THINGS.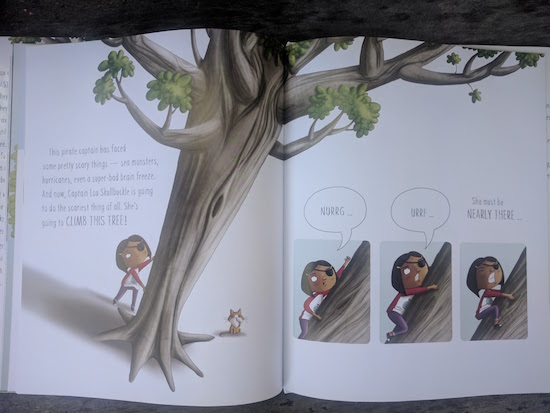 At their last physical exam, or maybe the one before it, I mentioned the challenge with physical things, and our doctor (who is the mother of four children and knows a few things) told me two things that struck me as quite profound. First, that when our brains have to work harder in order to respond to challenges, our brains get smarter. Struggle is good for us. And second, struggle can make us better people, people with more empathy towards those with their own struggles, a healthy awareness that everybody is fighting their own battle.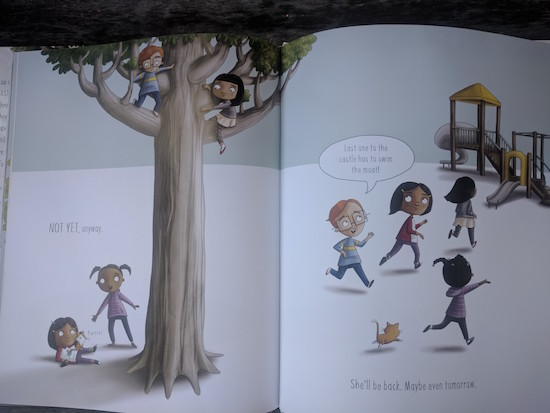 I love The Thing That Lou Couldn't Do, by Ashley Spires, because (SPOILERS) she never learns to do it. This is not a story about triumph over adversity, but about adversity. About how adversity can be its own story, worthwhile in its own right. That learning and trying and trying again, regardless of what happens next, is its own kind of adventure. And that all of us are doing this in some part of our lives, and if we're not, it's only because we're not brave enough to bother.