May 23, 2017
Mitzi Bytes in the World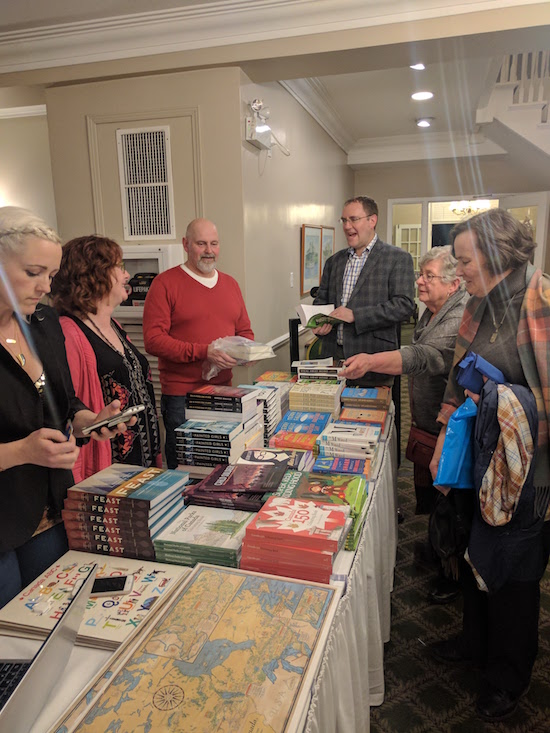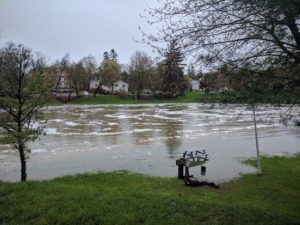 After a flurry of busy-ness, I'm playing a bit of catch-up with news of Mitzi Bytes in the world. Earlier this month I had the great pleasure of travelling to Gananoque to take part in the 1000 Islands Writers Festival. This was the weekend it rained every day following the week during which it rained every day, and by Saturday the rivers had burst their banks and there were fewer islands than a thousand. But even flooding didn't dampen the spirit of the festival. I had a very good time, staying at the historic Gananoque Inn and rooming right next door to Lindy Mechefske, who I've been online friends with for awhile and whose Sir John's Table I loved.  On Saturday morning, Lindy and I did a panel about writing, blogging and social media, which was terrific fun and illuminating for all of us, and then I taught a blogging workshop following that—and got to meet Emily Prout, of the very cool and empowering blog, Arrow It Forward. My other event was later that day, a conversation about motherhood at the Gananoque Library with a small circle of women ranging from new moms to a great-grandmother—and it was wonderful. What a delight to take part in a discussion, one that really happened too, and to get to know other people and learn new things about the context of my book. I've never encountered such a group of engaged and committed readers as I did in Gananoque, and the intimate settings were lent themselves to that dynamic.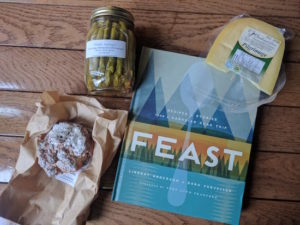 I'd gone to see novelist Terry Fallis and spoken word artist PrufRock Shadowrunner the first evening of the festival, and finished the Saturday with a wonderful and delicious event with Lindy and Lindsay Anderson and Dana VanVeller of the cookbook Feast: An Edible Roadtrip. It was also very nice to see Cathy Marie Buchanan and Claudia Davila again, and meet kids authors Paul Covello and Jess Keating (whose Pink Is For Blobflish went down very well at our house…). On Sunday morning all the authors had a delicious breakfast at the golf club on the banks of the river (which were nearer than they should have been) with a packed house of readers who'd enjoyed the weekend as much as we had. I was also glad to get a chance to check out Beggar's Banquet Books before I headed out of town—an excellent new and used bookstore with Mitzi Bytes in stock.
**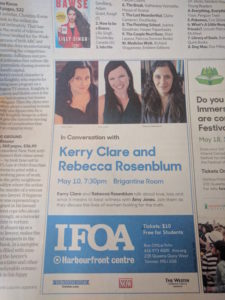 And then Wednesday night was the big finale to a very busy two months of Mitzi Bytes events—although stay tuned for other happenings throughout summer and fall. That night I had the great privilege of taking part in the IFOA Weekly Series with my very dear friend Rebecca Rosenblum, whose book So Much Love (NOMINATED FOR THE AMAZON.CA FIRST NOVEL AWARD!) came out the same day as mine. Moderated by the excellent Amy Jones and hosted by Sheniz Janmohamed, it went as well as you might expect for a conversation by two friends who have a lot of good things to say about each others' work—which is to say, very well. Amy did a terrific job drawing connections between two novels that are very different, we all had a lot of fun, and, as Sheniz commented afterwards, we manage to broach some very timely ideas: "What does it mean to own your story? What is the responsibility that comes with telling other people's stories?"
There were lots of people there, and it was such a good vibe—a spectacular close to the season of Mitzi. And I am so grateful to everybody who has supported the book so well this spring—it has meant the world to me.
**
I was also lucky to take part in two great conversations that have found their way into print. Check out "A Spy Among Us", by Stacey Gibson at U of T Magazine, and Ann Cinzar's interview with me at Literary Mama.