May 11, 2017
Did you ever know that you're my hero?
A thing that happened to me yesterday when I was working on the second draft of my new novel was that I realized I'd totally stolen a plot point from the 1988 Bette Midler vehicle, Beaches. Not so shocking, I guess, considering I am writing a story about two women's friendship over decades. It's the part where C.C. Bloom ends up with her theatre director, who'd previously slept with her best friend, and you've got to wonder if they're together not just C.C. wants to be but because she wants to one-up her friend. Of course, my story is a bit different from this, I assured myself, but then I realized that it even takes place around a theatrical production—albeit one that is a very very terrible campus drama society play.
I should have known this would happen. It is possible that Beaches has been seared onto my DNA. That film was my introduction to all the best things—boardwalks, photo-booths, pen-pals, and Mayim Bialik. We had the record, and I spent hours gazing at the cover, the framed pictures on the piano documenting Hilary and C.C.'s history. I was obsessed with Beaches. I think I saw it in the theatre, and then we had the video. I can recite whole passages—"You did everything you said you were going to do, everything" and "That's my robe," and I actually do periodically utter C.C.'s line from when she asks the bartender to carry in Hilary's bag and her tells her, "I've got a bad back." She said, "You've got a bad attitude." Exactly.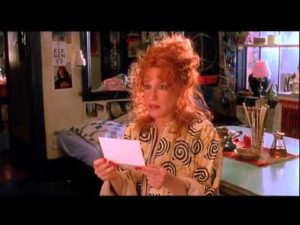 The New York apartment with a bathtub in the kitchen, into which Hillary moves while on the run from her upper-class destiny, where they string Christmas lights and sing, "Oh Come All Ye Faithful"—in Latin! Basically it stands for everything I ever wanted. I wanted to pound on a radiator while screaming, "Send up the heat!" Such romantic, bohemian deprivation. Remember when Hilary drove a Volkswagen bus and worked for the ACLU, and Hilary's tousled up-do in the laundromat with C.C. asking her, "Do you really think I have talent?" I wouldn't recall this scene at all, except I just watched the movie trailer and realized I'd spent my 20s quoting that line, not realizing I wasn't its original author. I'm sure I've also had days where I've gone to buy a wrench because we didn't have one. It is possible that Beaches is in fact my subconscious. I wanted that once-in-a-lifetime friendship that lasts forever, for sure—or at least until someone ends up with a terminal heart condition. (It is also possible that this film was the advent of my hypochondria.)
I loved that movie so much, and had a mass market paperback of the book on which it was based, in which Hilary Whitney  was called Bertie Barron, but still died at the end. I think I even read the sequel, Beaches II: I'll Be There, although I've forgotten everything its plot contained. Interestingly (or not, all things considered) I am quite sure that Hilary Whitney's family home in the movie is the same house at which Roger Sterling hosts his offensive blackface party and sings, "That Old Kentucky Home," in Mad Men—when you watch a movie 3000 you come to recognize these things. Beaches is also the reason I developed a moderate crush on John Heard, and why when John Hurt died not too long ago, I wasn't all that bothered, because at least John Heard was okay.
I am afraid to re-watch it. Not just because I have a feeling I might discover that it doesn't hold up—the acting in the film trailer was kind of…awful—but because I might discover that everything I have I have possibly stolen from Beaches, that in fact I do not exist at all as a singular entity but instead as an amalgam of lines and ideas from late 1980s' films in which beautiful young women die tragically (and gorgeously). What if all of us are just walking around in Gary Marshall's dream—or even fragments of the imagination of Iris Myandowski the handwalking queer?