May 2, 2017
What's Your Dream Denim?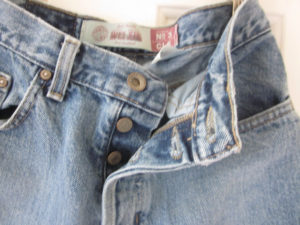 "What's your dream denim?" is an actual question a GAP employee asked me not too long ago when she had discovered me wandering her shop in despair and confusion at whatever had happened in the world of pants since the last time I'd gone shopping. Not even on the clearance rack could one locate a pair of the low-rise skinny jeans I'd been wearing since 2009 when all pants basically became elasticated, the greatest revolution in leg wear the world has ever known. In their place instead was boyfriend jeans, and girlfriend jeans, and wide legged cropped jeans (WHA???), destructed jeans, and the most horrifying pair of jeans I have ever glimpsed: super high-waisted button-fly bellbottoms. What the actual fuck?
But revolutions in leg wear have always caught me unaware, the GAP's late-1990s Khaki Swings Campaign notwithstanding—I bought a pair of those pants because I wanted to learn to dance like that, although it didn't work. But I remember actually wearing tapered acid-washed and thinking that dark denim was a fashion crime, and then suddenly there we all were wearing dark-navy jeans with flares. And then one day about a decade on it was clear that flares were dying, and I vowed to never go tapered again, making fun of people who wore jeggings…until one day I had my own pair. Where did they even come from? I cannot tell you. If someone had told me fifteen years ago that I'd be wearing tapered jeans at age 37, I would have said they were crazy, but here I am, and frankly, I am terrified. Concerned that the pair I'm wearing right now might be the last pair of low-rise jeans in the world—who thinks high-waisted jeans look good on anybody? They make lithe 22-year-olds look dumpy, so what hope is there for the rest of us? It's my one real complaint about millennials, their ridiculous waistlines—it is possible that none of them were ever taunted for pulling up their Buffalo jeans too high in 1991 so they have no idea about the grade-7 trauma their terrible pants could possibly induce.
But if fashion history is any indicator, about 15 months from now I'm going to be zipping myself into a pair of jeans whose waist rises to my clavicle. Maybe they will be flapered, which is a term I've just invented for a leg that is tapered just below the flare. In the boyfriend's-cousin's-hairdresser cut, which is like the boyfriend jean, but more tailored to one's figure if one happens to be shaped like a broomstick. There is no dream denim, it is only a nightmare.