April 25, 2017
The Dark Flood Rises, by Margaret Drabble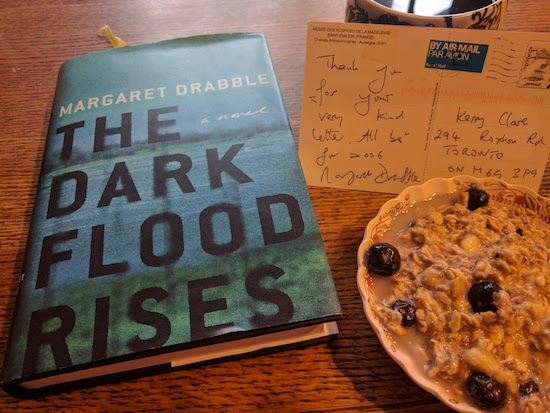 I've spent the last week reading Margaret Drabble's new novel The Dark Flood Rises, an experience that is the closest I've ever come to reading Drabble for the very first time, The Radiant Way in 2004. Which has been weird, because reading that book was the most visceral experience, a book that read like butterflies in my stomach. I still remember. Although it was possibly because my life was on the edge of everything in 2004: about to get married, return to Canada, enrol in graduate school. I was 25, and everything amazing lay just before me. There I was looking out at the world, and The Radiant Way was exactly like that: I want to be there, I remember thinking, intellectuals and Oxford grads, cultural critics and North London. The way she wrote the world: I want to do that too, her work affirmed for me. Her amazing omniscience, and the remarkable body of her knowledge—inspiring but overwhelming, because I could never do that. But she made me want to reach. For me, discovering The Radiant Way in a  second-hand bookshop in Kobe was the discovery of literature proper.
It was also exciting because even in 2004, Margaret Drabble had a huge body of work behind her, and she was sufficiently unfashionable that her books was always readily available in used bookshops, even the Japanese ones. I spent our year in Japan buying up orange-spined Penguin paperbacks and reading wildly. We coined the verb "Drabbling," which meant to be reading and utterly enraptured. I enjoyed her early works, though I found her books before The Needle's Eye interested me less—these books were about individuals, but it was her engagement with society that so fascinated me. I insisted on sending all of the books home by sea, which was stupid because battered secondhand Margaret Drabble novels are hardly rare, but I am glad I did so. And I began to discover her newer work when we got back to England—I bought The Peppered Moth from an Oxfam bookshop in Notting Hill.
For awhile, it seemed like Margaret Drabble novels were an infinite resource. She had new books out in 2005 and 2006, and I still wasn't through with her backlist. I began to see that with her works in the 1990s and 2000s, she was less interested in society than the novel itself, at pushing the limits at what a book could contain. With The Witch of Exmoor and onward, her books began to get rather curious. I didn't love them as much (by which I mean to the point of intoxication) but Drabblers takes whatever Drabble they can get. They were never ordinary or boring. With the publication of her memoir The Pattern in the Carpet in 2009 (which I read two weeks before Harriet was born—there's always a Margaret Drabble book when I'm on the edge of something) she declared herself retired from writing fiction, but thankfully she was lying. The Pure Gold Baby appeared in 2013, which was a Drabble throwback, a reimagining of her preoccupations from her early works.
And now The Dark Flood Rises, which is also nostalgic in approach, another book about people and connections, her fabulous omniscience. Esther Breuer from The Radiant Way trilogy appears in this book, there are towers and ariel views as with The Middle Ground, the same fatalism that permeates so much of Drabble's work. (I started reading Margaret Drabble at the same time I started reading Joan Didion. They are not similar stylists, except for that fatalism, which so links them in my mind.) It's a book about old age and death, but the ways in which it probes the interestingness of these scenarios makes it a very compelling novel. At it's centre is Francesca Stubbs, who works for  a trust charged with innovating care homes for the elderly, and she tours around England in her car and appreciating the comforts and familiarity of basic hotels. We meet her children, her son Christopher, an unemployed TV interviewer whose partner has just died after an illness in the Canary Islands, and her daughter Poppet, an environmentalist who lives in a cottage on a flood plain. Her friends too who are marking old age in their own distinctive ways. She brings dinner to her bedridden ex-husband, who is engaged in relations with his private nurse, a Zimbabwean called Persephone. The narrative ruminates on islands, and migrants, environmental catastrophe. On books and art and cellars and histories. Archives. This is a novel that, like another referred to in the narrative, is written "in a state of uncertainty… a modernist open-ended novel… on the edge of history."
The Dark Flood Rises is vastly different from Ali Smith's Autumn in every way, but similar in its edge of history-ness, uncertainty, and that both books refer to artist Pauline Boty. And it was interesting to be reading it last week when I learned that Drabble's adult daughter had died last week after a short illness, underlining the entire project with a layer of sadness. Parts of it seem ominous now, and it made me feel Drabble's grief in a way that could have been more theoretical otherwise. But this has always been the case with my feelings for her work, how its ideas refuse to stay confined to the text, how it seems impossible that the worlds she creates aren't actually real, how the story seems to creep its way into the world, the culture, like vines so, until the lines between them become difficult to decipher, and it's impossible to tell where one stops and another begins.