April 24, 2017
Sputnik's Children, by Terri Favro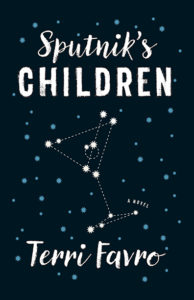 There's no point in writing a lead-up, and I'm just going to say it: I loved Terri Favro's Sputnik's Children in a way that makes my heart feel like it's on the brink of exploding and my new mission in life is now to persuade everyone to read it. It begins with our heroine, Debbie Reynolds Biondi, creator of the cult comic hero Sputnik Chick: Girl With No Past. She's a bit washed up, strung out on pills, travelling from one hotel convention room to another, tired of her fans asking her why she's yet to write Sputnik Chick's origin story. The reasons are complicated, but namely: that it's actually her own story. Debbie is Sputnik Chick, a Cold War nostalgic, delivered to our universe from a parallel one (Atomic Mean Time) that was destroyed by nuclear war in 1979, Debbie sacrificing her life, true love, and her identity to deliver humanity to the safety of Earth Standard Time (which you and I know as "here and now") the parallel worlds safely merged.
But its complicated, and Favro takes us back to the beginning, to Debbie's upbringing in Atomic Mean Time, a realm not unlike our own except for key differences—the Cold War is actual, there is no peace movement in the 1960s or calls for nuclear proliferation. From a young age, Debbie is visited by a figure known as "The Trespasser," although he only sometimes turns up in her realm with an awareness that she is the chosen one who is going to save the world. Jumping in and out of time, The Trespasser complicates Debbie's past, present and future, but the prophesies prove correct when Debbie is enlisted to save the world as the inevitable nuclear showdown finally arrives.
So it's all true, except that Debbie's addicted to booze and pills and her sister reminds her that she's always been one to make up stories to hide the traumatic facts and experiences she'd prefer to avoid. Although Debbie's a compelling enough storyteller that we believe her story to be true. In fact, we want it to be true. And the novel exists in this fascinating state of narrative possibility, in-betweenness, a puzzle whose pieces all fit but the surface has two faces. Not to mention the story itself is exhilarating, so hard to put down, rich with comic book twists, explosions, villains, and familiar tropes that are fresh and surprisingly rendered.
It's A Wrinkle in Time meets Wonder Woman—with a literary twist of Madeline Sonik's award-winning Cold War essay collection Afflictions and Departures. And easily one of my favourite books of 2017.