April 13, 2017
My Book in the World Cont.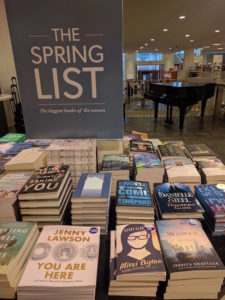 So yes, I recognize that it's ridiculous to say, as I did in my previous post, that I've found the last few weeks anything short of fabulous and exhilarating. Especially when the last few weeks have really been so fabulous and exhilarating, which I want to talk about now. I got to answer the Magic 8 Questionnaire at CBC Books. I want to talk about Mitzi Bytes was a number two bestseller on the Canadian indie list for trade-fiction the week it was published. I was outsold by Katherena Vermette, Roxane Gay and Chris Hadfield on the overall bestseller list, and I think that's a sign that all is as it should be in the universe. And I want to talk about too how the excellent Melanie took Mitzi Bytes to Iceland and presented a copy of Iceland's first lady, Eliza Reid (who is Canadian!). When one publishes a book, one never foresees the adventures upon which that book might travel.
And I want to talk about the pleasure and joy of my trip to Hamilton this weekend for the gritLIt Festival. At first I was unexcited about having to take the bus, but then it turned out to be a double decker bus, which was amazing. I also got to visit J.H. Gordon books, whose origins I followed online long ago, and I was so pleased to see it in person. My first event at gritLit was a panel with Merilyn Simonds, whose book I've made no secret of my affection for. We had the very best time, talking about books and technology and how tech has enhanced the experience of literature for readers and writers, but also how The Book isn't going anywhere and we love it so. And late in the afternoon, I taught a blogging workshop, which I've done enough times now that doing is just an absolute pleasure. In between, I checked out events with Scaachi Koul and Ann Y.K. Choi, Kyo Maclear, and Denise Donlon. For a great sum-up of gritLit, check out this post. And the topper most of all the pleasures was a night in a hotel room ALL BY MYSELF, and I went for an early morning swim before returning to my room to order breakfast. Breakfast being the greatest revelation: room service is a thing a person can do. And oh, it was wonderful. I'm never going to forget it.