March 27, 2017
Barrelling Forward, by Eva Crocker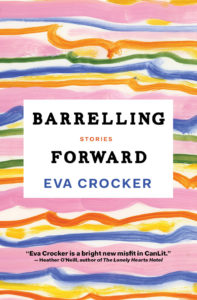 I can't help it, I need to read a short story collection like a novel. By "like a novel" I mean "like a book," compelled to keep turning the pages. While I admire those who can dip in and out of a collection, read a story at a time, I've come to accept that in general, I'm never going to be that guy. If we're speaking in terms of appetites and birds, when it comes to books I'm a raven. Which means I appreciate a short story collection like Eva Crocker's debut, Barrelling Forward, whose momentum is suggested by its title.
The first story is "Dealing With Infestation" about a young teacher whose apartment is freezing and infested with something that's left him itchy with a rash, when he embarks upon an ill-advised foray with his gym-teacher colleague. In "Auditioning," a set of teenage twins are trying to get gigs acting in commercials, and one must resort to desperate measures to register her distaste with the whole exercise. In "Full-Body Experience," an exercise instructor tries to get over the death of her sorta-boyfriend in a car accident. "Serving" is from the perspective of a father (middle-age man who works as a server in a family restaurant) and his teenage son, about the father's innocent (?) relationship with a co-worker, and his colonoscopy. Work and family similarly intertwine in "All Set Up," about a young father who waffles between contentment with his domestic situation and yearning for more. In "The Landlord," a young waitress pushes the line about how far she'd go in order to avoid being evicted from her apartment. "Lucky Ones" is a tale of lottery tickets and Sherry, who's taking care of her boyfriend's baby while he works the night shift.
Eva Crocker's stories of work and family life are reflective of modern realities, but underlined by more traditional notions of breadwinning and family structure, her characters are getting stuck in the gaps between these, sometimes perilously. All of these characters are gambling something, still hoping their ship will come in, which keeps the stories buoyant instead of bleak. And while not all the stories are equally successful, and this will be the kind of book that will frustrate you if you're the type who disdains short stories for ending too soon, it's a debut that positively sparkles with talent. Here's hoping Crocker's career achieves similar momentum as well.