March 3, 2017
Little Blue Chair, by Cary Fagan and Madeline Kloepper
Little Blue Chair, by Cary Fagan and Madeline Kloepper, is the kind of book you finishe reading with your family, and then there's a split-second of silence which will be broken by someone saying, "That was a good one." Everybody's nodding." It's a familiar story, the kind we've read so many times before, but it's just so deftly executed that you've got to admire it. And there's plenty else to admire about it besides that.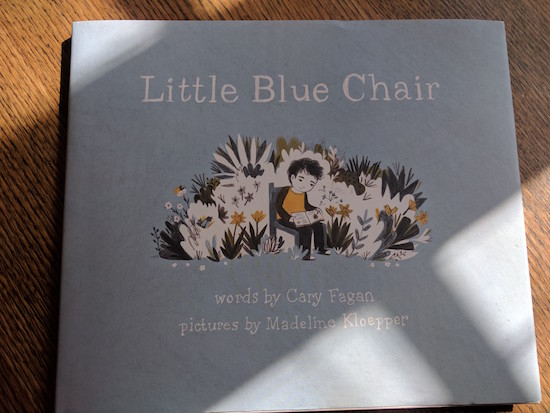 It's a something-from-nothing circle-of-life tale, and at its centre is a chair. A little chair, the kind you must contort your body into if you're visiting a preschool, but this chair belongs to Boo and it's the seat of his imagination. Fagan shows him using it to read, to build forts, to climb on, and he even falls asleep on it. (He sits on it too.) When Boo outgrows his chair, his mom puts it out on the lawn with a sign that says, "Please take me," and therein because a most excellent adventure.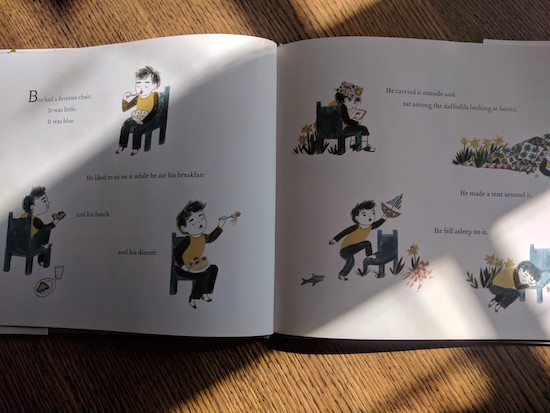 Do you ever wonder what happens to the things you put out at the end of your driveway? We've gotten rid of an antique bed frame, a busted stroller, a repulsive carpet, a trundle bed, a futon frame, a decapitated rocking horse, and several other objects that way. Moreover our coffee table, desk chair, and many other items in our household joined us in a similar fashion. After reading The Little Blue Chair, I'll never imagine an item's narrative trajectory from curbside as anything normal again.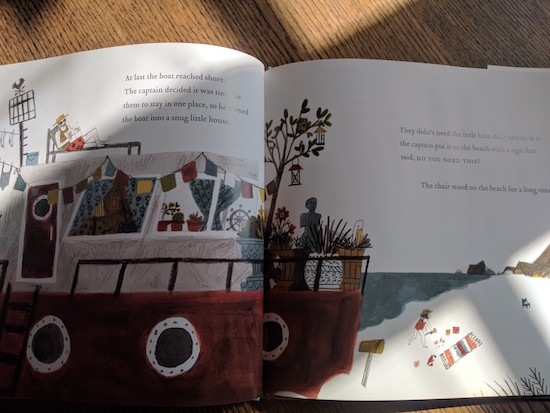 A rattling old pick-up comes by and picks up (of course) Book's chair, and the drive sells it to a junk shop. A woman buys it and uses the chair to sit her plant pot, but then the plant grows up, she plants it in the ground, and doesn't need it anymore. And so back out to the curb it goes, where it gets picked up by a sea captain who uses it to have his daughter sit beside him as they sail across the ocean. When they're finished with their journeys, the leave the chair on the beach, where a man finds it and uses it to give children rides on elephants.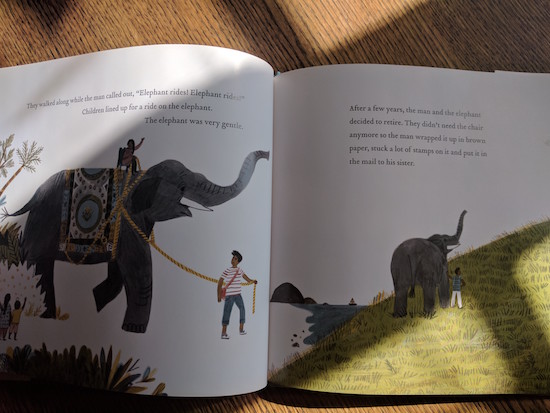 And so on and so on, the most extraordinary travels, through the postal system and up a tree, and round and round on a ferris wheel (and oh, I cringed a bit thinking of the lax safety standards that might make that possible. I'd probably find a different place to sit if that were me…).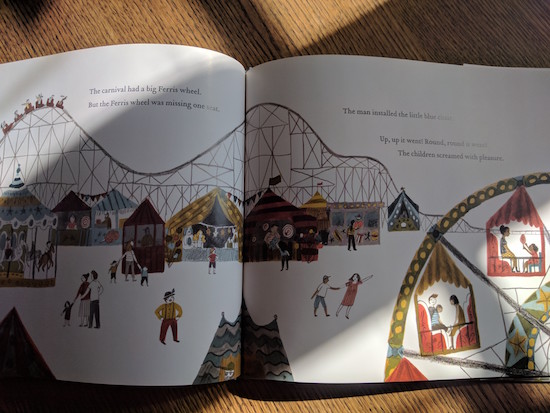 And on it goes, another child finding it and using it as the seat of his imaginative adventures, but then there is a misadventure involving balloons and one thing leads to another.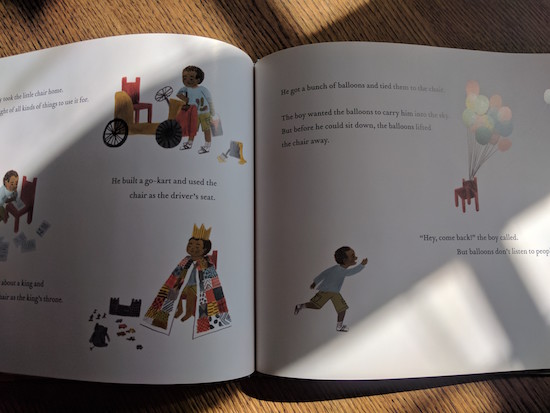 You might be able to imagine what happen next. Somebody finds the chair, and it's a grown man who's name is Boo, and even though the chair has been painted he can see where the paint has chipped and he can tell that this little chair is familiar. And quite conveniently, Book has a little person of his own at home for whom the little chair is precisely the right size, and she declares it perfect.