February 26, 2017
Son of a Trickster, by Eden Robinson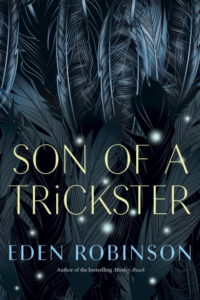 I went to see Eden Robinson at the Toronto Reference Library at the beginning of the month where she was in conversation with Miriam Toews. It was a perfect pairing, these two understated, seriously brilliant and totally hilarious writers together, and many of their sentences would trail off into hysterical laughter. The effect of all this being that when I finally picked up Son of a Trickster, its voice in my head was Toews' cool easy cadence. This is not a complaint. Like Toews does, Robinson's work is an uncanny breezily brutal, absurd humour juxtaposed with weighted tragedy, and there doesn't actually appear to be anything of a juxtaposition at all.
I loved Son of a Trickster, the first novel in ten years by Haisla/Heiltsuk Robinson. ("Her two previous novels…were written before she discovered she was gluten-intolerant and tend to be quite grim," so goes her cheeky author bio.) At her TPL event, Robinson explained that this is a novel born of the 2008 financial meltdown, a problem that didn't affect Canada so extensively, except for in small pockets we don't hear about a lot, such as Robinson's hometown of Kitimat, BC, where 535 workers lost their jobs when the pulp and paper mill closed in 2010. It's in the aftermath of this that we find her main character Jared, sixteen-years-old and doing his best to keep things afloat. He makes money baking pot cookies and selling them to his classmates, but then he turns that money over to his father's landlord so he won't be made homeless as he struggles with addiction. Which Jared's mother can know nothing about, because she's terrifying (when she discovered a former boyfriend beating up Jared, she attacked the guy with a nail gun, fastening him to the floor) and if she finds out Jared is supporting the father who abandoned them, he might have (justifiable) reason to fear for his life.
The novel begins when Jared was small, when his parents were still together and in love, and it would be his father's job loss at which point the whole arrangement falls apart. Although all was not always idyllic—his maternal grandmother had never liked Jared, as we learn in the novel's first sentence. "'Trickster,'" she tells him. "'You still smell like lightning.'" As Toews herself pointed out at the event with Robinson, the title of the novel suggests it's not exactly a spoiler to say that Jared's grandmother might be onto something. And this book, the first of a trilogy (yay!), is the story of Jared's journey to realizing exactly what that is. As he continues to hold his family afloat, suddenly the things he's known to be true are revealed as fictions, and stories themselves take on a disturbing realism. About two thirds of the way through Son of a Trickster, a reader will feel herself stuck inside a Stephen King novel, which I mean in the very best way possible.
I loved it. The dialogue was so sharp and real, easing back and forth like a squash game at which everyone's stoned, but never ever missing its mark. The characters are heartbreakingly realized, with soft spots and sharp edges, fuck-ups, and triumphs. I'd read reviews that the plot was uneven, but I didn't experience it that way. While the book didn't exactly fly by, I didn't want it to. When I got to the end, I wanted there to be more, and thankfully there is more.
Next book, please.