February 13, 2017
Lillian Boxfish Take a Walk, by Kathleen Rooney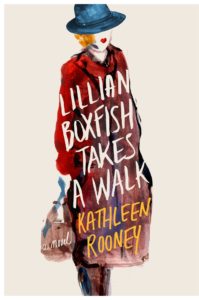 The book everybody's talking about this season, in my circles at least, is Lillian Boxfish Takes a Walk, by Kathleen Rooney, which I first saw described as Mad Men meets Mrs. Dalloway, or, in other words, as a love letter written directly to my heart. Mad Men because Lillian Boxfish worked in advertising, albeit thirty years before Peggy and Joan, writing copy for R.H. Macy, and she achieved some fame as the highest paid ad woman in America, as well as for her books of Dorothy Parker-esque light verse which sold well in their time. And Mrs. Dalloway because of how the novel is framed in a similar fashion, around a single evening, the last night of 1984 as Lillian Boxfish—old as the century [or actually a year older than that, if you want to get really specific, although she doesn't]—walks around the New York City she's seen change around her over the decades. Places on her walk prompting flashbacks to the fascinating story of her career, her marriage, her fame, and various downfalls. In some ways, this is a very easy book, definitely a breezy book, but that to use that point as a dismissal would be to ignore the richness of its language. This is the first book I've read in a while which had me pulling the dictionary off the shelf to look up new words, and that makes perfect sense, not just in that Rooney herself is a poet whose attention to language is unsurprising, but so too is her character, Lillian Boxfish (inspired by real-life figure Margaret Fishback). Which reminds me of what Joan Didion wrote about her time working at Vogue where, she writes:
"…I learned a kind of ease with words…a way of regarding words not as mirrors of my own inadequacy but as tools, toys, weapons to be deployed strategically on a page. In a caption of, say, eight lines, each line to run no more or less than twenty-seven characters, not only every word but every letter counted."
Looking back at her life, Rooney has Lillian Boxfish contemplating the way the public's relationship to words have changed, the way that the ads she wrote in the 1930s assumed a level of cleverness and awareness of language that contemporary advertising no longer seems to aspire to. Where she finds that same sense of fun and play with language, she remarks, is in the rap music she hears on the streets of New York, a city that's so much grittier and dangerous than the city she arrived at in her youth. And yet all of it still draws her in, the sounds, the sights, the people all stirring her curiosity. She strikes up conversations and always asks a person's name, and they get talking, and the moral of every single one of their stories is that people are people, regardless of time or place. Lillian Boxfish sees the humanity, the beauty, in all of it. And so we get to too.