November 27, 2016
Swing Time, by Zadie Smith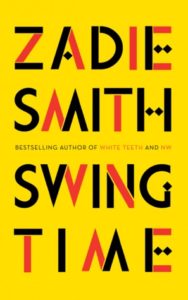 I can plot my adult life with Zadie Smith novels. I first read White Teeth during the summer of 2001 when I had a job that was in proximity of too many bookshops, and it was the first time it occurred to me in an undergraduate English stupor that there was such a thing as contemporary literature. (I reread it years later and the book was still brilliant, and shockingly prescient.) I got The Autograph Man out of the library a couple of years later when I was living in Nottingham, and I didn't think much of it, and wasn't the only one, but that didn't matter much because On Beauty would come along in 2005, the year we moved to Canada and this modern take on Howards End would continue to expand my ideas about what contemporary literature could do. I bought her last novel, NW, the day that Harriet started playschool in 2012, when I was five minutes pregnant with Iris, and I can't remember it so well now, partly because I was pregnant, but also because it was a difficult novel to hold in one's grasp (as suggested by the surprisingly articulate review I wrote, but have no recollection of). And four years and a few months after that, it would be time for me to pick up my pre-ordered copy of her latest, Swing Time.
It took me nine days to read Swing Time, which for me is a literary eternity. Thankfully, I'm not pregnant, but I was busy and also distracted, and it's not a novel whose plot exactly rivets. It's also more than 400 pages long, which is heavy to lug, but I did so. It was not that I didn't enjoy reading it, but sometimes I wondered what the point was. If NW took its reader up and down the streets and alleyways of northwest London, Swing Time transports across continents via jumbo jet and through decades too—its canvas is immense. It's a novel about girlhood, friendship, race, dance, musical theatre, social media, celebrity, and social mobility. It's more White Teeth than NW, and Irie even makes a cameo on page 34. And in all its material, I kept waiting for patterns to emerge, for parallels, binaries.
It's the story of two girls, our unnamed narrator and her childhood friend Tracey who meet at dance class, and they're both mixed-race children growing on the same housing estate. The novel moves between chapters that take us through their shared history and another contemporary storyline in which the narrator is a personal assistant to an international pop star, Aimee, modelled on Madonna and Kylie Minogue, and helping to establish a school for girls in an unnamed West African country. The notion of time is important through the book, in terms of music and rhythm, narrative time, and also just chronologically. Swing as in swing music, but also in how time swings back and forth between the two narrative threads. (Swing Time is also a 1936 movie musical starring Ginger Rogers and Fred Astaire). Common to both threads is the narrator's relationship with women—to her mother, to Tracey, to Aimee—and her tendency to lose herself to another's command. Except that such self-effacingness seems more like a convenient front than actual reality—the narrator is thoroughly in command of the 400+ story she sets out to tell, bending time to suit her own sense of things. Her tendency to not be present is a curious aspect of the book—to the point where other characters are replying to things she said that we never get to read, and what is her name?—but she's also everywhere, in charge of shining the spotlight even as she ducks out of its glow.
For me, Smith has always been a masterful novelist whose works just kind of peter out before the end, and my explanation for that is that her stories are so excellent that the endings are always going to be a let-down and/or do we really expect her to come up with a novel like that and properly end it too? But in her fourth book, it seems she's finally got the conclusion that comes with a gut punch, the last fifty pages or so finally bringing the pieces together, the patterns emerging. The conclusion of Swing Time is wonderful, devastating, and ambiguous in the most engaging fashion. Yes, the book is a bit bloated in the middle, but reading any of Smith's prose is a pleasure. And all of it matters—you just don't know how until the end.