November 1, 2016
Moms who have desks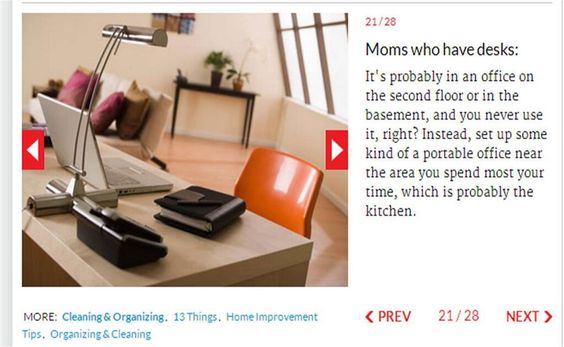 Moms who have desks is an idea that comes up several times throughout Mitzi Bytes. My character has an office on the third floor of her house, a space she struggles to justify to herself sometimes and to her family—and not just because her most vital occupation (her blog) is a secret to everybody in her life. Her friends have similar desk angst—one has put hers in a closet, but since she'd previously worked in a cubicle without a door, this represents a kind of promotion. If you squint.
The above image is a screenshot from a feature I read a few years ago about organizing your home—if I recall correctly, it quite rightly irritated readers and was subsequently removed from the feature. But it stuck with me, that dismissiveness about women's work, about a woman's place in her home, for its derision of household management (which is totally a job) as an occupation worthy of its own tabletop. When my character takes into account her desk—a hulking solid oak object she found on the curb years and years ago and dragged home all by herself, a relic of a life she lived a thousand years ago—she thinks of this feature. "Moms who have desks." As though this is a sweet affectation.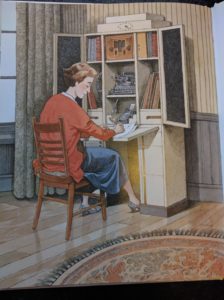 I thought of this again the other night as we read Spic-and-Span: Lillian Gilbreth's Wonder Kitchen, about Gilbreth—psychologist, industrial engineer, efficiency expert, mother of twelve, best-known for the Cheaper By the Dozen book and movies. She also invented the shelves in the door of your fridge and the foot-pedal trash can. Not only a mom who has a desk, but she was a mom who invented a desk. Her Gilbreth Management Desk (pictured left) was unveiled at the Chicago World's Fair in 1933: "Intended for the kitchen, the desk had a clock and, within easy reach, a radio, telephone, adding machine, typewriter, household files, reference books, schedules, and a series of pull-out charts with tips on organizing and planning household tasks." (Info from here.) 
Intended for the kitchen, yes, but Gilbreth did not underestimate the tasks on a mother's or any woman's to-do list.
Ironically, however, I don't actually have a desk. I mean, I've had a few. Once upon a time I had a desk that my husband carried home for me on his bicycle, which is a form of devotion the likes of which have been rarely matched. And in another lifetime, I too worked in a closet, although it had electricity and a window—but no heating, and now that space is crowded with toddler-clothes-intended-for-hand-me-downs and boxes upon boxes of Christmas decorations. And on one hand I could feel put-out by this, by the absence of a room of my own, but I don't feel the lack. I don't need a desk exactly, because I've chosen to make the world my desk, table-tops the planet over. My kitchen table, my lap as I lie down on my bed or on the couch, or the arm of the couch on a day when I'm required to be upright. The table in the window of the coffee shop I'm sitting in right now on College Street as I wait to go pick up my daughter from Brownies…
What a desk is is permission, I think, to take yourself and your work seriously, no matter what it is you do. It can be actual (solid as oak) or metaphorical. A surface upon which to take stock, to finally begin.