October 30, 2016
My Year of Tana French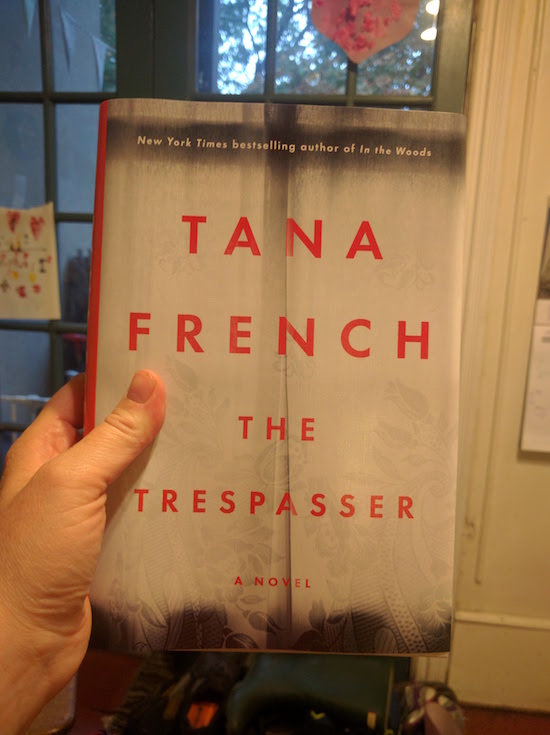 Last year, we had a rough December. I had pneumonia for almost a month, only recovering a couple of days before Christmas, and then Harriet got a stomach bug and Stuart came down with strep throat. It was not the most fun, and people responded with inordinate kindness. And at the tail-end of it all, we came home from visiting friends on New Years Day to find a plastic Waitrose bag hanging from our door. It was from my friend Nathalie (who blogs here). She'd delivered us a container full of soup (soup!) and a pile of books, which were the complete works (so far) of Tana French.
Can I tell you that if a book of anybody else's entire oeuvre had been delivered to my house, it would have been an imposition. There are probably at least one hundred books around my house that I ought to be reading or at least rereading, and I am empowered enough as a reader that I don't need any guidance as to what to read next. But I'd wanted to read Tana French for some time, and unlike most mystery writers, her books are rarely available second-hand (which is saying something). It is possible that I would have gone on wanting to read Tana French forever, but not actually done so, had Nathalie not delivered them to my door.
And so my year of Tana French began, with In the Woods, which is the best one, the most devastating, the most brilliant. Which is not to say that she's not grown and changed with her books, but instead that I had no idea what I was in for with my first Tana French. I wasn't even prepared to be blown away. Oh, but I was. Not by the mystery so much, though it was compelling enough, but by her first-person narrator, this broken man who doesn't know he's broken and I know it long before he does (and that line delivered by his flatmate when we realize that there's so much he hasn't told us. When we realize what he's done…)
Tana French's books all stand alone and aren't necessarily a series, but if you read them in order, each one informs the other, a secondary or peripheral character from the previous books becoming the protagonist. The partner of the detective from In the Woods takes the helm in The Likeness, whose premise was kind of implausible and which was unapologetically inspired by Donna Tartt's The Secret History. I was reading that one before Valentines Day, because I recall walking and reading it all the way to Kensington Market where I went to buy a present for Stuart, this winter having been uncharacteristically warm, because usually reading while walking in February just wouldn't be possible. (It was wonderfully to be loving a book just that much.)
I read Faithful Place next, while lying on a deckchair in Barbados, in a single day, even. I think this might have been the one I love most, even if it's because things domestically for Frank Mackey get sorted in a way that was heartwarming, amidst the murder and creepy basements. I read Broken Harbour in May, and this was one that really messed with my head (and I wrote about it here in a blog post called "Tana French is Ruining my Life", so titled because I couldn't stop reading at bedtime and wasn't getting any sleep, plus the book was giving me nightmares). And then brought The Secret Place along on our vacation in August, and didn't love it as much as the other books and it veered into the supernatural in a way that was a little bit weird (although it also dealt with girls and power and the power of girlhood in a way that was interesting—and tied into other books I read on that vacation, including The Girls, by Emma Cline, and The Story of the Lost Child, by Elena Ferrante). But I was still reading a book by Tana French, and there really isn't much that's quite like it.
I'd preordered The Trespasser, French's first book since 2014, and it seems fitting that my year of Tana French should have a new release by her within it. (I was in Barbados when I learned this new book was forthcoming. Imagine my joy: that there would be another Tana French when the books in the Waitrose bag were done!). And it was everything I'd hoped it would be—a return to tradition of the first four books, a narrator on the edge who doesn't know how close she is, a strange and tricky murder whose solution is not immediately in sight. I love her plots, her characters, her humour, and that I learn insults like "wankstain" (which shows up in two books). I love her complicated women and men, and their aloneness, and the awkward ways her characters connect with each other. I love her prose, her twists, and her portrayal of Ireland post-boom. Can you tell that I love everything?
For a more erudite appreciation, do read Laura Miller's recent piece in The New Yorker. And it's been a good year, but can you believe I have to wait two more of them (at least?) to find out what comes next?