October 25, 2016
The Little Communist Who Never Smiled, by Lola Lafon


On the surface, Lola Lafon's novel The Little Communist Who Never Smiled (translated from French by Nick Caistor) is a fictionalization of the life of Nadia Comaneci, but that (of course) is just a cover. What the book is really about is messaged in between the lines (or, quite literally, between the words). The Little Communist… is a book about the Cold War, the politicization of sport and womanhood, about deciphering codes and, fundamentally, this is a novel about punctuation.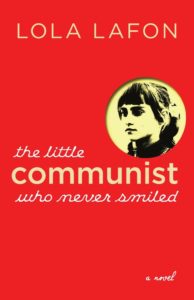 The book begins with Nadia's performance on the uneven bars at the Montreal Olympics in 1976. (I call her Nadia. Everybody did. I wasn't born until 1979, but I came into a world where girls were still gymnastics-mad and it occurs to me that gymnasts from that time are the only Olympic athletes I'm familiar with who aren't from my country. From a very young age, I knew who Nadia Comaneci was.)
Her victory hung on point of punctuation, kind of—a decimal. Her score of 10.0 had never been achieved in gymnastics before and therefore the display screen didn't have the capacity to show it. Lafon shows the confusion and crisis and judges and administrators realized what had happened and the scoreboard read 1.0, and the implications of this—this was an athlete from whom an entirely different system of success would be designed. "New numbers need to be invented. Or just abandon numbers altogether."
On page 18, Lafon describes Comaneci: "Her arched back is a comma." Which is significant because of how conspicuous commas are in the text. Comma splices are scattered throughout the novel, and I had to consider their implication, what they do to sentences. How in English they join unlike ideas in slightly jarring ways that makes the reader think twice, and it made me think about Romania in the 1970s and 1980s, a point in between the Cold War divides of East and West. Later in the book, Lafon shows Comaneci delivering an address in 1984 to announce her retirement from competition, an address that was written for her by the writer who composes all her official speeches: "He writes them out in short lines with commas so that she can pause for breath between them." But in this address there are no commas. "She had not planned to be silent for so long she is simply searching for the comma, she thought she saw it but there wasn't one, her words are chosen for her one last time, the comma jumps from one word to the next, like the decimal point: one point nought nought, she raises her eyes to those who have no words…"
The echo of the uneven bars creaking at the Montreal Olympics is "an uneven punctuation for her body as it folds itself around them." Periods are replaced in between the letters of rival Olga Korbut's first name in a Man From U.N.C.L.E.-like Cold War allusion (O.L.G.A). In her imagined exchanges with Comaneci, Lafon considers the punctuation used in newspaper coverage about Comaneci, "exclamation marks that compete with the ellipses." There are references to the story of Nadia being written, rewritten (and indeed they are in Lafon's imagined exchanges, which cast doubt on everything represented by facts. Truth is nowhere. Everything is suspicious.) and defying translation.
And then there is the period, the decimal point in another form. Full stop. Also menstruation (which I don't think shares its name with a punctuation mark in the novel's original French, interestingly, although apparently the French term for menstruation means "rules," so it's equally firm), which is hugely significant in this text. The arrival of the period signals the beginning of the end of Comaneci's career, no matter her coach's and manager's efforts to stymy the effects of puberty through training and pharmaceuticals. But in the context of Romanian history, it has wider and more disturbing ramifications regarding forced pregnancy tests women were submitted to to eliminate instances of abortion, the way that not only Nadia had her body regarded as property of the state. And really, this sense of ownership over women's bodies is a universal thing—anyone else who's not an Olympic gymnast ever been chastised for not smiling?
And yet Lafon avoids obvious and facile comparisons with East and West with her imagined dialogue with Comaneci, who questions the ways in which women and athletes in the West are necessarily more free. While never minimizing the negative effects of life under the Ceaușescu regime, Lafon complicates notions that here and now is necessarily better than then and there. While Romanian people had nothing during the 1980s, Lafon is reminded in imagined conversations that sometimes nothing is better than insatiable materialist desires. All this so that we're left with a notion of history and truth that is as elusive as Nadia herself, always just slipping out of one's grasp.
"You quietly airbrushed your mistakes…could we say that?"
"Yes, exactly. I rewrite everything! But….discreetly." 
Thank you for the International Festival of Authors for inviting me to be a part of your blog tour and giving me the opportunity to read this truly excellent book. 
Lola Lafon's appearances at Toronto's 2016 International Festival of Authors
(Supported by the Consulate General of France):
Monday October 24 8pm "Interpreting the Past" (Reading/Round Table)
Wednesday October 26 6pm "EUNIC: Writing History Telling Stories" (Reading/Round Table)