October 3, 2016
The Break, by Katherena Vermette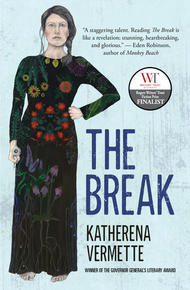 Katherena Vermette, who won the Governor General's Award for Poetry in 2012 for her collection North End Love Songs, is demonstrating that winning writing need not be constricted by form—her debut novel, The Break, which has all the suspense and plot of of a thriller while not sacrificing literary richness, is a finalist for this year's Rogers Writers' Trust Fiction Prize. It's a novel whose pieces are disassembled in the beginning, and a most ambitious project—a story told from so many points of view. A woman sees a crime being committed from her window one cold dark night; we see young girls getting ready for a party; another teenager has walked out of her juvenile detention centre; two sisters negotiating rich but complicated adult lives; their mother whose own sister died years before, another Native woman who became a statistic. And then their mother, growing old and frail, at the back of her children and grandchildren's minds, but a constant. The dead woman too has a voice in this story, and it is her daughter who sees the disturbing scene out her window, blood in the snow that will be covered by morning.
The family tree at the beginning of the book is useful, but the reader soon becomes acquainted with the women of this family, so it won't be referred to throughout. Momentum is strictly forward as the pieces begin to come together, Vermette deftly moving in and out of time to create a three-dimensional feel to the narrative—we come to feel we know this story from all sides. Four generations of a family, and how tragedy trickles down with all the goodness, the former not negating the latter though. As Vermette has made clear, this is a novel about women and about survival, a story that complements but also takes issue with stories and statistics about First Nations and Metis women as victims before they're even people proper. But her characters are people here, people with flaws and foibles, strengths and weaknesses, and it's the strength that endures: "'It's okay, my girl. It's okay.' Her answer to everything."
Though that strength too—that will to survive—is a power that Vermette shows can be used for better as well as worse; women indeed contain multitudes both within themselves and amongst each other. The great power of this book is that it shows that.
The Break is a compelling, gripping and wholly necessary novel. I'm glad it's receiving the praise and attention it deserves.