September 21, 2016
Book Catch-Up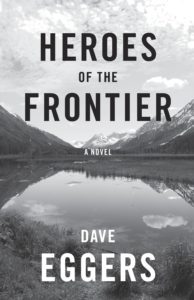 Heroes of the Frontier, by Dave Eggers: I stopped reading Dave Eggers at some point (after What is the What, I think, which I loved, although I am not sure I still would…) and I'm thinking that was probably the right idea. I bought his latest novel because I'd heard intriguing things about it, and while I'm glad I read it and liked lots of things about it—there are good bits and he writes children so brilliantly, in particular the younger child who reminded me of my own feral creature who also likes to scream disrespectful things at inanimate objects—but it was too long and rudderless. Actually reminded me a bit of Vendela Vida's Let the Northern Lights Erase Your Name, which I loved years ago, and also the movie, Away We Go, which Vida and Eggers wrote together. The ending was so good, so I closed the book satisfied, and there were plenty of points throughout where I gasped or laughed, but I was put off my the narrative's rudderlessness. Why are we floundering, I kept wondering. Which is perhaps a point about nationhood and existentially as well, but for a near-400-page book gets a bit annoying. Thinking about A Heartbreaking Work of Staggering Genius with its footnotes and that novel he wrote after (in my copy the text started on the cover and ran right through to the back cover) and his tendency to have the narrative swell to fill all available space, literally and otherwise, and I am not sure that it's an altogether good thing. But Dave Eggers gotta be Dave Eggers. I don't know. He's interesting. But also not—although he is always more interesting than any arguments disparaging his work and character. There is nothing more boring than hating Dave Eggers. I do think the novel is worth picking up for the depiction of its children, which is remarkable. Not everybody will be able to get through it though….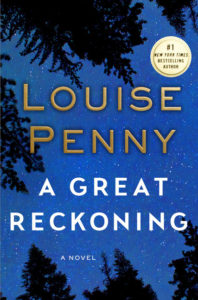 A Great Reckoning, by Louise Penny: I do think that Chief Inspector Gamache has been feeling a bit aimless since his retirement in How the Light Gets In about three years back. But in her latest novel, Penny gives him a task and a half: he's charged with leading the police academy and rooting out its forces of corruption. It's a novel that has resonance and relevance in light of constant stories about police brutality and #BlackLivesMatter, and it also returns us to Three Pines (don't worry—Gamache and his wife still have their home there, although they also have a small apartment at the academy) where residents have found a mysterious map hidden on a wall, a map on which Three Pines appears and perhaps the last one upon which it ever did. What does the map symbolized? And yes, who is behind the murder that takes place at the Police Academy soon after Gamache's arrival, a murder in which he is a suspect? The answers to both questions become intertwined, and connected to a long-ago tragedy from the Chief Inspector's past which becomes clear at the novel's devastatingly lovely conclusion.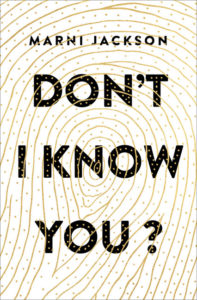 Don't I Know You, by Marni Jackson: I have this idea that my mother spent the years before I came into the world singing "Hey Jude" in downtown pubs in grand singalongs and running around Europe with an accordion playing "Those Were the Days, My Friends", by Mary Hopkin. By virtue of my parents being baby boomers, I was born nostalgic for a world I never knew—I remember listening to "Carey" by Joni Mitchell when I was fifteen and anticipating a time when I'd have gotten used to clean white linens instead of scrambling down in the street. To be honest, things never worked out so well for me textile wise, but these all remain my cultural touchstones, never mind they happened long before my time. I've always wanted to go down to the Mermaid Cafe, which is a huge part of the appeal of Marni Jackson's fiction debut, whose unique premise is that each story in this linked collection hinges on a fictional encounter with a celebrity, celebrity itself being a kind of fiction—the Brangelina breakup notwithstanding because that shit is real. Anyway, the premise is neat but not the point and eventually becomes secondary to the stories themselves, which are beautifully crafted, full of surprising turns of phrase and plot, and take us through the life of Rose McEwan from age 17 (when she enrols in a writing workshop taught by John Updike) to 67 (when she embarks on a canoe trip accompanied by Leonard Cohen, Karl Ove Knausgaard and Taylor Swift). In between, Van Morrison drives a TTC bus into the mystic, Adam Drive shovels her snow, Gwyneth Paltrow gives her a facial, and Joni Mitchell gives her the lowdown on the perils of free love. This is one book you can certainly call an original, and it's one that has been staying on my mind.