August 2, 2016
Destination Bookshop: Lighthouse Books in Brighton, Ontario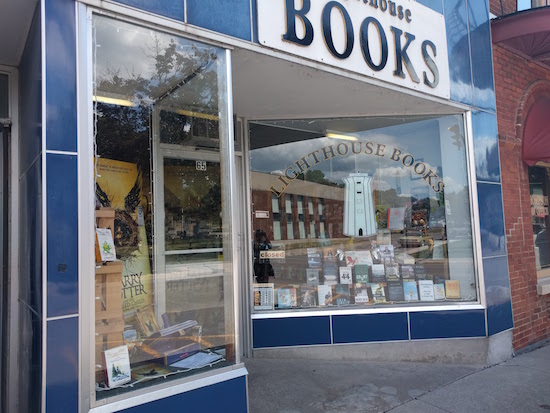 Yesterday we rolled out of Presqu'ile Provincial Park after three feral days in wilderness, dirt-laden, mosquito-bitten, sick of marshmallows and stinking of outhouse. We decided to stop in the nearby town of Brighton, Ontario, for some ice cream and a sweet hit of air-conditioning, and I promise you that what I absolutely was not expecting as we walked along the main street was to find a bookshop. Nobody believed me when I told them that either, but I swear it's true. And the bookshop was just closing, the owner flipping around the sign when she saw us walking by—it was a Holiday Monday and they'd stayed open from 10-2. And then they proceeded to stay open just a little while longer while Stuart picked up the new Harry Potter and while he was paying for it, the children discovered tiny hedgehog stuffed toys and as Harriet is a hedgehog maniac, we had to have one, and while all that was transpiring, it was dawning on me that this was a truly exceptional bookstore—incredible selection, a wonderful spotlight on Canadian titles, lovely displays, and a friendly, knowledgeable owner—so it was clear that I would have to get a book as well.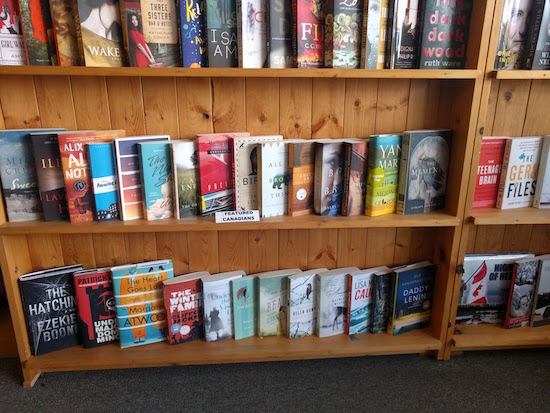 I mean, check out these books—so so good. And then Harriet told the owner how she's been obsessed with hedgehogs ever since Anakana Schofield came to visit and brought her a toy one, and the owner said, "Well, at least she didn't bring you Martin John," and we got to talking about how great that book is and also about how one has to be careful who one recommends it to. And then she told us how much she liked Neil Gaiman's The View From the Cheap Seats, and now I'm sort of sorry I didn't buy that book, but I'm not sorry that the one I did get was Carol Shields' Startle and Illuminate.
Lighthouse Books is totally worth the drive to Brighton, which is a pretty little town just two hours east of Toronto (and worth stopping in at on the way to Prince Edward County too). Presqu'ile is minutes away with its gorgeous beaches and hiking trails, and downtown Brighton features great stops for tea and coffee, lunches and ice cream. Both times we've been, we've had ice cream at Mrs. B's Country Candy, where they make their own gelato.
The bookstore, which is owned by Kathryn and Dan Corbett, is open from Tuesday to Saturday, 930-530. You can find out more about them on their Facebook page.