July 26, 2016
Five Roses, by Alice Zorn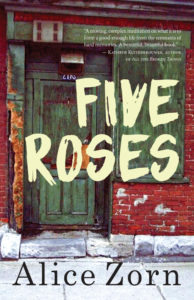 I loved Alice Zorn's Five Roses, a novel that's a love letter to Montreal, its neighbourhoods, and to the magic and serendipity of city life that is inevitably born from the fact of so many characters living in close proximity. It's a bit of a mess, it is, city life, what with different cultures, and types of people, and old traditions and new traditions, and money and poverty, home and commercial enterprise, and history and the moment, which is now, and impossible to capture anyway…because the only thing that ever stands still in the city is the force of change. Zorn's novel, however, manages to convey all this and not be a mess, disparate narratives woven together in a way that sparks magic but is left just untidy enough to still ring true.
To still be authentic. This is the kind of thing that matters not only in a novel, but also in the city, and when Fara and her husband embark to buy their first home, authenticity is what they're seeking. Something real and solid, not a poorly constructed condo where walls are thin and the rain gets in. Unfortunately, the kind of thing they have in mind lies far outside their price range…except for a house in the Pointe St.-Charles neighbourhood of Montreal. It's a working class neighbourhood, although most of the industry is gone. The signs are still there though, quite literally in the case of the iconic Farine Five Roses sign, from where Zorn's novel gets its name. The first time Fara walks through the neighbourhood, she hears the sound of old men playing horseshoes, not a sound one hears very often anymore. The houses in Pointe St. Charles are only just starting to be unaffordable, the neighbourhood becoming gentrified. The biker gangs are history. Many of the houses still have their original features, woodwork, which is another way of saying that the people who live there have never had the privilege of moving up in the world, even via renovation. There is poverty, local residents being classed out of their neighbourhood by newcomers like Fara and her husband…although the only reason they were able to afford the house they got is because the son of the previous resident committed suicide. A story like that is bound to bring down the value.
Five Roses is very much about real estate, about owning a house, which is also to say that it's about making a home. Fara herself is not put off by her new home's unsavoury history, or at least she imagines she won't be. She doesn't find suicide shocking, her sister having killed herself years before. But it turns out that her new home awakens fears and anxieties Fara had thought she would have put away by now. She cannot help but feel the uncanny presence of something in her house…although that presence will prove less otherworldly than she's imagining. Her next-door neighbour, Maddy, could have filled her in, because she's seen who's been watching the place from her view on her back patio. But she keeps her mouth shut. Maddy, who's lived in her home in Pointe-St Charles ever since the place was a hippie commune, and she's got her own sad story about the baby she lost decades ago. Which brings us to the final point of this trinity, Rose, a strange young woman adjusting to the city after an isolated childhood in a cabin with her mother in a small town up north. Rose works in the same hospital as Fara, and her roommate is a work colleague of Maddy at a bakery at the Atwater Market, just across the river from Pointe St. Charles (and oh, the food references in this novel are wonderful and hunger-inducing). Which are the kind of connections that happen in a city, how one life brushes up against another. The subtle, often known and yet profound ways in which we touch each other and change each other's lives. It is in the nature of the city that story happens—and a testament to Zorn's talent that in her book she makes it all seem to happen so naturally.
The stories don't all intersect in the ways one might expect, which makes this character-driven novel more gripping than you might think of about a book without a whole lot of plot. Both Maddy and Fara begin come to terms with their painful histories, and begin to settle the ghosts in their respective homes—both literally and figuratively. And the younger Rose begins the process of making her own place in the city, finding a place to make art in a converted industrial building, and falling in love for the first time with a man who squats in an abandon factory who is perhaps even more of a misfit than she is. It's not perfect, but it's all possible, possibility being the most valuable thing that a city can offer.
Well, that, of course, and also the wonders of a terrific baguette.