July 22, 2016
New books by Julia Donaldson and Emily Gravett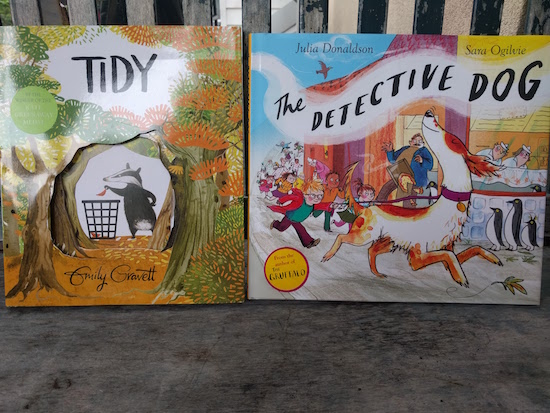 How exactly does a person follow up a success like The Gruffalo? For some authors, the pressure would be paralyzing, but not so for Julia Donaldson, who has published more books than I've had hot dinners. (I actually suspect Julia Donaldson has never ever been paralyzed. I once saw her live [I am THAT cool] and she incorporates a whole musical thing into her act but [and here's the rub]: she can't actually sing. Not on key, at least. And she doesn't care and sings anyway, and the children loved her and so did I and it all was wonderful.)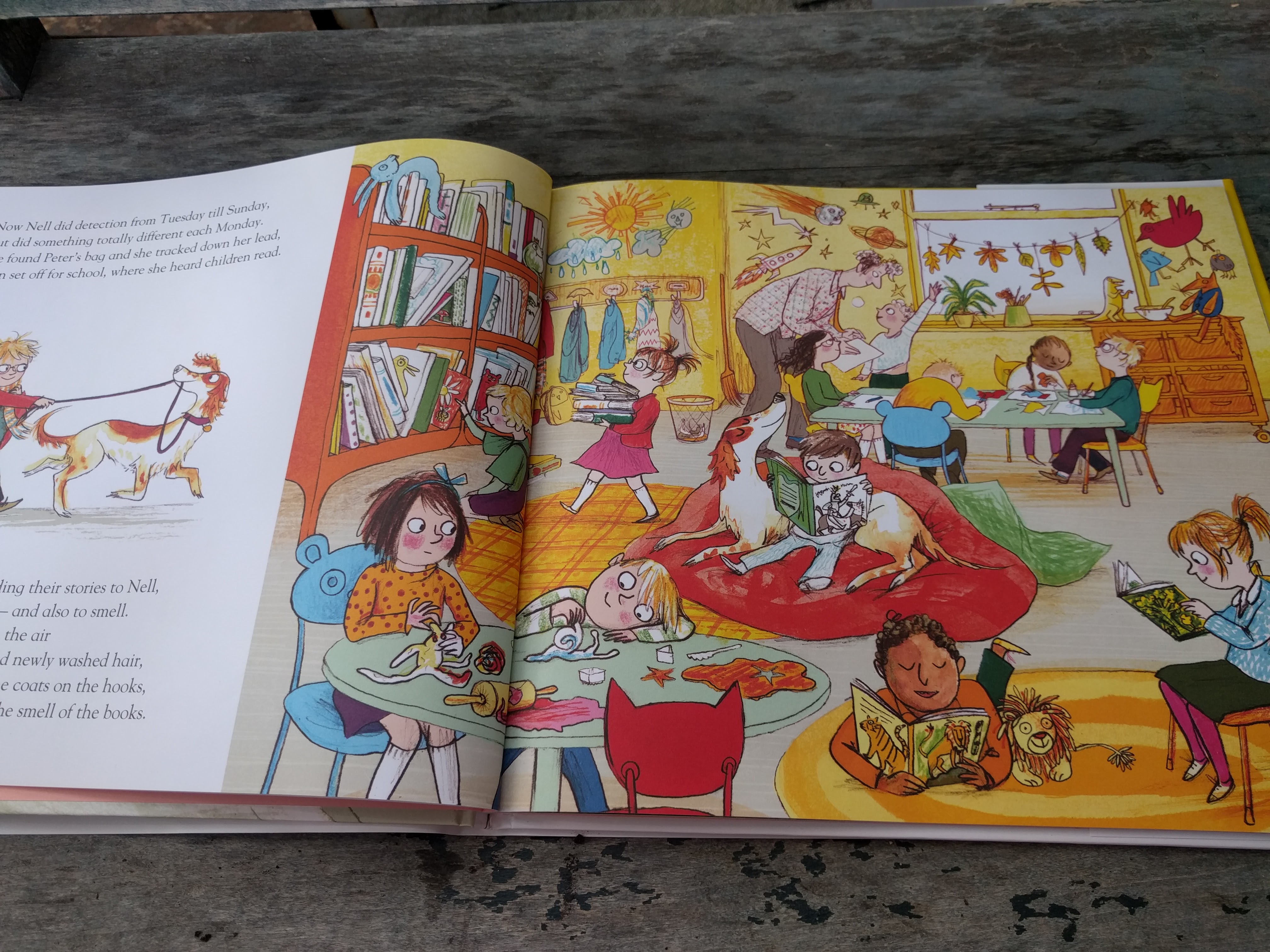 Donaldson has worked with different illustrators to dramatically different effect, and certainly some of her books are more compelling than others (although maybe you've got to hear them set to music), but still, she's got a formula. You know what you're getting. Rhyming couplets, a bit of drama, and something heartwarming at the end. Sometimes a little light on plot and a rhyme that gets a teeny bit awkward, but it's all in how you read it. It's in the rhythm. She knows what she's doing and she does it very well.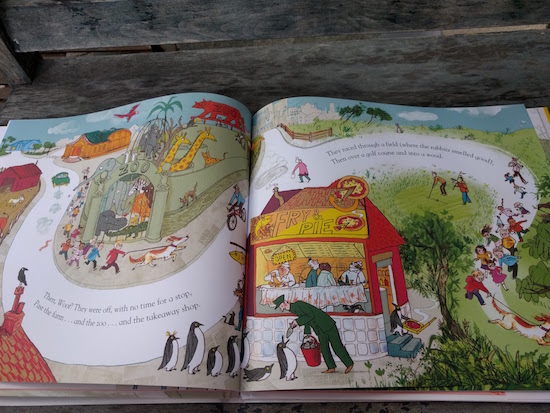 The narrative of her latest, The Detective Dog, starts off as a bit of a stretch. Detective Dog Nell, with her famous sniffer, solves crimes six days a week ("Who did the poo on the new gravel path?/How did the spider get into the bath?), and on the other day goes to school with her owner, Peter, and has the children in his class read to her (although reading dogs are a thing—did you know that?) Nell likes visiting the school, where "the best smell of all was the smell of the books.
Having a Detective Dog moonlight as a Reading Therapy Pup comes in handy, however, one day when Nell and the children arrive at school to find all the books in the classroom have been stolen. Immediately Nell is on the case and traces the thief across town to a shed where the thief (who, naturally, is called Ted) confesses that he just wanted to read them, and he was only borrowing the books. Which reminds everybody of a place where everybody can go to borrow books, no thievery necessary, which is, of course, the library, and this fun but crowded book culminates quite nicely in a celebration of public libraries, which bring literacy to everyone. And who'd argue with that?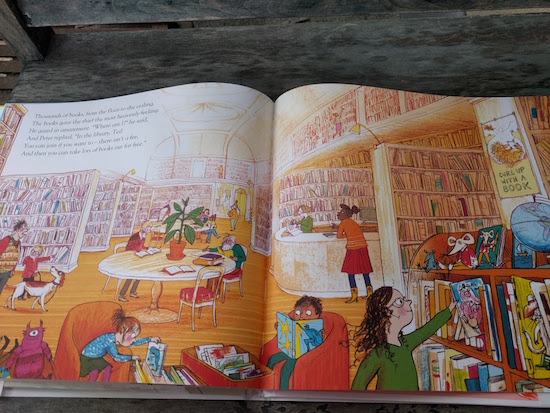 In my mind, Julia Donaldson and Emily Gravett are two of a kind, rhyming coupleteers who arrived in my life around the same time, with the birth of my first daughter. (They have one book together, actually: Cave Baby). I think I first encountered Gravett with the wonderful Monkey and Me, which I like so much that we have it out of the library as I write this. And also Orange Pear Apple Bear and Wolf Won't Bite and The Rabbit Problem, and so many more. An illustrator with a keen sense of book design, Gravett is ambitious and pushes her own limits and also those of the book itself. Case in point, in her latest book, Tidy, the info on the copyright page is being sucked up into a vacuum. Oh, and the dust jacket has images on both the front and back, both of which are different from the image on the book itself—there is so much richness here, attention to detail, treasures to discover for readers who bother to look close enough.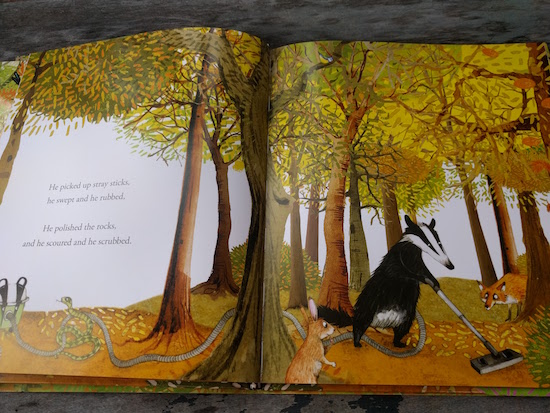 Tidy is the story of a clean-freak badger who likes to keep the forest tidy, much to the chagrin of his friends. "He picked up stray sticks, he swept and he rubbed. He polished the rocks and he scoured and scrubbed." And when the autumn leaves fell, well, he got busy, bagging every one of them.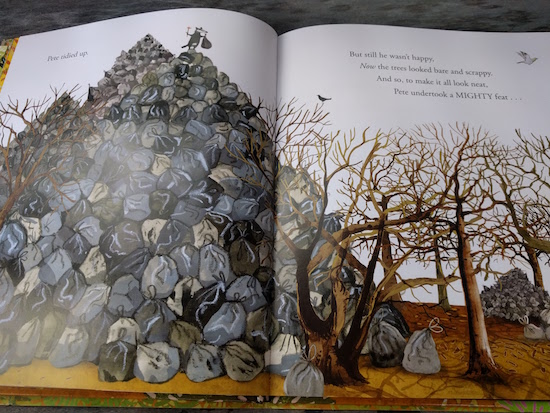 This is one of those stories about one thing leading to another with unintended consequences, cute with an environmental bent. He decides to clean up the scrappy trees by pulling them out of the ground, but then without trees the ground gets muddy, and so he covers everything in concrete, which is totally neat and totally fine…except there is nothing for him to eat and he's mistakenly  blocked up the door to his burrow.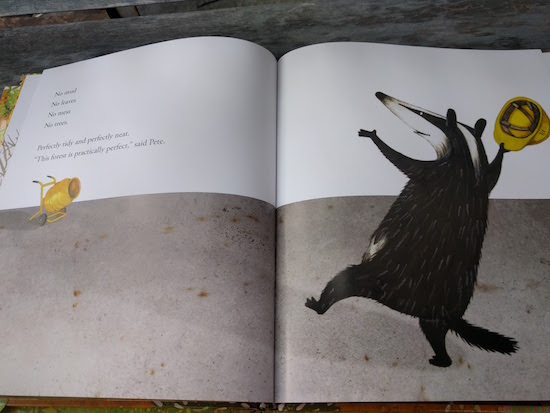 A happy ending is delivered with the help of a jackhammer, which breaks up the concrete, and the badger gets those trees planted again, and he tries to learn his lesson, to tame his over-tidy ways, and he is mostly successful—the story ends with a bunch of ants throwing all of his cleaning supplies into a bin marked "Keep Your Forest Clean."
As ever, the lesson is: with Emily Gravett and Julia Donaldson you pretty much just can't go wrong.