July 19, 2016
All the time you need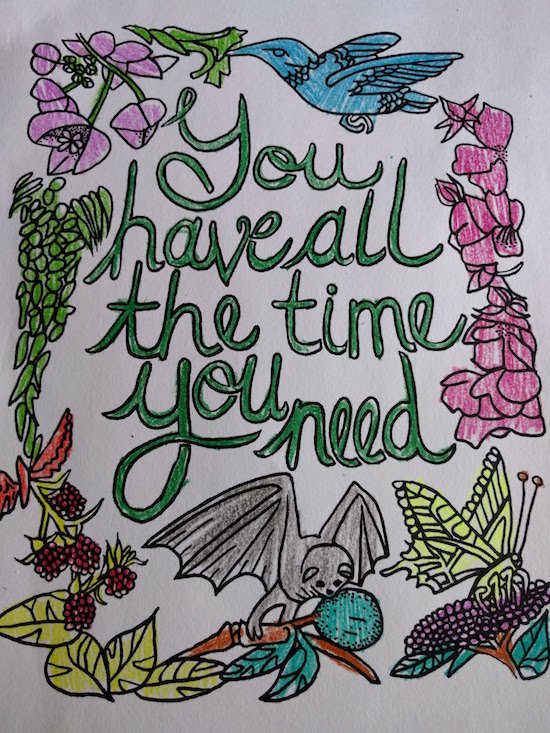 The above colouring sheet has been staring at me from the fridge for the last month or so, as I absently read its words while washing the dishes. I actually coloured it yesterday, just to prove its point, I think. That indeed, we have all the time we need. Which has been my mantra as I've sailed through the summer so far, a season which is somehow both endless and fleeting. The children home from school and the days are long. But my hours to myself for my work are far fewer, and I've once again decided to embark on a marathon sprint toward completing a draft of a new novel. There are not enough hours to read in. And not enough weekends either, for ferry rides to the island, and road trips, and camping trips, and sunny afternoons lying under trees in the park. And isn't parenthood and life entire a little bit like this summer paradox? Isn't everything? Endless and fleeting, so much, and also never enough,
And yet…
You have all the time you need. 
Which is true. And it's also true that you need all the time you have. And also that, admittedly, you only have the time you have, so time is precious. But it's also everywhere. I remember Carol Shields wrote something like this somewhere: "Tempus doesn't fugit." Which is a difficult line to ponder considering that Shields died far too soon from cancer, but I'm not sure that fact changes anything at all.
The colouring sheet is  by Teva Harrison, whose Joyful Living Colouring Book is forthcoming from House of Anansi in November. She is also the author of In Between Days, a graphic novel published this spring. I read it at the beginning of May, and have wanted to write about it here, but wasn't sure how to. I've followed Harrison on Twitter for years, and in the hundreds and thousands of people I've encountered there, she's always made an impression. I've been inspired by her sense of wonder at the universe, and by the deep love she shares with her husband, and by the richness of her everyday life. It's the kind of thing I turn to the internet for. Which made the news that she'd been diagnosed with metastatic breast cancer all the more incongruous when I read about it one winter day in the newspaper in late 2014.
While Harrison writes about the depression she suffered from in the wake of her diagnosis, by the time I learned of it, she'd actually just climbed a mountain. Which is kind of a metaphor for her experience, and in the year and a bit since then she hasn't stopped climbing and going. She's created two books; been overwhelmingly generous with her experiences in both of these and also on social media; she's gone to great lengths to bring attention to metastatic breast cancer and to educate people about this disease, its incurability, and what it's like to live with cancer. She's also given talks and addresses about her story, one of them I listened to online last December. It was there that I first heard the line, "You have all the time you need."
She spoke about her changing relationship with time since being diagnosed with cancer—about the endlessness of hours spent watching TV in her depression, about art and all of the things that she'd never made time for before she got sick, about the busy-ness of her professional life pre-diagnosis, and about how she intends to spend the time she has left (which she has ever intention of being years and years). That kaleidoscopic nature of time, fleeting and endless. You have all the time you need. To fill, of course, not to wait for—this is key. All the time you need is right now. (And even if you don't have all the time you need, that proverbial bus in the street coming to mind, doesn't it make the most sense to live like you do?)
While I value Harrison's work so much for her willingness to share what it is to live with cancer—how this broadens our understanding of the human experience and helps us be better friends to other people who live with disease—cancer is only part of what her story is. As her memoir shows, her life has always been a little bit remarkable, from her childhood growing up in Oregon with hippie parents, to the incredible story of how she met her husband while stuck in Toronto after 9/11. Remarkableness seems to be a genetic trait, she shows us, as she traces the stories of the women in her family, "what everyone has done to find peace and a place in this world." She writes about her aunts, her niece, about her socialist lawyer great-grandfather, about her grandmother who was a Stanford economist. Whose legacy is so much more than cancer and reminds Harrison that she herself is "so much more than my cancer too."
She writes about the facts of life with cancer, the surreal bits and the terrible ones. About the practical facts of early menopause, brought on by her treatment. She writes about the hope implicit in living with disease, and about fears, anxiety, silver linings and wishes. About "the excruciating act of scaling back [her] dreams." She writes about her husband: "I hold onto him for dear life, both of which are all I ever wanted, anyhow."
"When I was a kid, summer stretched out forever," she writes in "The Mermaid Pool." "Two months away from school felt like an eternity. Absolutely anything could happen." She used to swim and swim, and had a dream of staying overnight in the pool (which was actually an oversized horse trough), convinced that she could be a mermaid by morning. And her dream would actually come true, she tells us, albeit not by her original method, but instead, she and a friend would walk in the famous Coney Island Mermaid Parade, which was not quite as glamorous as it sounds but still, "it was something else, floating down that Coney Island street, nothing but a pretty, pretty mermaid for a few hours.
"Dreams come true, if we'll only make them."
Yes, and we have all the time we need.