July 10, 2016
Congratulations on Everything, by Nathan Whitlock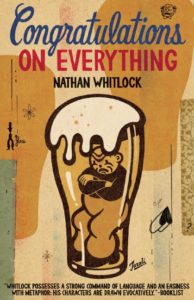 While my career in the service industry wasn't so long, it was longer than it should have been. I worked at McDonalds throughout high school, regularly screwing up my orders, serving Bacon and Egg McMuffins to people who didn't eat pork, and finally receiving an Employee of the Month award after three years because everyone felt bad for me that it had been so long. I used to hide in the walk-in fridge and scarf down McNuggets and contraband filet-o-fish. I don't know why I thought that waitressing would be any better than that, but it really wasn't. At that job, I used to hide in a closet and eat beer-nuts. My career highlight was the night I received a bill and under TIP the customer had written, "No Way!" After that summer I got a job in a library, and never had to carry another tray ever again.
I kind of loved it though. I was a terrible waitress, but I loved the atmosphere. There was a guy who played guitar on our patio, and I used to play songs in between his sets. One night I was tasked with serving a Z-list (ridiculous) Canadian rock band and their lead singer was dressed head-to-toe in leather even though it was 35 degrees. The other girls I worked with were ridiculously fun, and we used to go out after our bar had closed to come home at 4 in the morning. And between them and the customers, there were so many people, so many stories, conversations that verged in hysteria even if some of them were only in the recounting. Even when things were boring, we were all thoroughly entertained.
Nathan Whitlock's second novel, Congratulations on Everything, taps into that spirit, and also the soundtrack, which essentially includes Kim Mitchell's "Go For a Soda." The scene is The Ice Shack, a local bar in a strip mall with a patio overlooking a ravine—and that its proprietor, Jeremy, is out hacking away at the shrubbery with a machete early in the novel is a suggestion that things at this feel-good local joint (where everybody knows your name) are going to take a violent turn for the worse. In fact we're told as much, that this novel will be the story of Jeremy's downfall, and of the Ice Shack's too. This is the story of a downward spiral.
Jeremy is a good guy with good intentions, and he tries to do the right thing. He tries to play the game. The point of the book though is that the game is rigged and the stakes for business owners are high and terrible. Things aren't always so bad—the bar is doing okay, Jeremy's got a solid staff, and the place is something he's proud of. He's close to the edge though, and in order to sustain the business, he's got to get investors on board, and these turn out to be his parents. But then his brother-in-law comes into money, and Jeremy figures he might be interested in supporting his venture. Which is where things get a little slippery, and it's at this point when he makes a tactical error and sleeps with his waitress, Charlene, who has her own complicated story of an unhappy marriage and general dissatisfaction. And things are only going to go from worse to worse.
As with any establishment, it's the characters who make Congratulations on Everything a place worth visiting. Whitlock makes Jeremy and Charlene sympathetic even when they're at their worst, and their stories are supported by a chorus of memorable and hilarious co-workers, customers, and family members. This is a smart, funny, and thoroughly entertaining read. What Whitlock and Jeremy both seem to recognize is that the point of a bar is that it's a place in which make things happen, and where poor Jeremy fails at his enterprise, his author succeeds with aplomb.