July 8, 2016
The Storm, by Akiko Miyakoshi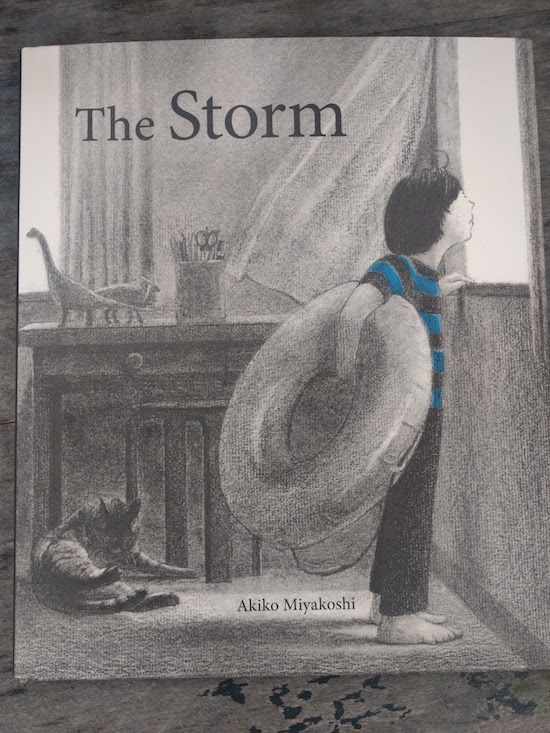 It's summer, hot and sweltering, not necessarily sultry like the summer they electrocuted the Rosenbergs, but the cicadas are buzzing in the trees outside my house, and it is that certain heightendness to everything that moved me to pick up The Storm, by Akiko Miyakoshi, again. A quiet, simple story, or at least I thought so when I first read it a few months back, when the season outside was only spring. But then yesterday we had a thunderstorm, four days of intense heat broken for a little while with thunder and rain, all that tension in the air. And it was here where I realized that The Storm is not as simple as it initially seems, that the tension is the point, that the story is infused with atmosphere.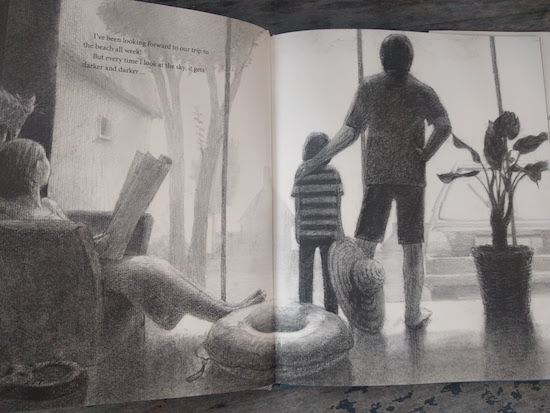 The Storm is actually Miyakoshi's first book, but her second to be translated into English after The Tea Party in the Woods, which gained remarkable acclaim. I haven't written about that book yet, but I really like it, what with tea parties, forest friends, mismatched slices of pie, and a brave girl with a job to do. The Tea Party is a fairy tale, whereas The Storm just skims the border of one, but both books feature Miyakoshi's remarkable charcoal illustrations, which mingles abstraction with exquisite detail, and don't you find that literal shadows add so much depth to a book, a invitation to look closer?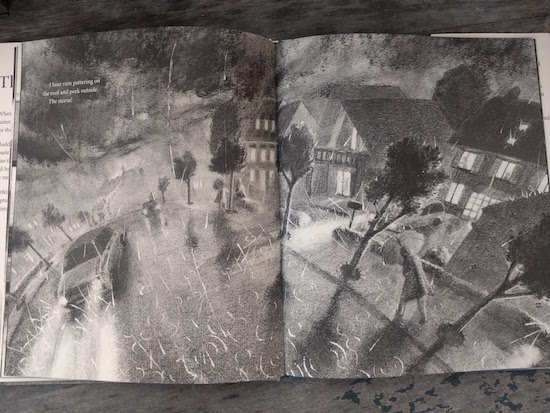 I realized yesterday that The Storm is a perfect summer book, the clash of expectations with reality, extreme weather and flights of imagination. The narrator of the story is looking forward to a trip to the beach the next day, and worried about weather warnings, a darkening sky. The phrase "batten down the hatches" comes to mind, as his parents bring inside their pot plants and secure their shutters, and it brought to mind typhoon season during the time we lived in Japan, those massive storms that shook earthquake-proof buildings that were conditioned to sway in the breeze. They made yesterday's thunderstorm here in Toronto basically on par with a sun shower.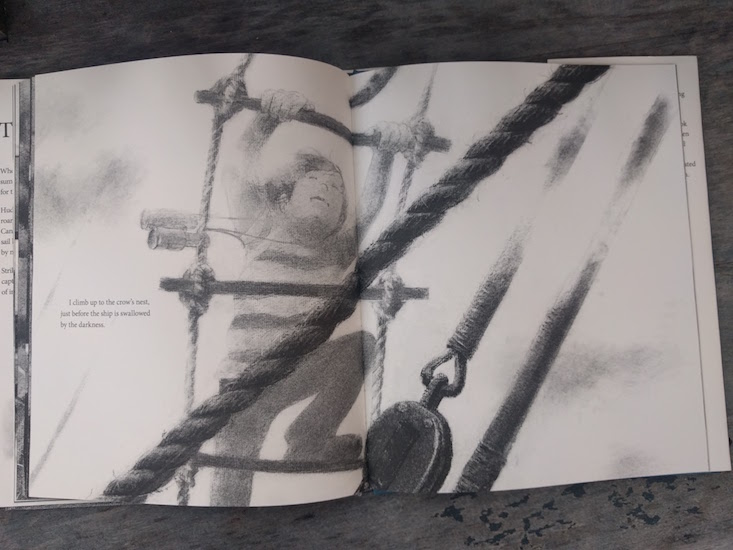 Afraid of the weather and dismayed by the prospect of his beach day ruined, the boy goes to bed, hides under his covers (presumably his house is air-conditioned. I will not hide under my covers until at least mid-September, and the box fan doesn't cut it) and spends the night dreaming of controlling a massive airship with propellers that can blow the storm away. Until: "At last, the storm passes, and I sail into clear skies."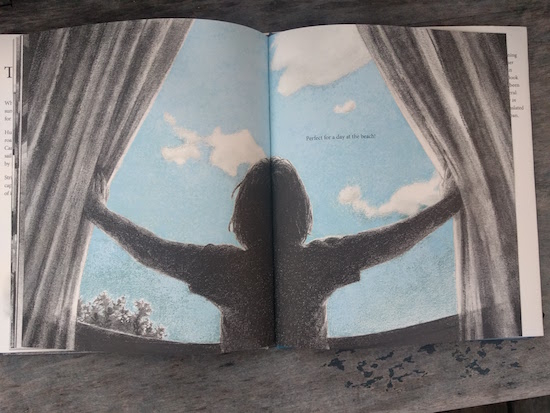 In the morning he awakens to blue skies, and it's not immediately clear to the reader that the boy was not agent of this miracle after all. Which makes this an excellent story about optimism, the power of imagination, and a reminder that if we just hold on, clear skies will come around again.