July 5, 2016
Rich and Pretty, by Rumaan Alam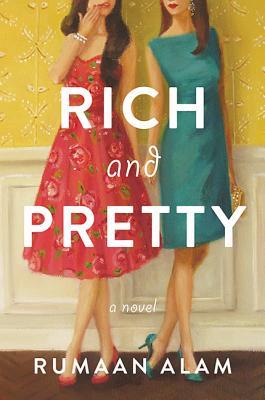 Being white, I have the luxury of not having to think about race very often, and so when I first heard about Rich and Pretty, by Rumaan Alam, what occurred to me was not that this was a brown skinned person writing about white people, but that this was a man who was bothering to write about women. I mean, I know women who are nervous to write about women out of fear of what men might think of them, so it was this that seemed like a tremendous risk to me. But it wasn't just the novelty—the very first time I read Rumaan Alam at all was in his article in Elle, "Raising Two Boys As Feminists Without a Mother." Which made clear to me that I wanted to read more of what he'd written, and about women in particular because of the singularity of his viewpoint and its insight. Although Rich and Pretty is the kind of book I'd want to read no matter who had written it, being as fond as I am of well written novels about people making lives in New York during those pivotal moments when futures are still laid out before them.
It's Elena Ferrante but light, a novel about female friendship that, just as Ferrante does, acknowledges the spectrum between love and hate that embodies a decades-long relationship between two women. It's a novel that puts marriage on the sidelines and make friendship its love story, and like any love story, things are complicated. The book begins with Sarah, the rich friend, announcing her engagement, to Dan, who Lauren ("pretty") thinks is boring, just one of the many things unspoken between them. Sarah, who's always initiating the get-togethers with Lauren, even though she's the one who's so busy. The two friends about thirty, settling into their lives after growing up together, high school and university. Sarah's career aspirations are vague, but she doesn't need to bother with that end of things so much, and now she's getting married. She wishes similar things for her friend, who seems much less interested in being "matched" than Sarah thinks she should be. At one point their lives were very much the same (even with the rich and pretty distinctions) but at some inevitable point their paths diverged, and how does a friendship (a relationship that's meant to be as peripheral to life itself as it is to the literary canon) navigate the journey of a lifetime? In particular those turbulent, essential years between 20 and 40 when when seems to live at least six lifetimes in a decade or two.
I really loved this book. I loved its humour, its prose, its quietness and detail. I loved its subtle subversions—second abortions and pregnant women with a drink. I loved the difference between the two characters' voices, how richly the two were delineated, and that the title is tongue-in-cheek—in a Mad Men fashion, Alam's novel takes the idea of "types" of women and a binary approach to womanhood and complicates the idea entirely to show that women can be whole, flawed, inexplicable and fully realized people whose lives and experiences are worth writing about, thinking about. Which really shouldn't be such a revelation, and this is still a completely excellent book for those of us who already know.