May 12, 2016
Throwback Thursday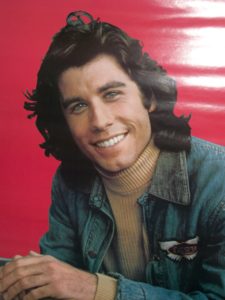 I was a compulsive photographer and documenter of days long before I'd ever heard of social media, although it's true that I didn't photograph my lunch back then. But it's true that I used to take photos of everything and everybody, evidence of this being picture after people of lined up in a row looking awkward and confused about just why I am taking their pictures. People sitting around a table looking unimpressed seemed to be my primary focus as a photographer, although I think they'd been happy and engaged enough until I pulled my camera out, this being, of course, why I wanted to take the picture. To capture something. As if that was even possible, and it makes me things of the drawers in Joan Didion's New York apartment in Blue Nights stuffed with envelopes and documents and things that she imagined could keep her from losing the people she loved. I have engaged with that book, in all its messiness and imperfections, in a way that I haven't with The Year of Magical Thinking. I say "haven't" because I imagine that I will some day, that like with Rachel Cusk's A Life's Work and motherhood, one day my universe will shatter and I will finally understand what Didion is talking about about. Not that I'm counting down to that. But I understand the impulses of Blue Nights so innately, and not just because it's May and the nights are blue and we're coming up to the solstice. And my urge to capture and keep everything that happened to me back in those days between the ages of 16 and 23, say, ultimately would come to nothing. It was always going to be like that.
(For me everything hinges on 2002. I met my husband that year and stopped longing, and have been more or less happy ever since. Everything that ever happened before that year mostly mortifies me to consider now. And I wonder if I was able to shrug off my impulse to document it all and keep everything because from that point on I had someone with whom I could verify that all of these things actually happened. Another idea: that the internet took over my life that year and I started capturing everything online. And that I'm just as a compulsive a documenter as I ever was, and well, you're kind of reading the evidence of that.)
The other night I had occasion to sort through my boxes of photographs upstairs. I have one from high school and the other from university. There used to be many, many more photographs, but I did a cull about a decade ago because there are only so many photos a person needs of her boyfriend from grade eleven, though I did not think so when I posed for those shots. And what I realized the other night as I was looking through photos from my university years is most of these photos signify nothing now. There are people I love and unbelievably bad haircuts, and I continue to be baffled by everything I ever wore. The decor of all of my bedrooms is also unfathomable: throughout those years I had either a Spice Girls or John Travolta as Vinnie Barbarino post above my bed at all times, plus inspirational quotes written in marker on index cards, an album cover with a picture of Nana Mouskouri on it, and a campaign poster for John F. Kennedy. It was kind of a weird aesthetic.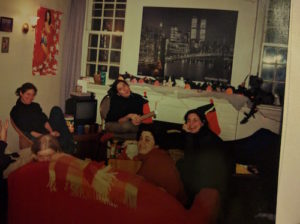 And maybe I knew it was always going to get lost. Perhaps it was never about capturing and keeping, but instead about evidence that any of it had ever been. That if it weren't for the photos, I'd never believe in a room like that, and I've got the pictures and I still don't. And I see my friends and I with our arms around our shoulders in rooms that I don't recognize, places where I'm sure I've never been. There are people in those photos who mean nothing to me now. And there are holes in my memory as big as oceans—did you know that I saw Prince on stage with Sheryl Crow at the Lilith Fair in 1999? I didn't. I still don't, really. And even the stranger things, like the photo from my 22nd birthday party, me and three other people, and two of them are dead. Or that during the 2000/2001 school year, I lived in an apartment with a huge black and white photo of the New York City skyline at night hanging over the fireplace. The World Trade Centre, but I never even knew what those towers were called until five months after I'd moved out of there and into another apartment, until the towers were gone and we sat on our roof that night watching the CN Tower gone dark.
Maybe it's not the photos that turned out to signify nothing that so fascinate me, but instead the ones that ended up telling stories so different from those I thought I was telling at the time.