May 2, 2016
Tana French is Ruining My Life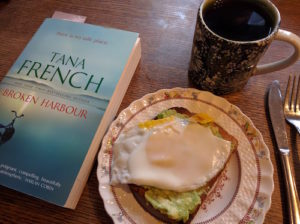 I've been working my way through the works of Tana French ever since my friend Nathalie delivered all of her books to my house on New Years Day in a Waitrose bag, along with a container of soup. (Remember December, when everybody was sick?) Now usually such a loan would constitute a kind of imposition, but I'd been meaning to get into Tana French, and as soon as I opened the first book (In the Woods), I was hooked: "What I warn you to remember is that I am a detective. Our relationship with truth is fundamental but cracked, refracted confusingly like fragmented glass. It is the core of our careers, the endgame of every move we make, and we pursue it with strategies painstakingly constructed of lies and concealment and every variation on deception…"
And this is what's most compelling about French's novels, the slipperiness of her first person narrators, how they're always just clinging to the edges of things, and totally unconscious of how close they are to falling. The subtlety with which she reveals the true circumstances behind her narrator's carefully constructed reality, the skilful way she manages to reveal all the things these characters would never, ever tell us. The things these characters don't even properly know themselves.
I'm reading her fourth novel now, Broken Harbour. (One more title to go before I return the Waitrose bag, and then French has a new novel coming out this fall. And then I fear it's going to be like Harriet and Amulet, the way she went through the whole series, 1-7, boom boom boom, having no idea that Amulets don't grow on trees, thinking new ones were an ever-available resource, and now she has to wait an eternity for number 8). And the book is kind of ruining my life, because I can't stop reading it, staying up far too late and just-one-more-chapter. Because how can I not want to know what happens next?
Both my children are currently undergoing sleep changes and bed experiments and we're all playing musical beds at our house these days, and the last few nights I've been awakened twice or three times before dawn. But I really can't blame my current stupor on this entirely, on my children. Because the real reason I'm so tired, like words-confusingly tired, should-not-be-permitted-to-operate-a-motor-vehicle tired, is that I'm staying up past midnight reading Tana French, and then even once I manage to put the book down and turn the light off, I'm still immersed in its atmosphere, fearing shadows in the darkness. Awake and lying still, alert to barely perceptible sounds. Perhaps imagined ones. And the distinction doesn't even matter.