April 23, 2016
The M Word: Kerry Clare on Motherhood and Abortion

This is the fourth in a series of posts catching up writers from The M Word, and finding out what they're up to now. (Find out more about The M Word and read its rave reviews right here.) From previous weeks: "Kerry Ryan on Wishing and Washing"; "Heather Birrell on Talking to her (M)Other Self"; Dear Me, by Nicole Dixon.
**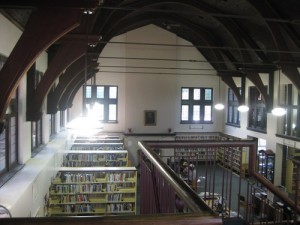 My essay for The M Word was called "Doubleness Clarifies" (you can read it online here) and I wrote it over four mornings during one week in July 2012 while perched in the rafters of the Wychwood Library—the most terrific vantage point. Harriet was three years old, and it was the first time she'd ever been in childcare—a city-run day-camp managed by a woman I loved who ran the creative play sessions we've been attending at the Hillcrest Community Centre since Harriet was one. I'd dropped her off and it was the first time she'd ever been anywhere without me, and I had all this time. Three whole hours. And so I rushed up the street to the library, settled into a carrel, and got to work, headphones plugged into my ears playing Carly Rae Jepsen on repeat.
It was a pivotal time in our family life. Harriet would be starting playschool in September, and I was planning on becoming pregnant again around the same time. The shock of new parenthood had worn off and we'd finally found our groove as a family of three. The pieces of the universe were reassembled and were figuring out the way forward. And now I was putting together an anthology about motherhood, because it seemed I had a knack for telling its truths. And the truth that I wanted to tell about it now was how fundamental choice had been to my whole experience, and how for me the experiences of motherhood and abortion were irrevocably connected.
I've written before about learning to talk about my abortion, a process in which my essay from The M Word played an enormous role. "It is only recently, and with a great deal of practise, that I have been able to say 'abortion' in conversation without dropping my voice an octave and muttering in order for the word to be nearly inaudible" I wrote in my essay, and that's the only part of it that seems foreign to me now. I remember writing those lines and contemplating that one day I could possibly end up saying "abortion" in front of an entire room full of people, and wondering whether this was possibly the wisest idea. And yet. It turned out I was braver than I ever thought I could be; and that most people are way less hung up about abortion than you'd ever expect; and that there is nothing more liberating than refusing to feel shame. In understanding that you don't have to apologize for wanting to know your own soul. Writing that essay, putting my name on it and owning it has taught me a lot about not giving fucks, what it means to be steely, and the kind of example of womanhood I want to set for my daughters. It's made me into the kind of person I always wanted to be.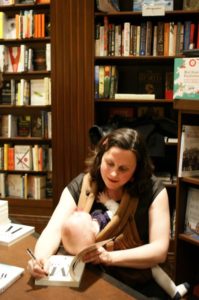 It helped, of course, that I was pregnant when the book went out for submission, and that I had a wee baby girl sleeping on my chest throughout the fall of 2013 as I edited the book, and that when the book was launched the following spring, I went to author events wearing the baby on my chest. (The night the book launched at Ben McNally books, I read my piece, and then had to strip down to breastfeed in the fiction section, for I'd chosen a book launch dress with a back zip, perhaps not so wise.) It was easier to stand up in front of a room full of people talking about abortion while holding my cute (albeit very bald, especially in retrospect) baby—I felt her presence shielded me from the possibilities of some criticism, and also legitimized my argument because (as I wrote in my essay): "It is possible that no one more than a mother can truly understand just what it is that a woman who has had an abortion has lost and gained."
I still think that's true, though I feel now that the baby was unnecessary. And while she made me feel more comfortable saying the word abortion out loud in public, I don't wish to imply that any woman has more right to do so than another. But, as I've said, for me the experiences of abortion and motherhood are so irrevocably connected. It was the one that allowed me the other.
**
Other happenings in the lives of the women of The M Word: 
Myrl Coulter's latest book is A Year of Days. * Christa Couture's new album, Long Time Leaving, has just been released. * Saleema Nawaz's novel, Bone and Bread, was a finalist for CBC Canada Reads 2016 * Alison Pick's memoir, Between Gods, was a national bestseller and a Globe and Mail Best Book of 2014 *Carrie Snyder's Girl Runner was shortlisted for the Rogers' Writers' Trust Prize * Patricia Storms' latest picture book is Never Let You Go, which was an OLA Best Bet * Sarah Yi-Mei Tsiang's The Night Children was published in Fall 2015 * and Priscila Uppal's latest book is the short story collection, Cover Before Striking.