April 18, 2016
How books talk to each other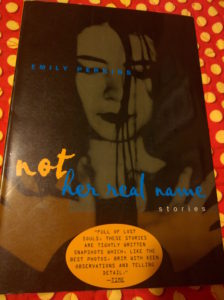 Tonight I was inspired by Sarah's #ShortStoryaDay post to pick up "Not Her Real Name," by Emily Perkins, from her short story collection of the same title. I'd first read the collection when I interviewed Emily Perkins in 2008, when Novel About My Wife came out. In her post, Sarah notes that she was surprised to reread this story and discover that two characters share a name with her daughter, and surmises that it was was with this story that she first fell for the name. She quotes a couple of lines from the story: "—Imagine a couple both called Thea, says Thea. —Isn't it awful? One of the hazards of same-sex relationships I suppose."
Now right now I'm reading a book called The Name Therapist, by Duana Taha, which is so much fun and absolutely fascinating and I can't wait to tell you all about it. And perhaps I should have seen it coming, going from such a non-fiction book about names and how they define their bearers to a story called "Not Her Real Name" that I might encounter uncanny connections. And while I didn't encounter either of my own daughters in this story, what I did find was really kind of strange.
I read the beginning of the story, the part about the two Theas, and then went back to The Name Therapist, in which Taha writes about the possibilities of same-name couples in same-sex relationships and how this idea fascinates her as a name enthusiast. And then there was a bit about a guy named Marc who orders coffee at Starbucks and gives his name as "Marc with a C," which comes back on his cup labelled, "Carc". Going back to "Not Her Real Name" then to find another Marc drinking coffee:
"Marc with a c. Cody's seen it written down by the telephone… Marc. Marc. There's something disturbing about the name. Like Jon without an h. Or Shayne with a y. Marc. Spelt backwards, it makes cram. A real word. This makes it seem like code. Code for what? Cram, cram. Trying to break the Code. OK, so her own name is enough of a liability. She shouldn't laugh at other people's. But Marc—its like biting tinfoil." 
Cody's own name is referred to in connection the Jack Kerouac novel, Visions of Cody, which she's never read, she says, and I haven't read it either. I'm still a bit confused by the story's title and what it means exactly, trying to break that code. And maybe this is the point. Earlier in the story, Cody's thinking about a guy called Francis. "You always thought, Francis, rhymes with answers. Which it doesn't, really. But you'd change the s of answers to be soft like his name."
And isn't all that so weird? I am really not so singular but I suspect that I am the only person in the world who is reading The Name Therapist and "Not Her Real Name" concurrently, two works that speak to each other so clearly, asking questions with answers echoing back. A book that came out the other day with a short story collection that was published twenty years ago by an author on the other side of the world—and they are connected in ways their authors never even fathomed. And this is why I love books and literature so much, that it's all a code, quite beyond us and quite unbreakable. And the infinite possibilities of these connections too, how books upon books can talk to each other, the libraries of the world abuzz with these private conversations.