April 12, 2016
April 30: Authors for Indies

I still remember what it felt like to take for granted the bookstore that was located within a five minute walk from my house. To have it suddenly occur to me mid-morning that I was yearning for a copy of, say, The Mystery of the Shopping Cart, by Anita Lahey, and then to just venture out and get it. To ask the clerk at the counter if they had a copy—because it's a collection of essays, poetry, and criticism, and I couldn't imagine where such a book could be found in the shop, and because it's a small press title, the slim kind that can get lost easily amongst bigger books—to be told that they had two. And then there it was: the book I wanted in my hands. Could there be a more efficient system?
I was spoiled. I was. Because even now, two years after Book City closed their Annex location and left Bloor Street bookless, I am feeling the loss, even with the excellent bookstores still in our midst: I frequent Bakka Phoenix Books and Parentbooks on Harbord Street, and Little Island Comics on Bathurst is a kidlit oasis, and while I am so glad that these speciality stores have found their niche and continue to survive, I miss the generalness of Book City.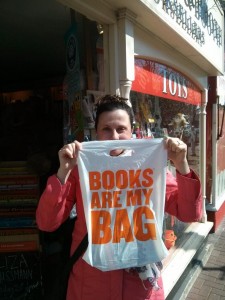 I miss a bookstore that specialized in everything: new releases, award-winners, mid-list titles, thrillers, memoirs, CanLit, non-fiction, and small press gems. I miss the discovering of walking around Book City's shelves and tables: I still remember the excitement of discovering a new Margaret Drabble release I hadn't heard of; and I remember going in to pick up Zadie Smith's NW on its release date in 2012; or the day I bought The Goldfinch. I remember years ago when I didn't have money to buy books as prolifically as I now do, and what it meant to hold these books, to want them and wait for them. I remember when my husband was unemployed and I didn't buy new books for ages, and then he got a new job, and Book City purchases were the first ones I made and it felt so good—so you see, I wasn't always taking it for granted. I always knew how lucky I was. Maybe what I mean by taking it for granted instead is that it was just so imaginable that it could possibly end.
If there is a bright side to the closure of my local, however, it's that it's inspired me to take up Bookshops as destination travel. With a store like Book City no longer at arm's reach, it's up to me to seek them out, and so we do: a trip to the East or West end now inevitably brings a stop at the Book City locations in those areas; we make day trips to places like Blue Heron Books in Uxbridge (which was definitely worth the journey, and we're going to do it again this summer); and a year ago we spent two weeks in England visiting one amazing bookshop after another. Because there is no better way to travel.
And now I'm exciting to be making another bookshop my destination, although I'm not the only one. On April 30, I'll be taking part in the second annual Authors for Indies Day and pushing titles at Book City on the Danforth (348 Danforth Avenue) between 4 and 5pm. I did this last year and it was ridiculous fun, to meet other readers and connect them with books they're totally going to love, and just to be in a bookshop (which really is my natural environment). So I hope you'll come and browse with me, and we can talk books, and love books, and buy them too, supporting these shops that mean so much to our communities and without whom our streetscapes would be so much bleaker.
See you there?
And find out what Authors for Indies events are happening in your neighbourhood.