April 8, 2016
The Not-So-Faraway Adventure, by Andrew Larsen and Irene Luxbacher
Guess what? I've got an extra copy of this book to give to one of you. Anyone who signs up for my newsletter and/or leaves a comment on this post by midnight Friday April 17 will be entered in a random draw to win The Not-So-Far-Away Adventure, and I'll mail it to the winner. Good luck!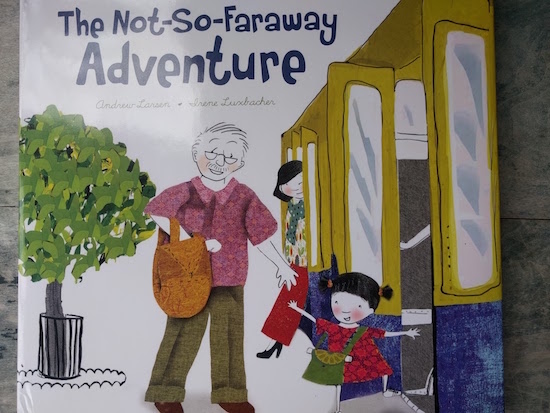 I've been looking forward to The Not-So-Faraway Adventure, written by Andrew Larsen and illustrated by Irene Luxbacher, partly because it follows up on the story of Theo and her grandfather from The Imaginary Garden, a book I first read (and loved) in 2011. At that point, I'd known Andrew lived in my neighbourhood, and I'd met him once at our local library (which is where he reconnected with kids' books as an adult, attending library children's programs when his son was young), but it was through my review of his book that we connected online and actually became friends. And in the years since, I've loved his books one after another (see last year's See You Next Year), plus our children go to the same school now, so it's always a good day when I run into him on the way to pick-up. I like his company just as much as I like his books.
And The Not-So-Faraway Adventure is no exception. It's a story that takes as its premise one of the undercurrents of The Imaginary Garden, which was about a little girl and her grandfather who make peace with the small apartment he moves to after selling his family home. And implicit in the story was that Theo's poppa had led a rich life—we see family pictures on his walls, and when he leaves part way through the story to take a trip (i.e. he has a life outside these pages) he packs his clothes in a suitcase covered in stickers showing all the places he has been.
"Theo's Poppa was an explorer," begins The Not-So-Faraway Adventure. "He had been everywhere." We learn a little bit more about him as Theo tells the reader about the contents of his trunk, which was packed with memories: "pictures, postcards, maps and menus that he had collected on his adventures." Photos from Paris, maps of New York City, and "a menu from the Italian restaurant where he discovered zeppole."
Inspired by the trunk, Theo decides to make a new adventure for her Poppa's upcoming birthday. Together they devise a plan: a trip on the streetcar out to the beach. "There's even a restaurant," Theo tells him as they sketch a map of the places they plan to go. Theo is expanding her horizons as she plots their way out into the world, and Poppa delighting in connecting with his granddaughter as his own world has become a little smaller—but no less amazing, as their ensuing adventure proves.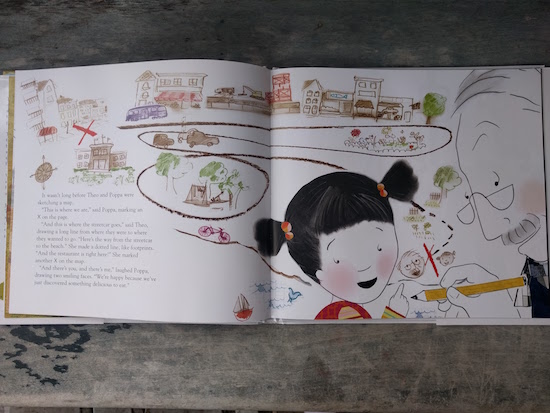 In addition to celebrating intergenerational ties, The Not-So-Faraway Adventures delights in city streets and city life, public transit and the sidewalk ballet. Luxbacher—whose work I love; see my review of her recent Malaika's Costume—depicts a streetscape thrumming with people who wave back when Theo greets them from the streetcar. She passes "bookstores, bakeries, restaurants and schools," which seems especially poignant to me as my local bookshop turns into a Chipotle and there's one generic hipster pizza joint after another instead of stores that sell actual things. As always, I love the texture of Luxbacher's illustration, her use of textiles and prints mixed with paints, all the florals, and I love her city's architecture with its European bent.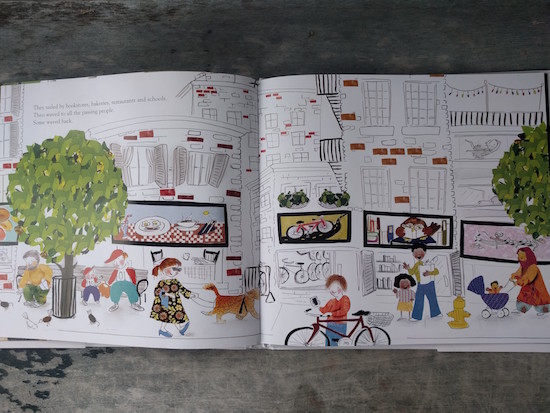 Finally Theo and Poppa arrive at the beach, where the water ignites their imaginations, they revel in the warmth of the sand on their feet, and order lunch on a patio and have the best gazpacho ever. '"And we discovered it together!" said Theo,' which is my favourite part of the book, that they're on the same level, the respect accorded to Theo by her grandfather, that he genuinely respects her as an individual, is never patronizing, is willing to follow her lead despite the years between them, and how she certainly loves him all the more for all of this. The mutuality of their experience, and the generosity on both these characters' part: how much they want to give each other and how much they actually do (which manages to be even more).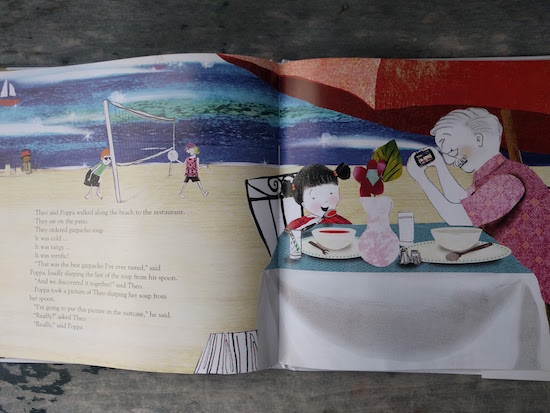 Theo and Poppa arrive home from their adventure to find a party waiting for them, cake and balloons and celebrations, but we know that this will not be the part of the story that either of them will remember. And to affirm this, Theo places the map of their journey inside Poppa's trunk, finding a way to make his long-ago adventures seem less far away, a connection between past and present—and to insert herself into his fabled history as well.
As Larsen's stories always do, this one celebrates the magic inherent in ordinary experience if you just have wonder enough to look for it. One never has to travel too far.