April 5, 2016
On Putting Politics Aside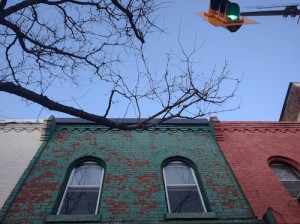 On Friday I was listening to CBC Rewind, and heard then-Toronto Maple Leafs owner Harold Ballard on the radio in 1979 telling journalist Barbara Frum to shut up and that females didn't belong on the radio. And hearing that helped me articulate why I had been taking the heroic eulogizing of disgraced Toronto mayor Rob Ford so personally, why I hadn't been able to respectfully stay silent while Ford was memorialized (even if he was memorialized with such statements as, "He was a profoundly human guy." Indeed).
Now, I knew about Harold Ballard. From childhood, I have known he was an asshole, and though I didn't know why he was thought to be so, and I suppose any reason anybody would have told me about wouldn't have been concerned with his views toward women. Another important point is that I've been extremely fortunate in my life to be surrounded by men (my dad, my friends, my husband) who make the idea that some men think women are literally garbage (or objects to be knocked over, or raped, or joked about raping, or silenced—I could go on for paragraphs about the ways Ford was disrespectful and hateful towards women) completely baffling and foreign to me. But these men exist, and they end up in positions of power, and because it's not 1979 anymore it's not all right to go on the radio and say as much, but there are certain men who aren't containable and so everybody knows.
And everybody lets it go too. It's harmless. He's just a character.
I was dismayed when Toronto's current mayor came into power and his first motion was to thank Ford for his service. Really? Ford was ill, but regardless, here was an opportunity for a new beginning, a chance to do better than an ineffectual, decisive council that fuelled resentment and anger across the city. A chance, perhaps, to say nothing, and in that silence to tell this city, "We are better than that. We will no longer stand for this. This is not who we are." To honour the women of this city, the people of colour and gay community, all of whom were derogated by Ford throughout his term in council. That was when saying nothing would have been a respectful gesture.
But not now. Not when Ford was able to milk his whiny victim narrative right into the grave and beyond, and everybody played along with him. History whitewashed: that this was a man who loved his city, the best mayor Toronto ever had, a man of the people. None of it remotely the truth, and the truth matters. And if "putting politics aside" means overlooking abusive, offensive comments about women uttered by people in power, I really don't think I'm capable of doing it. Basically my politics are that women are people worthy of respect, an idea so elementary, basic and foundational that I can't imagine putting it aside ever.
I hope that in 40 years the story of Rob Ford ends up on an episode of CBC Rewind, and a young woman listening won't be able to believe that there was ever such a person like that, instead of seeing such an anachronism reflected in the world all around her.