March 24, 2016
The Night Gardener and If I Had a Gryphon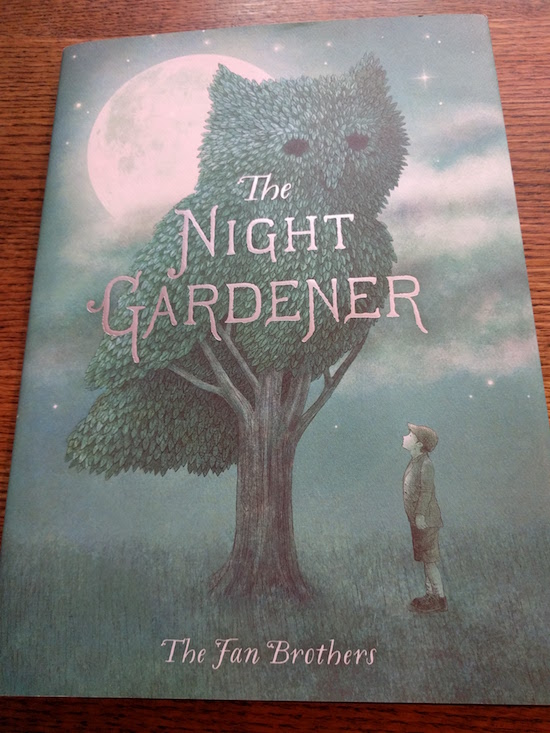 I wasn't supposed to get a book at all, but then I ended up with two. These are the kinds of things that happen when one is me. The plan was to buy a book at Bakka Phoenix Books for Harriet's friend who was moving away, but then I saw The Night Gardener by The Fan Brothers and also If I Had a Gryphon, by Vikki VanSickle and Cale Atkinson, and I had to have both of them.
I have a weakness for books featuring Toronto-style houses (like Sidewalk Flowers, and another recent one I've seen is A Boy Asked the Wind), which is what drew me to The Night Gardener. Although I will admit to being confused to the story's individual components: that the boy in the books lives in an orphanage, that the story exists outside of time that's part Dickens, part contemporary; and there is something slightly sinister about the boy receiving a gift of a pair of secateurs. A lot of these concerns can be written off to magic, but it doesn't seem entirely realized. What are realized, however, are the illustrations, ordinary trees reborn as creatures of all kinds, thanks to the work of a secret gardener who comes and goes in the night.
Anyway, the dragon in the above illustration brings me to If I Had a Gryphon, in which a small girl laments the mundanity of having a hamster for a pet. The book is written in rhyming verse featuring fun and playful illustrations, and we were immediately hooked.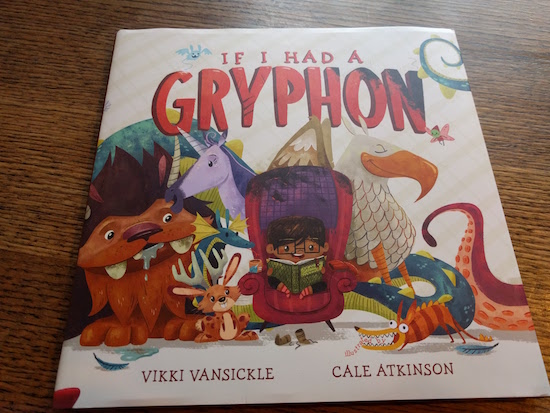 If I Had a Gryphon is a primer for future nerds, featuring allusions to a wide range of fictional creatures from myth and legend. Obviously, the little girl at its centre is a bookish one, and when she imagines alternatives to the hamster life, she's not thinking ponies or cuddly kittens, but instead hippogriffs, sasquatches, or manticores.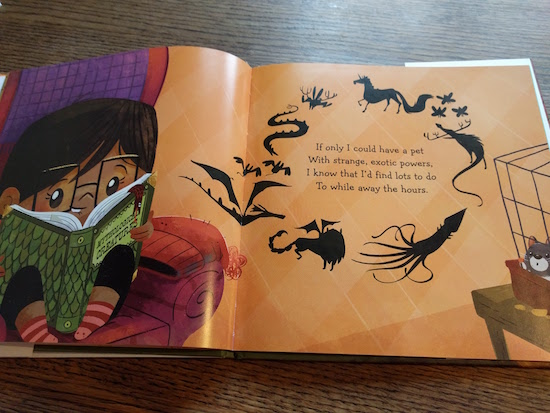 Thinking through her supposings, however, she realizes that mythical pets would actually be a lot of trouble (and that caring for them would probably cut into her time for reading).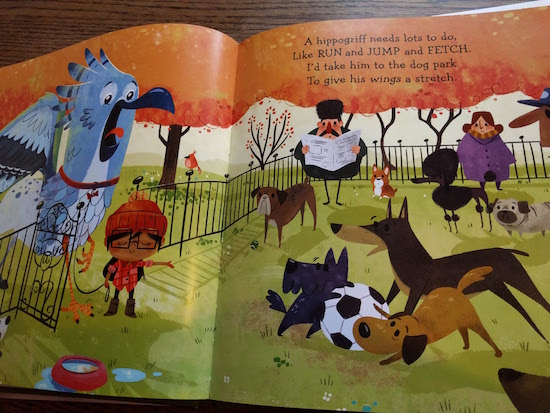 Clearly I'm not well read enough because many of the creatures in the book weren't familiar to me: what is a kraken, after all, or a kiran, or a basilisk? Although such questions are the point I think, and this book serves as the perfect jumping off point for further exploration (as well as imaginary brand new, never-before-thought-of creatures). I don't say this very often, but I think Gryphon might have benefited from a glossary to bring some of us up to mythical speed, although the internet will certainly suffice.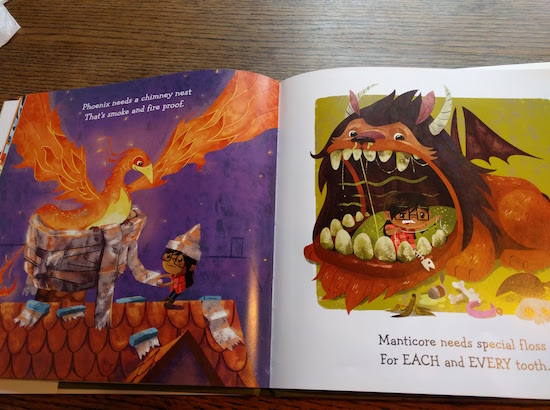 This book reminded of Julia's House for Lost Creatures, by Ben Hatke, another picture book in which a tenacious girl has to contend with managing fictional beasts of all kinds. We love If I Had a Gryphon just as much, and every time we've read it, our delight in its final image has been absolutely. Just wait for it, and you'll see what I mean.