March 13, 2016
We did it.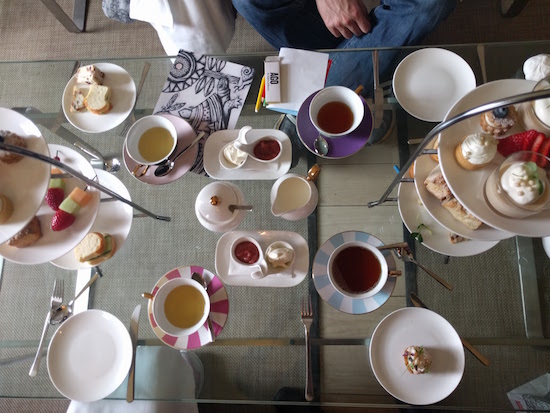 "WE DID IT. WE FUCKING MADE IT. AND LOOK AT HOW AMAZING THESE GIRLS ARE? LOOK AT HOW MIRACULOUS AND INTERESTING AND SMART AND FUNNY AND WILD AND BRILLIANT THESE BABES BE!? AND SOME DAYS ARE REALLY FUCKING HARD. AND SOME DAYS ARE REALLY FUCKING BEAUTIFUL. AND ALL OF THE DAYS… EVERY SINGLE ONE OF THEM ARE WORTH IT. THEY HAVE ALWAYS BEEN WORTH IT." —Rebecca Woolf, Girl's Gone Child
I never had twins (thank goodness; one baby at a time absolutely pushed me to my limits) but the post from which I quote above really resonated with me. Iris turns two-and-three-quarters next month, which means her third birthday's on the horizon, and we've recently given up diapers, some days we don't need a nap, she (usually) behaves perfectly well in a restaurant, and today we all went out for afternoon tea. For no occasion, and yet it seems like all the occasions—my novel is finished and gone into copyedits; Stuart (hopefully!) becomes Canadian next week; it's March Break; how doesn't like celebrating return from a tropical locale with a lavish lunch. And because Iris is finally old enough to partake. We're about to leave the baby years behind us, and I can't think of a better reason to celebrate than that, the future unfolding as it should.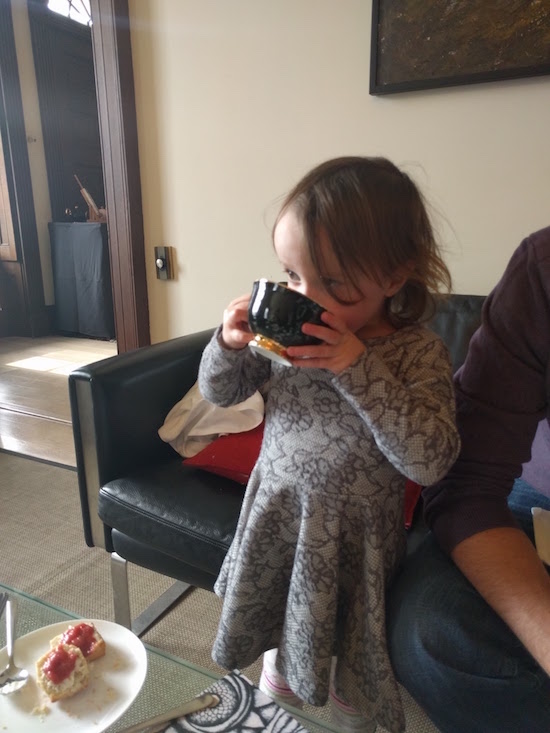 We never could have dreamed up Iris—she's a full fledged mould breaker, hilarious, mischievous, irascible, loving, kind, silly and always paying attention. If you ask her anything, she'll answer you: "Pooks." We don't know what pooks is, the definition ever-shifting, whatever is convenient to hang it on. She loves her sister, reading Go Dog Go and talking about nipples. She likes exclaiming, "Goodness gracious," when she's not saying, "Pooks." She knows more about immigration than most two-year-olds: "Daddy's going to be a Canadian," she says. "I'm a Canadian already." She is a favourite pet of Harriet's classmates and happily ensconced in a class of her own at playschool, where she plays in drama, paints pictures, learns songs and stories. Her favourite thing is singing Twinkle Twinkle Little Star. She still likes to climb up onto the table and jump up and down. If she's hungry, she can be trusted to go fetch a snack, no matter how (seemingly) unattainable that snack might be. She likes reading picture books and gets annoyed when we read books without pictures, goes and throws toys on the floor to get our attention. When she does something wrong, most of the time she is willing to say sorry, but always follows up her apology by asking, "And you say, 'It okay, Iris,' okay?"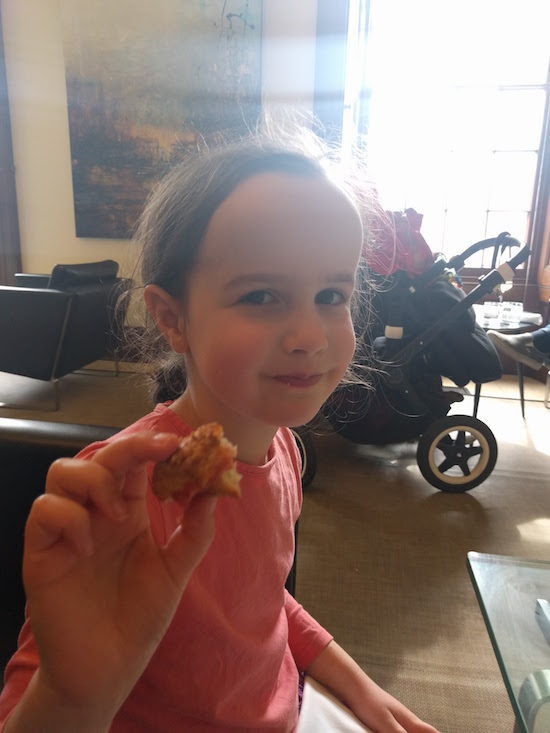 Harriet will very soon be six-and-three-quarters, which was the age I was at when I discovered there was such a thing as fractions. She will forever to us seem old and wise, just as Iris is forever little, and part of the pleasure I take in the prospect of Iris's third year was all the fun we had the summer that Harriet was that age, when all at once the days were longer and the world was bigger and we could do almost anything. But she was so little then, I realize now, particularly compared to where she is today. She is bright and articulate and forthright and ambitious, and imagines that she can make anything at all. When she grows up, she wants to be a scientist or a rock star, although she's leaning toward the former. She loves Taylor Swift, and dancing, and identifies as a feminist. Yesterday we were at Value Village sorting through t-shirts, and I held up one that said, "Girls Rock." "Okay," she said. "I mean, it's what I believe." She is strong and brave and loves heroic tales of awesome girls. Though she also loves Archie Comics and Betty and Veronica, so she contains multitudes. She's nuts about the Amulet series, the Narnia books (when girls are in the story), is still more partial to graphic novels than novels proper, and is determined to invent a series of feminist superheroes who do not necessarily fight for justice in their underpants.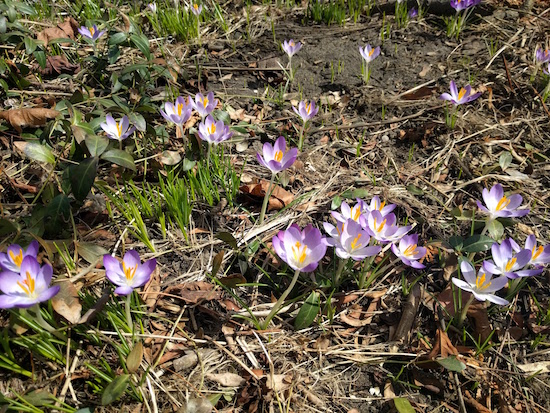 We went shopping yesterday, because what better way to mark the explosion of crocuses across the street than buying shoes for our children's ever growing feet. It was our biannual expedition to the world of commerce, with purchases of nightgowns too and suburban dinner at chain restaurant (with Jello for dessert!), always a big occasion—we get to drive in a car and everything. Plus a stop at Value Village for amazing clothes for growing girls, which was really an excuse to go on a mug-hunt, but the pickings were slim in the kitchenware dept. Alas. We got what we went for though, and I will never cease to be grateful that we can afford shoes for our children—rain-boots, sneakers and sandals too, which is a small bundle. I can't imagine how hard it would be to have to struggle for that, but nor can I imagine how we got here after all—to be grown people who buy small children tiny new shoes year after year, though they become less tiny with every season.