January 5, 2016
Lottie: Empowering Girls from Outer Space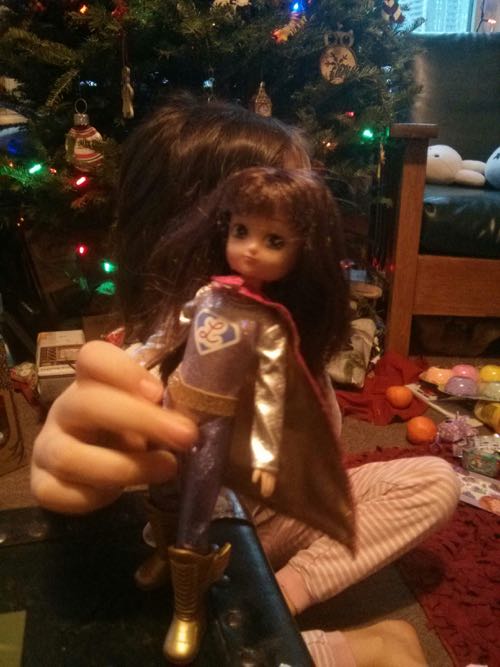 We discovered Lottie Dolls over a year ago, and their premise intrigued me. A proper alternative to Barbie, designed to empower girls and their play. I wrote about them here (and check out the pictures! Iris was still a baby! Harriet was so little). It could have been a one-time thing, but I return to Lotties because now it's my girls who are crazy about them. They're the one toy, along with Legos, that gets returned to again and again, and they play with them together, which I love so much. We have five or six of them, and received more for Christmas, along with two new Lottie outfits, including the Superhero Lottie suit shown above, which has proven very popular—this is the one Lottie who never gets her clothes changed. When Harriet and Iris received Christmas money from their grandfather last week, they knew what they wanted to buy with it—more Lotties. And so we're currently awaiting Rockabilly Lottie and Spring Celebration Ballet Lottie in the mail, expected delivery scheduled for tomorrow. Everybody is very excited.
Though we've also got our eye on Stargazer Lottie, who was sold out from Indigo.ca when we made our order last week. (Darn!). Like all the Lottie dolls, she's designed around what she can do and be rather than how she looks (although admittedly, once they're indoctrinated into Harriet's play, the Lottie dolls also take on peculiar new identities…) I was so interested to read this post about how Stargazer Lottie was designed in consultation with an astronomer, and even more thrilled to learn that a Stargazer Lottie doll was currently in space with British astronaut Tim Peake on the International Space Station.
And most remarkable? That none of this would have happened at all without a six-year-old girl from Comox, British Columbia, who helped dream up the Stargazer Lottie doll. I showed the video below to Harriet who had her mind blown, and then went to put on her own dress with a space print and proceeded to have her head in the stars for the rest of the day, totally inspired.