December 21, 2015
The Adventures of Miss Petitfour, by Anne Michaels, illustrated by Emma Block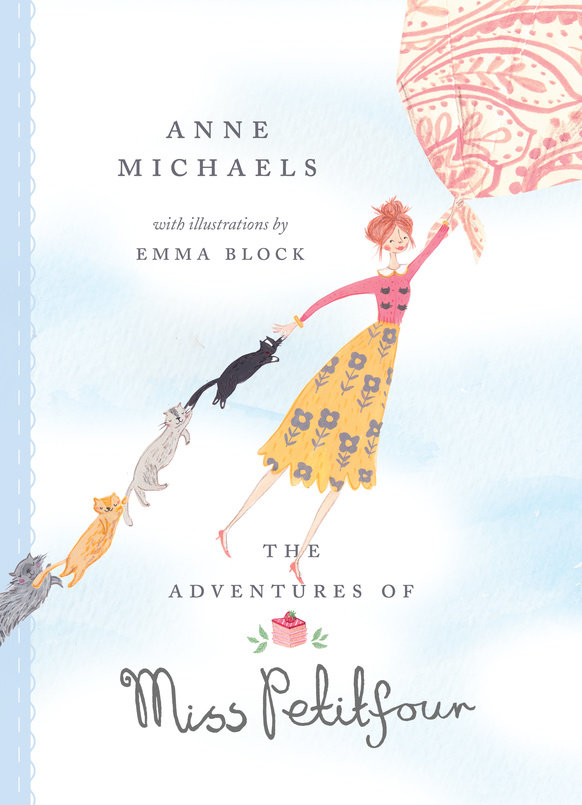 While The Adventures of Miss Petitfour is indeed world-renowned writer Anne Michaels' first book for children, it might be as accurate to state that it was written exactly for me. Bizarrely so. Right down to the bunting and teapot and caked goods on the endpapers. There is a jumble sale in the second chapter, for heaven's sake, and every adventures ends with a tea party. There is an entire chapter about cheddar cheese. This was the other book that I bought last week, and we spent every night reading it together, being positively delighted. (Please do read this post by Lisa Martin, inspired by Doris Lessing, on the necessity of the capacity for delight as a precondition for resilience.) If a Barbara Pym novel married Mary Poppins, this book would be their progeny.
"Some adventures are so small, you hardly know they've happened… Other adventures are big and last so long, you might forget they are adventures at all—like growing up. And some adventures are just the right size—fitting into a single, magical day. And these are the sorts of adventures Miss Petitfour had."
Miss Petitfour travels by table cloth, which is a terrific twist on the magic carpet, and much more scientifically plausible. She holds the table cloth just so and lets it fill with wind, and then up she goes (after she has taken "a measure of the meteorological circumstances, that is to say, the weather"), her sixteen cats trailing along for the journey. And their adventures are rich with digressions, narrative and actual, as well as bookishness, confetti, misdirections and festoonery. Charged with whimsy and fun, there is an underlying intelligence to these stories, which are so very much about words:
"People often say that children have no use for long words, but frankly, Mrs. Collarwaller [the bookseller] found this never to be the case. In her vast experience, children loved books that contained words such as propitious, perambulator and gesticulate, especially if they all ended up in the same sentence. The kind of word your tongue could get tangled up and lost in."
In Miss Petitfour's local bookshop, there are two sections: one side for adventure books and the other for books in which nothing happens ("the hum and the ho-hum"). In the most perfect way (in addition to the story about cheddar, there's one about a runaway postage stamp, for example), this books manages to be both.